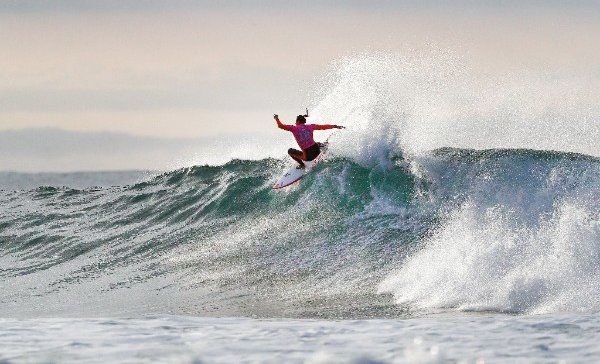 – WRIGHT, MOORE, PETERSON & DEFAY THROUGH TO QUARTERFINALS
– MOORE SCORES STUNNING, NEAR-PERFECT 19.13
Three-time WSL Champion Carissa Moore (HAW) lit up the opening day of the Rip Curl Women's Pro Bells Beach with incredible performances in her matchups.
Credit: © WSL / Cestari
BELLS BEACH, Victoria/AUS (Wednesday, April 12, 2017) – The opening day of the Rip Curl Pro Bells Beach, the third stop on the World Surf League (WSL) Championship Tour (CT), saw incredible performances as the event ran through women's Rounds 1, 2 and 3 in three-to-five foot (1 – 2 metre) conditions at Bells Beach.
Reigning WSL Champion Tyler Wright (AUS) put on a clinic today at Bells Beach with a phenomenal performance in both Round 1 and Round 3. Wright posted an outstanding 17.00 two-wave combined score in Round 1 and continued to showcase her flair with an 18.47 in Round 3. Wright's wins today earn her a place in the Quarterfinals and moves her one step closer to ringing the coveted Bell for the first time. Sage Erickson (USA) and local favorite Nikki Van Dijk (AUS) were not able to challenge Wright in Round 3 and will be sent to elimination Round 4 for one final opportunity to make the final series.
"It's been a really good day today — scoring consistent Bells — it's great," Wright said. "You still have to be relatively selective with the waves that we take, but because it is consistent, you can afford to try a few different things in a heat, which is nice. I haven't won this event before so it's definitely a goal, but at the moment I'm focussing on smaller goals and will deal with bigger ones when I arrive at them. I've had a lot of real-life pressure situations recently, so I feel a lot less pressure when surfing heats. It definitely helps and has given me perspective."
Earlier this morning, three-time WSL Champion Carissa Moore (HAW) was relegated to elimination Round 2 by Van Dijk. Despite the early loss, Moore made an emphatic comeback in her elimination Round 2 heat with an amazing 19.13 combined score, the highest score of the day, against trials winner Ella Williams (NZL). Moore exhibited why she is a three-time winner at Bells with powerful turns and aggressive snaps.
Moore continued to charge through in the opening heat of Round 3 against 2016 event winner Courtney Conlogue (USA) and compatriot Coco Ho (HAW). In a close battle, Moore locked in a 7.17 and excellent 8.33, while Conlogue turned up the heat with an 8.00 and 7.03. Conlogue was not unable to post the required 7.51 on her last maneuver, giving Moore her third Quarterfinal berth of the season.
"The waves are pumping out there, just so many sets," Moore said. "I'm so exhausted. It was a lot of work out there and we have surfed so many heats today, so winning that and skipping into the Quarterfinals is such a bonus. Now I can relax for a bit. The waves were so different in each heat so we really had to adapt quickly. I'm feeling good and am stoked to have bounced back from my first heat. It's just great to be back at Bells."
Six-time WSL Champion Stephanie Gilmore (AUS) continued her incredible form from the Gold Coast and Margaret River into Round 1, but was not able to take out her Round 3 heat. Non-elimination Round 3 Heat 3 saw current World No. 1 Gilmore struggle to find the waves to combat current World No. 7 Lakey Peterson (USA) and World No. 12 Tatiana Weston-Webb (HAW). Peterson unleashed an excellent 8.57 and strong 6.33 to earn her place in the Quarterfinals.
Tied with Gilmore for World No.1 is Sally Fitzgibbons (AUS), was not able to win her Round 3 and will surf again in elimination Round 4. The final heat of the day saw 2017 World Title contender Johanne Defay (FRA) take the win. With only limited scoring opportunities on offer, Defay capitalized on two waves for a 9.33 combined score over Fitzgibbons and Silvana Lima (BRA).
"That was a really tricky heat," Defay said. "The wind was increasing and conditions changing so it was hard to know what waves to go for. My scores were pretty low and so were my opponents but it's always better to win a heat with a high total. I'll always take a win into the Quarterfinals though. It was a real shame to come in at the end and see that Sally [Fitzgibbons] had hurt herself. I really do hope she is okay and recovers quickly."
Needing a score on her last wave, Fitzgibbons took off on a set as a last-ditch effort to take the heat. Her first attempt at a turn was a big one, but she fell awkwardly and cut her foot on her fin. The medical team is taking care of Fitzgibbons now. The extent of her injuries are unknown. More information will be available on Fitzgibbons' condition in the coming days.
"Sally Fitzgibbons is in a fair-bit of pain," said WSL Deputy Commissioner Jessi Miley-Dyer. "I think she has a pretty big gash at the top of her foot. I do not know the much about how deep or anything but there is a fair amount of blood. The medics are taking care of her now."
In her first heat win of the 2017 CT season, Lima took down Laura Enever (AUS) in Round 2 Heat 6. Enever, who withdrew from the Drug Aware Margaret River Pro due to injury, was not able to survive her first elimination heat back and will see an early exit from the event.
Pauline Ado (FRA), 2017 CT Rookie Bronte Macaulay (AUS), injury replacement Isabella Nichols (AUS), and 2016 WSL Rookie of the Year Keely Andrew (AUS) were not able to make it out of their Round 2 matchups and will exit in Equal 13th place.
Event organizers will reconvene tomorrow at 6:45 a.m. local time to reassess the conditions and make the next call.
The first half of the waiting period has several potential swells: medium size SW swell on Wednesday, fades Thursday. Back-to-back SW swells are possible from Friday afternoon through Sun/Mon that, at this point, look roughly similar in size. There is potential for a larger and possibly solid SW/SSW swell for Tue-Thur the 18th-20th. Surfline,
For more information, check out WorldSurfLeague.com.
Rip Curl Women's Pro Round 1 Results:
Heat 1: Sage Erickson (USA) 14.00, Courtney Conlogue (USA) 13.74,  Coco Ho (HAW) 11.03
Heat 2: Nikki Van Dijk (AUS) 12.67, Carissa Moore (HAW) 11.67, Bronte Macaulay (AUS) 9.16
Heat 3: Tyler Wright (AUS) 17.00, Ella Williams (NZL) 6.53, Laura Enever (AUS) 6.50
Heat 4: Stephanie Gilmore (AUS) 14.94, Isabella Nichols (AUS) 10.16, Keely Andrew (AUS) 9.56
Heat 5: Sally Fitzgibbons (AUS) 14.13, Lakey Peterson (USA) 13.60, Pauline Ado (FRA) 7.44
Heat 6: Tatiana Weston-Webb (HAW) 13.34, Silvana Lima (BRA) 12.16, Johanne Defay (FRA) 8.74
Rip Curl Women's Pro Round 2 Results:
Heat 1: Coco Ho (HAW) 12.14 def. Keely Andrew (AUS) 12.00
Heat 2: Lakey Peterson (USA) 13.70 def. Bronte Macaulay (AUS) 12.44
Heat 3: Carissa Moore (HAW) 19.13 def. Ella Williams (NZL) 6.37
Heat 4: Courtney Conlogue (USA) 16.44 def. Isabella Nichols (AUS) 12.56
Heat 5: Johanne Defay (FRA) 15.43 def. Pauline Ado (FRA) 9.43
Heat 6: Silvana Lima (BRA) 14.50 def. Laura Enever (AUS) 4.13
Rip Curl Women's Pro Round 3 Results:
Heat 1: Carissa Moore (HAW) 15.50, Courtney Conlogue (USA) 15.03, Coco Ho (HAW) 10.60
Heat 2: Tyler Wright (AUS) 18.47, Sage Erickson (USA) 15.73, Nikki Van Dijk (AUS) 8.76
Heat 3:  Lakey Peterson (USA) 14.90, Tatiana Weston-Webb (HAW) 12.84, Stephanie Gilmore (AUS) 12.00
Heat 4: Johanne Defay (FRA) 9.33, Silvana Lima (BRA) 4.80, Sally Fitzgibbons (AUS) 1.73
Rip Curl Women's Pro Round 4 Match-Ups:
Heat 1: Courtney Conlogue (USA) vs. Nikki Van Dijk (AUS)
Heat 2: Sage Erickson (USA) vs. Coco Ho (HAW)
Heat 3: Tatiana Weston-Webb (HAW) vs. Sally Fitzgibbons (AUS)
Heat 4: Stephanie Gilmore (AUS) vs. Stephanie Gilmore (AUS)
Rip Curl Pro Bells Beach Round 1 Match-Ups:
Heat 1: Matt Wilkinson (AUS), Mick Fanning (AUS), Jadson Andre (BRA)
Heat 2: Owen Wright (AUS), Miguel Pupo (BRA), Ezekiel Lau (HAW)
Heat 3: Gabriel Medina (BRA), Stuart Kennedy (AUS), Leonardo Fioravanti (ITA)
Heat 4: Jordy Smith (ZAF), Kanoa Igarashi (USA), Nat Young (USA)
Heat 5: Kolohe Andino (USA), Jack Freestone (AUS), Samuel Pupo (BRA)
Heat 6: John John Florence (HAW), Jeremy Flores (FRA), Glyndyn Ringrose (AUS)
Heat 7: Adriano de Souza (BRA), Caio Ibelli (BRA), Joan Duru (FRA)
Heat 8: Kelly Slater (USA), Josh Kerr (AUS), Ian Gouveia (BRA)
Heat 9: Michel Bourez (PYF), Connor O'Leary (AUS), Ethan Ewing (AUS)
Heat 10: Joel Parkinson (AUS), Adrian Buchan (AUS), Frederico Morais (PRT)
Heat 11: Filipe Toledo (BRA), Conner Coffin (USA), Bede Durbidge (AUS)
Heat 12: Julian Wilson (AUS), Sebastian Zietz (HAW), Wiggolly Dantas (BRA)
The rights to any Content attached or accessed by link within this email are granted by the Association of S