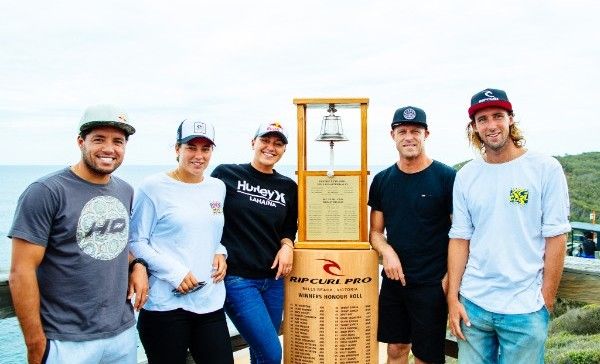 – GOOD SWELL FORECAST FOR A POSSIBLE EARLY START TO THE EVENT #2 OF THE NEW WCT SEASON. BELLS IS 21 HOURS AHEAD OF US IN HAWAII. SO THE MORNING SHOW WOULD BEGIN AT 1030AM WEDNESDAY (730AM IN VICTORIA AUSTRALIA)
WHERE ON GOOGLE EARTH: Bells Beach is a world renowned surf beach located 100 km south-west of Melbourne near Torquay, a coastal locality of Victoria, Australia.
View it HERE
– DE SOUZA, FANNING AND WILKINSON LEAD THE WSL TOP 34 TO HALLOWED GROUND
– MOORE AND WRIGHT EYE MEGA TALENTED WSL TOP 17 FIELD AT BELLS BEACH

the World's best male and female surfers will battle the elements and adapt their approaches in hunting for waves, scores and the honor of ringing the coveted Bell.
Image: WSL / Ed Sloan
| | |
| --- | --- |
| Location:    |   Bells Beach, Victoria/AUS |
| Event window: |   March 24 – April 5, 2016 |
| Today's call: |   Upcoming |
| Conditions: |   Upcoming |

BELLS BEACH, Victoria/AUS (Wednesday, March 23, 2016) –  The Rip Curl Pro Bells Beach, the second stop on the 2016 Samsung Galaxy World Surf League (WSL) Championship Tour (CT), gets underway tomorrow with a competitive window of March 24 – April 5, 2016.
Matt Wilkinson (AUS) and Tyler Wright (AUS) lead the Jeep WSL Leaderboard heading into Bells after clinching major victories at the Quiksilver and Roxy Pro Gold Coast, respectively, last week. Wilkinson and Wright will don the coveted yellow Jeep WSL Leader Jerseys throughout the event and fight to remain at the forefront of the world elite.
"I still can't really believe I'll be running down the stairs at Bells in the Jeep WSL Ratings' Leader Jersey," said Wilkinson. "At the same time though I haven't been spending a lot of time thinking about it. It's early in the year and there's a lot of hungry guys on Tour so I can't worry about rankings. I just need to go out and surf my best and hope that means I keep on winning heats."
"I love Bells so much – it's great to be back," Wright said. "This place and this event has so much history and I love being a part of it. I've been putting in a lot of work over the last few months and it's really great to see it paying off. I'm just looking forward to the first heat here and surfing some good waves."
Wilkinson will face fellow goofy-footer Miguel Pupo (HAW), and Quiksilver Pro Gold Coast runner-up Kolohe Andino (USA) in the opening round of competition. Wright will face Sage Erickson (USA) and Coco Ho (HAW) in the Women's Round 1.
Adriano de Souza (BRA), former Rip Curl Pro Bells Beach winner and reigning WSL Champion, faces Michel Bourez (PYF) and wildcard Tim Stevenson (AUS), who gained entry into the event after winning the Premier's Active April Trials, in his opening round at Bells Beach.
"I'm not feeling any pressure being defending World Champion," De Souza said. "I just want to show up at each event and do my best, that's what has worked for me in the past. It's very special for me to have my name on the Bells trophy, that win is one I will never forget."
Mick Fanning (AUS), three-time World Champion and defending Rip Curl Pro Bells Beach winner, previously announced that he will take some personal time away from competition following the completion of this event. Round 1 will see Fanning, the four-time event winner, face Keanu Asing (HAW) and event wildcard Mason Ho (HAW).
"Something clicks for me at Bells," Fanning said. "I've always been comfortable coming down here and I really enjoy the wave here and it seems to suit my surfing. I just put my head down, go surfing and somehow find myself in the Final while Hells Bells is playing – I get so amped on that. For me this is the most iconic event on Tour and I love everything about it, the trophy, the cliffs, I love it all."
Carissa Moore (HAW), reigning WSL World Champion, will face 2016 WSL rookie Keely Andrew (AUS) and Trials winner Brisa Hennessy (HAW). Moore, current No. 3 in the rankings, will battle for her fourth straight Rip Curl Pro Bells Beach Title.
"Bells is one of my favourite events on Tour," Moore said. "I've had a lot of success here, but that's not the only reason why I love it. We've had some amazing surf here over the past few years and I love the landscape and the people too. I hear we have some good waves coming this weekend too so I can't wait to get started."
The Rip Curl Pro Bells Beach will be webcast LIVE on WorldSurfLeague.com as well as theWSL app.
The event is also being carried by our LIVE broadcast partners Fox Sports Australia, CBS Sports in the United States, ESPN Brasil, Globosat, Edgesport, Sky NZ, Sport TV, Canal + Deportes, Channel Nine, MCS, Starhub, and Oceanic Time Warner Cable 250 & 1250 in Hawaii.
For more information, log onto WorldSurfLeague.com
Rip Curl Pro Bells Beach Round 1 Match-Ups:
Heat 1: Jeremy Flores (FRA), Caio Ibelli (BRA), Davey Cathels (AUS)
Heat 2: Julian Wilson (AUS), Stuart Kennedy (AUS), Adam Melling (AUS)
Heat 3: Italo Ferreira (BRA), Kanoa Igarashi (USA), Dusty Payne (HAW)
Heat 4: Gabriel Medina (BRA), Conner Coffin (USA), Timothee Bisso (GLP)
Heat 5: Mick Fanning (AUS), Keanu Asing (HAW), Mason Ho (HAW)
Heat 6: Adriano de Souza (BRA), Michel Bourez (PYF), Tim Stevenson (AUS)
Heat 7: Kelly Slater (USA), Kai Otton (AUS), Alex Ribeiro (BRA)
Heat 8: Joel Parkinson (AUS), Taj Burrow (AUS), Sebastian Zietz (HAW)
Heat 9: Matt Wilkinson (AUS), Kolohe Andino (USA), Miguel Pupo (HAW)
Heat 10: Nat Young (AUS), Adrian Buchan (AUS), Ryan Callinan (AUS)
Heat 11: Josh Kerr (AUS), Wiggolly Dantas (BRA), Matt Banting (AUS)
Heat 12: John John Florence (HAW), Jordy Smith (ZAF), Jadson Andre (BRA)
Rip Curl Women's Pro Bells Beach Round 1 Match-Ups:
Heat 1: Stephanie Gilmore (AUS), Bianca Buitendag (ZAF), Chelsea Tuach (BRB)
Heat 2: Sally Fitzgibbons (AUS), Malia Manuel (HAW), Alessa Quizon (HAW)
Heat 3: Carissa Moore (HAW), Keely Andrew (AUS), Brisa Hennessy (HAW)
Heat 4: Courtney Conlogue (USA), Nikki Van Dijk (AUS), Laura Enever (AUS)
Heat 5: Tyler Wright (AUS), Sage Erickson (USA), Coco Ho (HAW)
Heat 6: Joanne Defay (FRA), Tatiana Weston-Webb (HAW), Bronte Macaulay (AUS)