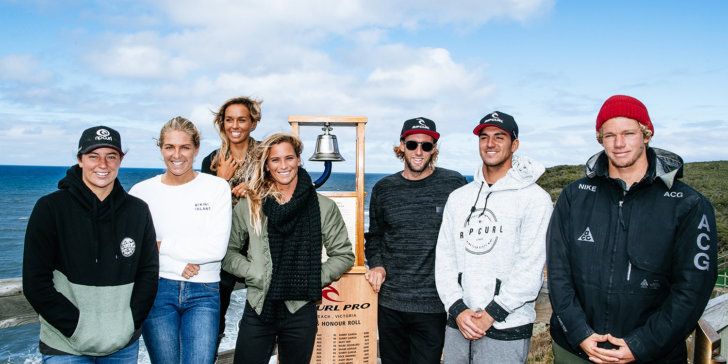 CT #3
Standby: Apr 12 – 24. Bells in Victoria (20 hours ahead)
Event Status: Standby…. Next Call @ Apr 11, 2017 10:45 am HST* (645am Wednesday in Australia)
– WSL JEEP FRONTRUNNER FLORENCE EYES WIN TO CLOSE OUT AUSTRALIAN LEG
– GILMORE, FITZGIBBONS LEAD WSL WOMEN'S ELITE TO HISTORIC VENUE
(Left to Right) Tyler Wright (AUS), Stephanie Gilmore (AUS), Sally Fitzgibbons (AUS), Courtney Conlogue (USA), Matt Wilkinson (AUS), Gabriel Medina (BRA) and John John Florence (HAW) are gearing up for the Rip Curl Pro Bells Beach.
Credit: © WSL / Sloane
BELLS BEACH, Victoria/AUS (Tuesday, April 11, 2017) – The Rip Curl Pro Bells Beach, the third stop on the World Surf League (WSL) Championship Tour (CT), begins tomorrow with a competitive window of April 12 – 24, 2017.
The longest-running professional surfing contest in the world, the Rip Curl Pro Bells Beach, has taken place each year since 1962. This year's 56th iteration will witness a competitive field of elite surfers battle to prove themselves and earn the right to 'ring the bell'.
Current WSL Champion and World No. 1 John John Florence (HAW) leads the WSL Jeep Leaderboard for the men after securing a major victory at the Drug Aware Margaret River Pro and Semifinal berth at the Quiksilver Pro Gold Coast. Florence will look to surpass last year's 13th place finish as he comes up against Jeremy Flores (FRA) and Visit Victoria Trials winner Glyndyn Ringrose (AUS) in Round 1.
"This event has been running for so long, which makes it really special," Florence said. "So many of my heroes have come here and won this event, and I want my name alongside theirs. It's a really tough event because you are constantly having to adapt to changing conditions and that's another thing that makes it so special because you have to be a well rounded surfer to take it out. I'm going to keep my game plan pretty similar to Margaret River, just big turns and surf to how the wave should be surfed."
Six-time WSL Champion Stephanie Gilmore (AUS) and 2017 World Title contender Sally Fitzgibbons (AUS) currently share the top spot on the Jeep Leaderboard. Both have secured multiple wins at this event, but a victory to close out the Australian leg will be critical to this year's World Title race.
Gilmore will face 2016 Rookie of the Year Keely Andrew (AUS) and injury replacement Isabella Nichols (AUS) in Round 1 Heat 4.
"There are so many memories from this place," said Gilmore. "It's such a legendary, iconic place, so to win it is one of the best feelings in surfing. There is a really good vibe and spirit here, unlike anywhere else we go. Holding onto the number one spot is great at the moment, but I don't want to get too far ahead of myself. With two different winners early on in the year, it looks like it's going to be a really interesting title race. I can't wait to see how it unfolds."
Round 1 Heat 5 will see Fitzgibbons face World No. 7 Lakey Peterson (USA) and World No. 15 Pauline Ado (BRA).
"I've been coming to Bells Beach for so many years so it's like an old friend to me," Fitzgibbons said. "I love being here and having the opportunity to go all the way and ring the Bell. I have done it before and know I definitely have the ability, but this is a new year and a clean slate. It's feeling good being at the top of the rankings and just giving myself a shot at the title from this early in the year feels great. I'm feeling like I belong and really comfortable. It's a long season so I just need to be consistent."
2016 WSL Champion Tyler Wright (AUS) is currently ranked third in the world and will look to surpass last year's runner-up finish at this event. Wright will match up against Laura Enever (AUS) and trials winner Ella Williams (NZL) in Round 1 Heat 3 when competition gets underway.
"So many legends of this sport, past and present have held up the Bell and that's what makes it so special," Wright said. "I've been coming here for years since I was a kid so am really comfortable here and have some great memories. It's a really unique wave so I try and keep it simple with my surfing, just a couple of big turns and a solid finish and I think that's what will get me scores. I'm pumped to get the competition started."
2016 event winners Matt Wilkinson (AUS) and Courtney Conlogue (USA) will look to defend their event titles this year. Wilkinson, current World No. 6, is out for a strong result in Victoria after an early exit in Margaret River. He will come up against three-time WSL Champion Mick Fanning (AUS) and Jadson Andre (BRA) in Heat 1. Conlogue will battle to break through to the Semifinals for the first time this season, but will first need to defeat Sage Erickson (USA) and Coco Ho (HAW) in her Round 1 match-up.
"Bells is the place of my second ever CT win so it's got a big place in my heart," Wilkinson said. "I got a good start to my best ever year at this place so I'm super comfortable here. It changes a lot here, and adapting and changing speed and positioning is one of my strong points, so I'm always confident here. I'd love to go back-to-back here, it would mean the world."
"Winning last year was incredible," Conlogue said. "Getting to finally ring the Bell was just an amazing experience. This is a new year though, so I need to focus on what is ahead of me. I grew up looking up to the Bells' winners, everyone who has one is an iconic surfer, and so many have gone on to win World Titles so it's always been a big event for me. Conquering it last year was amazing and I want nothing more that to do it again."
With a number of Australian and Rip Curl Junior events running at Bells Beach beach over the years, current World No. 2 Owen Wright (AUS) is no stranger the big open walls of the Bells Bowl. After missing last year's event, Wright is back in familiar surroundings and is keen to display the power that comes with experience. With a first and an equal fifth from his first two events back on the CT, Wright will no doubt be one to watch when he takes to the water at Bells.
"I have so many good memories from this place," Wright said. "I've been coming here for so long and had an affinity with it since I was a kid plus being a Rip Curl team rider, it just all makes it such a special spot for me. This has always been a strong event for me, so I am definitely aiming high. After massive days at Margaret River, I'm stoked to be back in the water and not being overpowered by the ocean."
2014 WSL Champion Gabriel Medina (BRA) is eager to  improve his standing on the Jeep Leaderboard at this event. Currently ranked eighth, Medina has had inconsistent finishes thus far on the Australian leg. Round 1 will see Medina battle Stuart Kennedy (AUS) and 2017 CT Rookie Leonardo Fioravanti (ITA) in Heat 3.
"It's always great to come back to a place with such a rich history like Bells Beach," Medina said. "Hopefully we can get some good waves throughout the window and have some fun. It's such a different wave to any other that we go to on tour. You really have to adapt, especially on your backhand. Seeing Matt Wilkinson win here on his backhand last year has shown all of the goofy-footers that it is possible. I know I have it in me, so I'm pumped up to prove myself."
Taking out the final two spots of the men's draw were two competitors with very different experiences of the CT. Winning his way through the Rip Curl Trials was Samuel Pupo (BRA), whose older brother Miguel Pupo (BRA) has been competing on the CT for the better half of five years now. He will be joined by former CT competitor Glyndyn Ringrose (AUS) who took out the local Visit Victoria Trials. Ringrose overcame a hungry pack of local Victorian surfers to find himself back in a CT event for the first time since 2001.
Kiwi Ella Williams (NZL) took out the women's trials to book herself a spot into the main event. Williams has come close to Qualifying for the CT on a few occasions and this week will have her opportunity to mix it with the world's best at the iconic Bells Beach.
Italo Ferreira (BRA) has withdrawn from the Drug Aware Margaret River Pro after an ankle injury suffered earlier this year. Ferreira's position has been filled by Nat Young (USA).
Malia Manuel (HAW) will not be competing at this event due to a knee injury suffered during the Drug Aware Margaret River Pro. Manuel will be replaced by Isabella Nichols (AUS).
Event organizers will convene tomorrow morning at 6:45 a.m. to assess the conditions and make the first call.
The first half of the waiting period has several potential swells: medium size SW swell on Wednesday, fades Thursday. Back-to-back SW swells are possible from Friday afternoon through Sun/Mon that, at this point, look roughly similar in size. There is potential for a larger and possibly solid SW/SSW swell for Tue-Thur the 18th-20th. Surfline.
The event will be broadcast LIVE via WorldSurfLeague.com, the WSL app and on Facebook LIVE via the WSL's Facebook page. Also check the local listings for coverage on CBS Sports Network in the U.S., Fox Sports in Australia, ESPN in Brazil, Sky NZ in New Zealand, SFR Sports in France and Portugal and as part of the EDGEsport Network.
For more information, check out WorldSurfLeague.com.
Rip Curl Pro Bells Beach Round 1 Match-Ups:
Heat 1: Matt Wilkinson (AUS), Mick Fanning (AUS), Jadson Andre (BRA)
Heat 2: Owen Wright (AUS), Miguel Pupo (BRA), Ezekiel Lau (HAW)
Heat 3: Gabriel Medina (BRA), Stuart Kennedy (AUS), Leonardo Fioravanti (ITA)
Heat 4: Jordy Smith (ZAF), Kanoa Igarashi (USA), Nat Young (USA)
Heat 5: Kolohe Andino (USA), Jack Freestone (AUS), Samuel Pupo (BRA)
Heat 6: John John Florence (HAW), Jeremy Flores (FRA), Glyndyn Ringrose (AUS)
Heat 7: Adriano de Souza (BRA), Caio Ibelli (BRA), Joan Duru (FRA)
Heat 8: Kelly Slater (USA), Josh Kerr (AUS), Ian Gouveia (BRA)
Heat 9: Michel Bourez (PYF), Connor O'Leary (AUS), Ethan Ewing (AUS)
Heat 10: Joel Parkinson (AUS), Adrian Buchan (AUS), Frederico Morais (PRT)
Heat 11: Filipe Toledo (BRA), Conner Coffin (USA), Bede Durbidge (AUS)
Heat 12: Julian Wilson (AUS), Sebastian Zietz (HAW), Wiggolly Dantas (BRA)
Rip Curl Women's Pro Round 1 Match-Ups:
Heat 1: Courtney Conlogue (USA), Sage Erickson (USA), Coco Ho (HAW)
Heat 2: Carissa Moore (HAW), Nikki Van Dijk (AUS), Bronte Macaulay (AUS)
Heat 3: Tyler Wright (AUS), Laura Enever (AUS), Ella Williams (NZL)
Heat 4: Stephanie Gilmore (AUS), Keely Andrew (AUS), Isabella Nichols (AUS)
Heat 5: Sally Fitzgibbons (AUS), Lakey Peterson (USA), Pauline Ado (FRA)
Heat 6: Johanne Defay (FRA), Tatiana Weston-Webb (HAW), Silvana Lima (BRA)