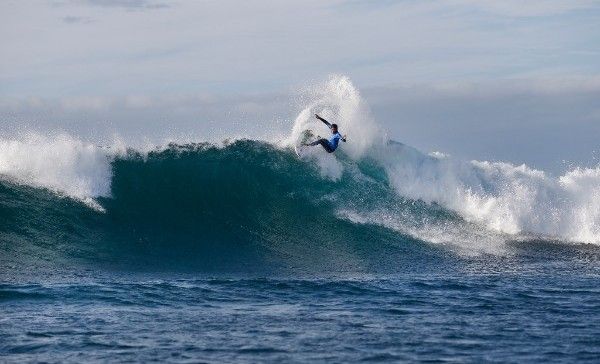 – ROUND 1 HEATS 1 THROUGH 6 COMPLETED IN MORNING CONDITIONS
– COMPETITION HALTED DUE TO TIDAL CONDITIONS, LIKELY RECOMMENCEMENT TOMORROW
2016 WSL Rookie Kanoa Igarashi (USA) flies through Round 1 to defeat Dusty Payne (HAW) and Italo Ferreira (BRA) in Heat 3 of the Rip Curl Pro Bells Beach.
Image: WSL / Cestari
| | |
| --- | --- |
| Location:    |   Bells Beach, Victoria/AUS |
| Event window: |   March 24 – April 5, 2016 |
| Today's call: |   Men's Round 1 called ON |
| Conditions: |   3 – 5 foot (1 – 1.5 metre) |
BELLS BEACH, Victoria/AUS (Friday, March 25, 2016) – Action at the Rip Curl Pro Bells Beach, the second stop on the World Surf League (WSL) Samsung Galaxy Championship Tour (CT), continued today with the opening half of Round 1.
Adriano De Souza (BRA), reigning WSL Champion and former event winner, squeaked by in his Round 1 heat. Trials winner Tim Stevenson (AUS) challenged De Souza for the heat win, but was unable to find the second wave score to close the 0.63 point gap.Michel Bourez (PYF)  and Stevenson will fight through Round 2 to avoid an early elimination.
"Everyone was excited about how well Stevenson performed in that heat, so I am happy to make this heat," De Souza said. "It was important for me to go straight to Round 3. We had a tough heat as waves disappeared and the tide was coming in, and I am lucky to have found the wave right before the buzzer."
Mick Fanning (AUS), three-time World Champion and four-time event winner, charged into Round 1 and posted a solid 16.93 two-wave score to defeat Keanu Asing (HAW)and event wildcard Mason Ho (HAW). Fanning's jump to Round 3 puts him in a strong position to hunt down a fifth Rip Curl Pro Bells Beach Title. The Hawaiians will compete in Round 2.
"I think on the Gold Coast I was more outward, so in this event I try to turn it more towards me," Fanning said after his heat. "I am still feeling free and relaxed and just approaching it a bit different. It's calmer down here at Bells. You can get some more quiet time, where at home it's pretty hectic."
Gabriel Medina (BRA), 2014 WSL Champion, found success in Heat 4 against 2016 WSL rookie Conner Coffin (USA) and Timothee Bisso (GLP). Medina earned a two-wave combined score of 13.84 to secure his lead and advance to Round 3. Coffin and Bisso were not able to find the second wave scores to challenge the Brazilian heavyweight.
"Gold coast was pretty fast for me because I lost in round three and after that I came straight to Bells," said Medina. "I have been training and want to do well here. It's a hard wave for goofy, but I've been training as hard as I can and want to get a good result."
The all-Australian match-up saw Julian Wilson (AUS) defeat injury replacement Stuart Kennedy (AUS) and Adam Melling (AUS) to advance straight to Round 3. Kennedy, who caused massive upsets on the Gold Coast, fought to lead the heat, but could not put together a high enough combination to break Wilson's 13.84. Melling and Kennedy will compete to avoid early elimination in Round 2.
"It was a little tricky out there this morning, but there were a few opportunities," Wilson said. "I was trying to pick the right waves and I picked a couple of the set waves, which were tricky to surf, but I got a couple of scores."
The 2016 rookie class saw strong performances today in Round 1, with Davey Cathels (AUS) and Kanoa Igarashi (USA) winning their heats to advance straight to Round 3.
Igarashi, whose last encounter at Bells ended with a broken leg, set a strong pace by posting a 7.67, the highest ride in his heat. Injury replacement and former CT charger,Dusty Payne (HAW) battled to regain the lead, but fell short by 1.37 points.
"The last time I was here was four years ago and I broke my leg," Igarashi said. "I have only been here for about four to five days but I am around really good friends. I feel super comfortable and know exactly which waves I want because I have such good people around me."
Davey Cathels (AUS) kicked off men's Round 1 with a strong performance against fellow rookie Caio Ibelli (BRA) and CT veteran Jeremy Flores (FRA). Cathels posted a 15.20 two-wave combined score, leaving Flores 1.60 points short of the heat win. Cathels will advance to Round 3, while Flores and Ibelli will battle in elimination Round 2.
When competition resumes, up first will be Kelly Slater (USA), Kai Otton (AUS) andAlex Ribeiro (BRA) in Heat 7 of Round 1.
Event organizers will reconvene tomorrow at 8am local time to assess conditions for a possible recommencement.
Multiple SW swells will pulse in over the rest of the week, providing fun size surf for Bells and eventually peaking on Sunday the 27th with overhead to well overhead sets. Easing swell over the first half of next week, but plenty of surf still on tap for at least Mon/Tues. Watching for another possible run of fun size SW swell for around the 1st-3rd. Surfline
Highlights from the Rip Curl Pro Bells Beach will be webcast LIVE atWorldSurfLeague.com.
Rip Curl Pro Bells Beach Round 1 Results:
Heat 1: Davey Cathels (AUS) 15.20, Jeremy Flores (FRA) 13.60, Caio Ibelli (BRA) 10.00
Heat 2: Julian Wilson (AUS) 13.84, Stuart Kennedy (AUS) 11.40, Adam Melling (AUS) 10.57
Heat 3: Kanoa Igarashi (USA) 14.04, Dusty Payne (HAW) 12.67, Italo Ferreira (BRA) 12.46
Heat 4: Gabriel Medina (BRA) 13.84, Conner Coffin (USA) 11.37, Timothee Bisso (GLP) 10.53
Heat 5: Mick Fanning (AUS) 16.93, Keanu Asing (HAW) 12.77, Mason Ho (HAW) 9.76
Heat 6: Adriano de Souza (BRA) 11.23, Tim Stevenson (AUS) 10.60, Michel Bourez (PYF) 9.00
Rip Curl Pro Bells Beach Remaining Round 1 Match-Ups:
Heat 7: Kelly Slater (USA), Kai Otton (AUS), Alex Ribeiro (BRA)
Heat 8: Joel Parkinson (AUS), Taj Burrow (AUS), Sebastian Zietz (HAW)
Heat 9: Matt Wilkinson (AUS), Kolohe Andino (USA), Miguel Pupo (HAW)
Heat 10: Nat Young (AUS), Adrian Buchan (AUS), Ryan Callinan (AUS)
Heat 11: Josh Kerr (AUS), Wiggolly Dantas (BRA), Matt Banting (AUS)
Heat 12: John John Florence (HAW), Jordy Smith (ZAF), Jadson Andre (BRA)
Rip Curl Women's Pro Bells Beach Round 2 Match-Ups:
Heat 1: Nikki Van Dijk (AUS) vs. Chelsea Tuach (BRB)
Heat 2: Sage Erickson (USA) vs. Alessa Quizon (HAW)
Heat 3: Sally Fitzgibbons (AUS) vs. Brisa Hennessy (HAW)
Heat 4: Stephanie Gilmore (AUS) vs. Laura Enever (AUS)
Heat 5: Tatiana Weston-Webb (HAW) vs. Coco Ho (HAW)
Heat 6: Keely Andrew (AUS) vs. Bronte Macaulay (AUS)