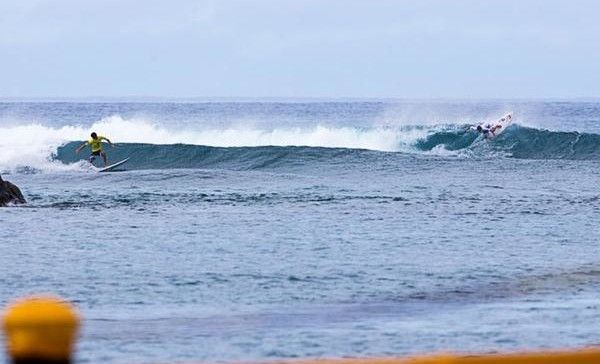 EVENT UPDATE RE: Sewage from bathrooms.
The GromSearch Event will remain as scheduled for Saturday, July 9th. The H.C.D.A has advised that the water at Kewalo Basin does not pose a health risk from the sewage spill that happened over the holiday weekend.
The Search continues for the top 16 and under groms around the nation as the Rip Curl GromSearch presented by Banzai Bowls is heading back to Kewalo Basin, Oahu this Saturday, July 9th for the second of four regional tour stops.
Not only will the top finishing groms be heading home with cash and amazing prizes but they'll have a solid 2-4′ SSW swell so the GromSearch competitors are absolutely going to score! Forecasts show a steady SSW groundswell with a SSE swell mixing in, with sunny 88-degree weather on tap, the event could potentially be one for the ages.
The stacked field of 100 frothing groms will have to surf multiple rounds in order to have their shot at a top four finish. For those placing 1st through 4th in each division they will earn a coveted invitation to compete in the Rip Curl GromSearch National Final to be held at Seaside Reef on October 29th.
With the best junior talent traveling from across the Hawaiian Islands, as well as a handful of mainlanders making the trek to Hawaii, the competition is looking fierce.
For event schedule and more info on next events, check out ripcurl.com/gromsearch
About the GromSearch:
Since Rip Curl developed the concept for the GromSearch events in 1999, the series has spread throughout the surfing world, covering seven regions, attracting the best up and coming competitive surfers globally. The worldwide series is held for male and female surfers aged 16 years and under, commonly referred to as "groms", with the aim of the GromSearch is to nurture and recruit the next generation of surfers at a grassroots level.
Join the best youth surfers from all over North America as they compete at four GromSearch regional qualifier events. Starting in Huntington Beach, California and with stops in Hawaii, Florida, and wrapping up in North Carolina, the regional finalists will then ultimately compete in the National Championship. Set at Seaside Reef in Southern California, the National Championship will decide who will represent North America and compete against the world's best Groms at the Rip Curl GromSearch International Final.
For more info, go to ripcurl.com/gromsearch
Stop #1: June 4-5 – HB Pier, Huntington Beach, CA.
Stop #2: July 9 or 10 – Kewalos, Honolulu, HI.
Stop #3: August 13 or 14 – New Smyrna Beach, FL.
Stop #4: August 19 or 20 – Jennette's Pier, Nag's Head, NC.
October 29 – National Championship – Seaside Reef, Cardiff, CA.