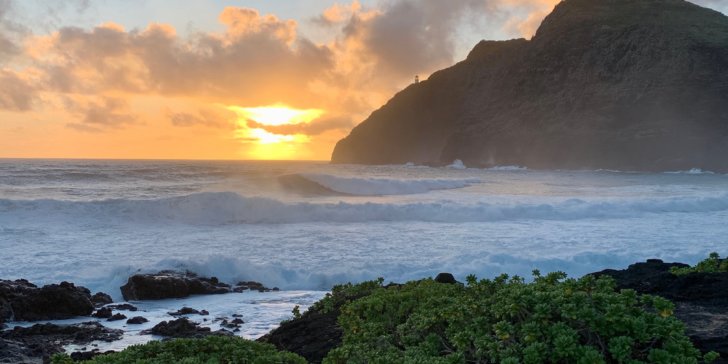 Aloha Wave Riders,
We saw large and in charge surf from the ENE and SSW the week of the 23rd. Makapu'u reached almost 8' Hawaiian Scale (15' faces) and South Shores hit 6' (double overhead). The NS had a 6-8'+ on the 12th but prior to that it was pretty lame at 1-2-3′ ish. We had to wait again till the 21st for another advisory NW. After that…Nada.
Front page image: Lifeguard/Surfer Eugene Teixeira

March had not been 'all-time' until the high East and South, but still finished up by delivering ongoing action to all shores -there was always something to ride. That's the blessing of living on an Island in the middle of the most geographical isolated population -by salt water- on earth.

Now that we've seen some fun within this first week of April, we can only hope for more of the same. It's not likely we'll get another double overhead south, though.  Lets pray for more double+ overhead NNW as we had Saturday 4/3 into Sunday!
These are not the days to expect Big dreams (and waves) to arrive at our doorstep, rather we best try to embrace all we do have in front of us…and be grateful. Plus, that's good for the immune system, just like surfing.
Indeed, Surfers and Ocean enthusiasts need a place to cleanse their body, heart, mind and soul more than ever. Don't overlook the fact that you don't even need to be a surfer or a fanatic for water -trust me- try floating and swimming for just 20 minutes and see how you feel. It's just a bit more challenging to get TO the water.
More than ever here at SNN, we've been busy with 'work' -that's why they call it 'business' I guess.
Yeah, we work.
So many GREAT companies have had to 'take a break' in their sponsorship and ad buys.
It's understandable -so many of our clients are in the hard-hit surf retail, restaurant and bar biz. They were literally ordered to close up shop and stop their dine in service. Drastic measures have been given to many other types of business. The alternative was and is still far more drastic.
It's all totally unprecedented…you and I are living in Historic times. The kind we'll be writing and reading about for 'centuries' to come. What we did, what we learned…Through it all, the surf will keep coming. Thank God.
Collectively and individually we will come out of this bigger, better, stronger. The sooner the better…
The Tokyo Summer Olympics as you know have been hard hit, too! Can you say TKO'D?
The week of March 23rd saw the official postponement of all the games. This included what would have been Surfing's first entry into the Biggest athletic competition on the planet. What a bummer. But the bottom line is that Covid-19 is far bigger than any sport or event, bar none, period.
Hawaii's legendary surfers Carissa Moore (4X and current World Champ) and John John Florence (2X WC) will have to wait till 2021…Yes, if we're lucky enough to have the 2021 Olympics -lately, nothing feels guaranteed anymore.
The CEO of USA Surfing, Greg Cruse said: "If there is a country that could re-organize and work out the logistics of a postponement, it is Japan … I think we will be impressed with the resolution being worked out."
The World Surf League has cancelled not just postponed -as most know- it's first 3 events through May. Ironically, the first event was the 'Corona' Open Gold Coast (3/26-4/5). We'd have just been finishing up.
The next contest was the Rip Curl Bells Beach 4/8-18) and then the Boost Mobile Pro at Margaret River 4/22-May 2nd.
Can you believe this? It's nuts to think we'd have been watching, evaluating and fantasizing the 2020 World Tour in Australia already if all was 'normal' Now there's a word I never thought I cherished…till now.
Stay well, stay safe and stay right here at SNNHAWAII.COM for the latest conditions in Paradise.
Oh, and don't forget…our right to surf is still not guaranteed (San Diego line ups are legally empty!). Please don't congregate -too much- at your spot's beach. The city/state is watching.
Mahalo and Aloha
GQ, droppin' in 4 U!