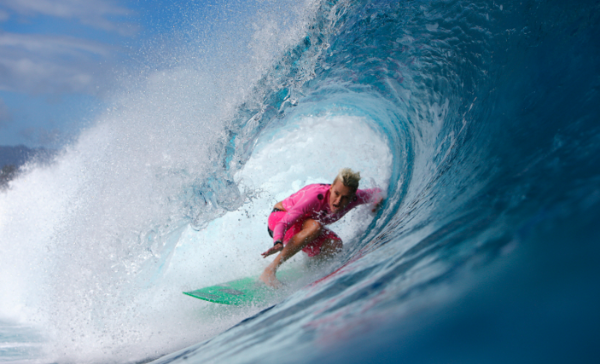 Surf's 4-6′ NNW and offshores. More backdoor than left door…Game on for day one!
Defending Wahine Pipe Pro winner Keala Kennelly (HAW) will bring the heat again this year. Image: WSL
| | |
| --- | --- |
| Event / Location:   | Pipe Junior Pro / Wahine Pipe Pro |
| Dates: | Monday March 21 – 28, 2016 |
Rating:                            WSL JQS1,000
/ WSL WQS1,000
Recent JQS winners Noah Hill and Summer Macedo head to Pipe for upcoming events
Haleiwa, Oahu, HAWAII – Saturday, March 19, 2016) — Starting Monday, the Banzai Pipeline will light up once again for the Junior Pipe Pro and Wahine Pipe Pro, with overhead waves and glassy conditions expected. Combining both a men's Junior Qualifying Series (JQS) 1,000 and a women's Qualifying Series (WQS) 1,000 event, the World Surf League (WSL) Hawaii is proud to offer more competitions than ever to their professional membership of Hawaii/Tahiti Nui athletes.
Fresh off their first place wins in Tahiti at the Papara Pro Junior and Papara Vahine Pro Junior, both Noah Hill (Maui) and Summer Macedo (Maui) will be traveling to the North Shore of Oahu to compete.
Hill, originally from Venice Beach and now living on the west side of Maui, was feeling self-assured after his win. "It gives me a lot of confidence knowing I can get scores in these contests because the highest score I got before this was like a four."
The 14-year old has only competed in one other Pro Junior event prior to his win and lost out in the first round. Taking the Papara Pro Junior by storm, Hill was able to surf his way to the podium with well-calculated airs coupled with strong, smooth maneuvers. At Pipeline, his barrel riding will now be put to the test.
Macedo, 15, will also be tried in the heavy reef break to go up against seasoned pros like Anastasia Ashley (USA), Brianna Cope (Kauai) and defending champion Keala Kennelly (Kauai).
The Lahaina local will also meet up again with opponent and Papara Vahine Pro Junior Runner Up, Vahine Fierro (PYF). This will be Fierro's first time surfing Pipeline professionally, but the skill level shown in Tahiti could mean a solid finish for the 16-year-old.
Other Tahitian standouts competing in the Pipe Pro events for the first time include Mauiki Raioha (PYF) – who posted two 10-point rides during the Rangiroa Open Pro – and Karelle Poppke (PYF), an up-and-comer who is being coached by seasoned pro Hira Teriinatoofa (PYF).
The holding period for the Pipe Pro Junior and Wahine Pipe Pro is March 21 – 28 and contest organizers say an immediate 8:00am start on Monday looks very likely. A NW swell is marching toward the North Shore and is expected to deliver 4-7 wave faces, which will be highly contestable for both the juniors and the women.