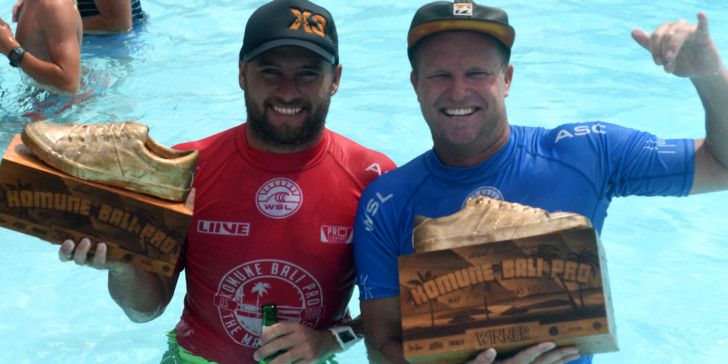 (Keramas Beach, Bali Indonesia: Saturday May 7th, 2016):  In one of his last ever World Surf League (WSL) event appearances, Taj Burrow has won the Komune Bali Pro Presented by The Mad Hueys for the second year in a row in pumping four-to-six foot waves at Bali's best right-hander Keramas. Burrow clinched victory in the final minute against Central Coast underdog Shane Holmes who was a standout all event.
Burrow waited patiently in the final until he found himself in a combination situation (needing two single wave scores) and found a long hollow wave with some smooth finishing turn sections. He was then left needing an 8.70 (out of a possible 10) Burrow found one of the bigger waves of the heat and stalled for what seemed like and eternity in one of the best barrels of the event before coming out and smashing two big turns to score the a 9.67 for a heat total of 18.74 (out of a possible 20), the highest two wave total of the event to take the win.
"I was about to congratulate Shane before that one came through," Burrow said. "I didn't think that one would barrel but it was big so I just stalled as hard as I could then got a few turns in and it definitely felt like I got the score, it was a real gift."

Burrow stalling for Keramas pit to take the win in the dying seconds: WSL/Bennett
That's two years in a row Burrow has won the Komune Bali Pro in the last minute of the heat. His 20 years plus experience helped him keep composed in a Final that he trailed in against a competitor that prior to this week, he knew little about.
"To be honest, I had never heard of Shane until this contest. When I saw him surf I knew he was the real deal. Then when I saw him beat Joel (Parkinson) and was in the Final I definitely wasn't taking it lightly. To win a couple of events here is amazing I love this wave, it's really fitting as it will be one of my last WSL event. I couldn't be happier."


Burrow and Holmes post heat sportsmanship: WSL/Bennett
In his second Qualifying Series (QS) event final of 2016, Shane Holmes was looked unstoppable. After posting one of the only perfect 10.00 point rides of the event, Holmes was seen as a force to be reckoned with. On his way to the final he even took doesn't  2012 World Champion Joel Parkinson who won the only CT to be held in Bali at this very wave only three year ago. Holding the lead for the entire final, Holmes just came short of the biggest win of his career. This is a breakthrough performance for Holmes who in-between events works as a concreter on the Central Coast.
"That was such an amazing experience," Holmes said. "Taj is one of my favourite surfers so to surf a final against hime at this amazing wave was so good. This was definitely the hardest QS1,000 event I've ever done with Taj and Parko and Bruce (Irons) all in the draw, you really just had to go out and do your best. Even though it's my second runner-up this year it's been so sick to surf against some of the best in the world."

Shane Holmes was on fire all event: WSL?Bennett
On his way his way to the final, Burrow took down the last Indonesian surfer left in the draw Darma Putra. Putra performed amazingly all event and was unlucky not to go all the way with his final performance being his strongest with a heat total of 16.90.
"Surfing a WSL event at Keramas is so cool," Putra said. "I love this wave so to have this place with no one out is amazing. Surfing against Taj was so great. I think it's amazing to have the CT surfers here for the Indonesian surfers to see how the best compete. I've had a great time at this event."

Caption:
The Komune Bali Pro Presented By The Mad Hueys will run from May 3 – 7. For more information and images during the event, head to www.worldsurfleague.com or the WSL App during the event window.