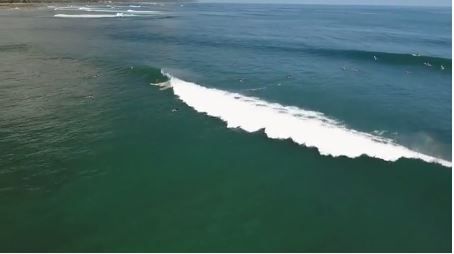 For the majority of surfers who had the time to surf, they'll remember this spring as 'one of the best'.
I lost  count how many times I've heard "good as it gets". Especially for the NW shores which were blessed with many back to back episodes of bliss; this goes for anytime of year let alone late Spring! Plus, there were a lot of calm to S to East winds from those storms that approached near the Islands. These winds created many moments off glassy to offshore perfection, even though it may have been cloudy and rainy. Who cares?!
Personally, I prefer those dark weathered days. It creates atmosphere and keeps the crowd somewhat tamed.
I had a late 2-hour session in perfect 5-7' surf last week, one of the best, most beautiful I can ever remember. There were low moist clouds hugging the tops of the Waianae and Ko'olau mountain ranges. The recent rain had made the land a lush deep green under the storm's shadows. It was mysteriously gorgeous. Winds were gusty and straight offshore from the south. This created 'rooster tails' blowing off the tops of the cresting waves. I witnessed several dozens of these high arching sprays off fast moving liquid mountains. These waves were to my right, to my left and right in from of me as they marched toward their final destination, the shore.
Then, sun broke out under the clouds not far above the west horizon. The golden orange rays snuck out of small breaks in the storm clouds acting like a magnifying glass of intense light. This shot straight onto the nooks and crannies of the Waianae's and Ko'olau's and everywhere in-between. Life lite up. It was surreal. I could only laugh like a little kid as I throttled almost more waves than my body could handle. Oh, I was by myself for half the time. 
Well, those days/seasons can alter our expectations toward the unreasonable LOL. But, looking at the forecast, the wave machine is truly shutting down semi regular NW swells of this size. But, don't forget there's been 12' WNW swells in June. Any 'rogue' thing can happen with Mother Nature in control. The good thing is that as the NW falls asleep with occasional yawns, the South Shore is starting to wake up more and more. As of this writing we have 5 episodes on the charts. Nothing at advisory levels but we are guaranteed to have something to play upon through May!
Mahalo Terry for the memorabilia! 🙂
ALOHA, GQ, Droppin' in 4 U!