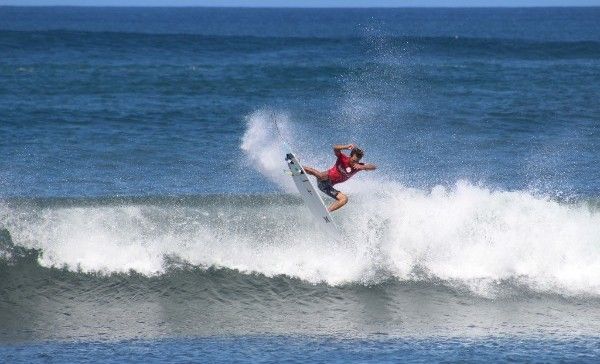 ….AT PAPARA PRO JUNIOR TAHITI!
– HAWAII'S DEFENDING WINNER SUMMER MACEDO SURFS TOWARD SECOND TITLE
Barron Mamiya (HAW) builds confidence and momentum in Tahiti, takes to the air in the Quarterfinals.
Credit: © WSL / Rolland
Taharu'u Beach, Papara, Tahiti, FRENCH POLYNESIA – (Monday, March 13, 2017) —  The Junior Men initiated Day 1 of the Papara Pro Junior Tahiti today with Hawaii dominating the competition and the region's top athletes finding their place in the Semifinal in both the Men and Women's divisions. The Papara Pro Junior Tahiti is a World Surf League (WSL) Men and Women's Junior Qualifying Series (QS) 1,000 event and is combined with the Men and Women's Papara Pro QS1,000 and Men's Tama He'e Classic Longboard QS1,000.
Oahu's Barron Mamiya, who is competing for the first time in Tahiti, had an impressive showing and posted the highest single wave score of the event, an excellent 9.60."It was the first wave, get the feet in the wax," said Mamiya. "My board felt a little slippery, but I surfed it good, I was stoked." Mamiya linked together multiple turns to garner the near-perfect score and was committed and powerful in the punchy surf. He advanced ahead of Ryder Guest (HAW) and the two will go head-to-head in the second Semifinal once the division's competition resumes.

Mamiya hits the lip on his backhand. Credit: © WSL / Rolland
Mamiya currently leads the regional rankings after winning his first professional event at the Sunset Pro Junior in January, and looks to sync up a second victory.
"That would be super sick, I would be stoked," he said about the possibility of taking the title. "It's cool to win any event and I'm here for both comps so hopefully I do good. It's just all about making heats."
The North Shore local dominated his heat against Guest, Sacha Levy-Agami (PYF) and Keanu Taylor (HAW) with a 17.10, but was initially sick upon arriving in Tahiti and had to spend a few days recuperating before preparing for the event.
"I'm 100 percent now," he continued. "It's been pretty cool, we got to check out a few things, we're staying with Matahi (Drollet) and he's the local around here so he shows us everything, we're stoked." Mamiya will compete in both the Junior division and Men's QS1,000, and also surfed last week in the Air Tahiti Rangiroa Pro.
Another North Shore notable, Finn McGill (HAW), advanced to the Semifinal today after churning out some of the best backside turns of the Men's division. Normally seen tackling extra-sized surf in Hawaii, McGill swapped out for smaller boards and shifted gears into a beach break mindset.

McGill transitions from heaving barrels at Pipeline to playful surf at Papara. Credit: © WSL / Rolland
"It's so nice having the right board, it just floats over everything," McGill said. "I think if you have the right board and the right mentality, anyone can win here…The waves are fun, really rippable. Some nice air wind too, although I haven't really done an air yet. It's super glassy, almost like a mini Lowers."
McGill will go against Wyatt McHale (HAW), another North Shore surfer who earned a spot in the competitive limelight this past winter. McHale surfed in his first Vans Triple Crown event and also the Volcom Pipe Pro QS3,000, where he made a mark as the youngest competitor in the 112-man field of Pipe specialists.
In the Women's division, defending event winner Summer Macedo of Lahaina, Maui advanced from the first two Rounds for a slot in the Semifinal against local Tahitian Vahine Fierro. The two battled it out last year in the Final, with Fierro placing runner up, and continued this year by putting on a great performance in the last heat of the day.

Strong surfing from Macedo earned her a well-deserved slot into the Semifinals. Credit: © WSL / Rolland
"I felt pretty good," said Macedo. "It was pretty nerve wracking knowing that there's some wedgy ones that could sneak underneath and the girls could get an 8 on, but I just tried to be confident in my ability and surf the best that I could."
Macedo scored a 7.17 on her opening ride of Round 2 and backed it up with a 7.10 to dominate the 20-minute heat from the start. "I would definitely like to win," she continued. "I'm just trying to keep my head on straight and surf my best and we'll just see what happens."
Fierro looked at ease in the fun-sized beach break and was close behind Macedo with a combined heat total of 12.73.
"I was kind of stressed out before my heat because I knew it was a hard heat," said Fierro. "Luckily I got the good ones and it went well at the end."
Zoe McDougall (HAW), current regional frontrunner and recent winner of the Sunset Pro Junior in January, advanced to the Semifinals as well with the second highest two-wave total of the Women's division, a 14.90, next to Kauai's Gabriela Bryan (HAW) who scored a 15.10 in Round One. McDougall is one of the top junior women in Hawaii and returns to Tahiti for her second year to chase her dream of joining the world's elite on the WSL Championship Tour. When competition resumes, she will surf against Oahu's Leila Riccobuano (HAW) in the first Semifinal.
The competition was called off just before 2pm local time due to onshore winds and declining conditions, but contest officials will be back in the morning to determine a call for the day. It is likely the Men and Women's QS1,000 will get underway at 7am, followed by the Men's Longboard QS1,000. Tomorrow's forecast calls for larger surf in the head-high range and a holding SSW swell with light easterly winds and glassy conditions in the morning.
PAPARA PRO JUNIOR MEN'S RESULTS
Surfers shown 1st through 4th, all athletes from Hawaii unless otherwise noted.
Round of 8, 1st and 2nd advance, 3rd = 5th place, 4th = 7th place
SF1: Finn McGill, Wyatt McHale, Eli Hanneman, Manarii Varuamana (PYF)
SF2: Barron Mamiya, Ryder Guest, Sascha Levy-Agami (PYF), Keanu Taylor
Round of 16, 1st and 2nd advance, 3rd = 9th place, 4th = 13th place
QF1: Finn McGill, Manarii Varuamana (PYF), Warren Peckett (PYF), David Haunui (PYF)
QF2: Elijah Hanneman, Wyatt McHale, Dylan Franzmann, Cole Alves
QF3: Barron Mamiya, Keanu Taylor, Noah Beschen, Dante Silva
QF4: Ryder Guest, Sacha Levy-Agami (PYF), Logan Bediamol, Makana Pang
Round of 24, 1st and 2nd advance, 3rd = 17th place, 4th = 21st place
H1: Haunui David (PYF), Dylan Franzmann, Robert Grilho, Louis Caroff (PYF)
H2: Eli Hanneman, Warren Peckett (PYF), Eimeo Czermak, Stellio Bobet (PYF)
H3: Noah Beschen, Sacha Levy-Agami (PYF), Maxime Ratia (PYF), Tamahei Temu (PYF)
H4: Ryder Guest, Keanu Taylor, London Almida (USA), Thiem Barraud (PYF)
PAPARA PRO JUNIOR VAHINE RESULTS
Surfers shown 1st through 4th, all athletes from Hawaii unless otherwise noted.
Semifinal, 1st and 2nd advance, 3rd = 5th place, 4th = 7th place
SF1: Zoe McDougall, Leila Riccobuano, Autumn Hayes (USA), Ynes Balcon-Mouzaoui
SF2: Summer Macedo, Vahine Fierro (PYF), Gabriela Bryan, Kelta O'Rourke
Quarterfinal, 1st and 2nd advance, 3rd = 9th, 4th = 13th
QF1: Zoe McDougall, Ynes Balcon-Mouzaoui (PYF), Tehani Tefaatau (PYF)
QF2: Leila Riccobuano, Autumn Hayes (USA), Savanna Stone, Emily Grossarth (USA) – No Show
QF3: Gabriela Bryan, Vahine Fierro (PYF), Heimiti Fierro (PYF), Elle Sampiere (USA)
QF4: Summer Macedo, Kelta O'Rourke, Aloha Lopez – No Show