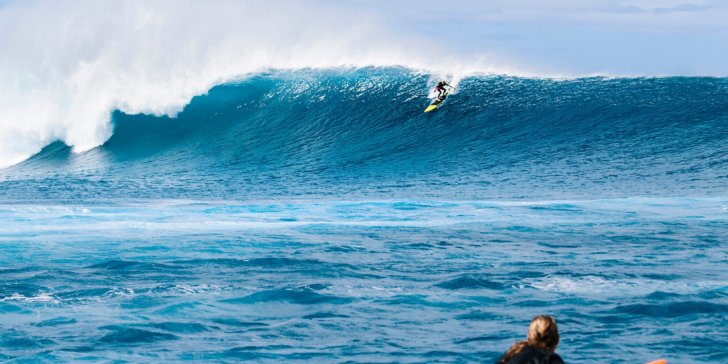 The 2021-2022 Season has begun! Dec 1st. The Premier Women's Big-Wave Content Contest will crown the top female Big-Wave Surfers of the 2021-2022 Hawaiian Winter Season.
Front Page Photo: Christa Funk / Red Bull Content Pool
Designed to provide the best women big-wave surfers on Earth equal opportunity in the water, Red Bull Magnitude is a reimagining of traditional big-wave surf contests.
Three months, three iconic Hawaiian big-wave breaks, any swell, with $35,000 on the line to the top performer and $50,000 in total prizing.
The only search and strike digital big-wave contest in existence–Red Bull Magnitude contest pays homage to the heritage of women big water pioneers while simultaneously paving the way for a new future in big-wave contests.
Providing contestants with filmers and safety crews over the entirety of the three-month contest window – Magnitude is unshackled by the constrictions of in-person live events, brief swell windows, and a singular location.
A true evolution in the competitive landscape of big wave surfing – Magnitude is the ultimate test of all aspects of being a big-wave surfer.
Last Redbull Magnitude
Keala Kennelly has taken out the 2021 Red Bull Magnitude.
The 42-year-old big wave surfer from Kauai, Hawaii, claimed the Biggest Wave and Overall Winner awards of the women's big-wave video contest that took place across the Hawaiian Islands from December 1, 2020, to February 28, 2021.
The inaugural event put the top waterwomen to the test and exemplified what it means to be a big wave charger.
The three-month contest got underway at iconic breaks across Hawaii, such as Jaws on Maui, Waimea Bay, and the outer reefs of Oahu's North Shore.
Film crews were on-hand to capture the action when the surf showed a sustained 15-foot Hawaiian wave height.
Competitors had the option to work with their own film crew at any Hawaiian break so long that the waves captured met the noted criteria. "This year was definitely a milestone," said Keala Kennelly. "It wasn't solely because you had one of the biggest XXL swells of the decade [that made this year special], but also because Red Bull put on a specialty female big-wave event." "Magnitude was a great concept that gave women a platform and the much lacking resources we needed," Kennelly continued. "Having filmers and a jet ski safety team dedicated to us every time the contest would activate gave women big wave surfers the opportunity to push their limits with more confidence and then have video footage, not only to use to boost our profiles but also to review and learn from."
2021 Red Bull Magnitude | Results Overall Winner: Keala Kennelly Biggest Wave: Keala Kennelly Runner-Up: Makani Adric Best Ride: Emi Erickson