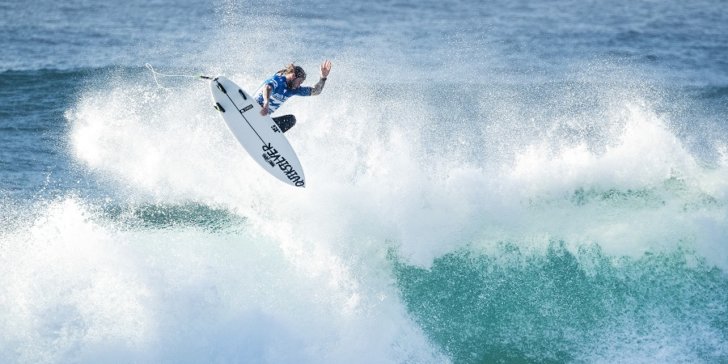 QUIKSILVER/ROXY PRO FRANCE, RED BULL AIRBORNE CALLED OFF, SATURDAY OCT 6 (12 hours ahead) 
-LOOKING BETTER FOR NEXT CALL SUNDAY OCT 7 FOR QUIKSILVER/ROXY PRO FRANCE, RED BULL AIRBORNE
Mikey Wright (AUS), Quiksilver Pro France wildcard, will also compete in the Red Bull Airborne specialty event. The next call for both events will be on Sunday, October 7.
Credit: © WSL / Cestari
| | |
| --- | --- |
| Location:    |    Seignosse/Hossegor/Capbreton, Landes, Nouvelle-Aquitaine, France |
| Event window: |    October 3 – 14, 2018 |
| Today's Call: |    CT called OFF + Red Bull Airborne called OFF; Next call SUN OCT 7 |
| Conditions: |    2 foot (0.6 metre) |
PLAGE DES CULS NUS – Hossegor, Landes, Nouvelle-Aquitaine, France (Friday, October 5, 2018) – The Red Bull Airborne specialty event is called OFF for the day as small conditions continue. Event organizers have also called the competition OFF tomorrow, Saturday, October 6, for the Red Bull Airborne and Quiksilver/Roxy Pro and will reconvene on Sunday, October 7 for the next call.
"It is pretty small still so we are going to call it off today for the Red Bull Airborne," Josh Kerr, Airborne Event Director, said. "The WSL Commissioners have confirmed that we will be off tomorrow, as well for the Quiksilver and Roxy Pro France. We will come back on Sunday. It is looking like a bigger, stormy day and all the guys are excited for that."
With the Red Bull Airborne window open until October 10, there is still plenty of time left in the waiting period to host the world's best aerial surfers. The event will feature an 18-man field across six qualifying heats and a Final scored in a leaderboard format.
Josh Kerr, former Championship Tour (CT) competitor, is one of the developers of the Red Bull Airborne and the Event Director. Kerr looks forward to running the specialty event and bringing back airshows to the surfing world.
"It is really cool to bring the Red Bull Airborne to the biggest platform in surfing so that the biggest names and everyone can all join together to do exactly what everyone loves to do: big airs," said Kerr. "I got to grow up in this era of airshows back in the early 2000s and it kind of filtered me into the Championship Tour. I know that there are a good group of guys who aren't built for the tour and it is just not what you are meant to go to, but this is something different. This is that platform for those kinds of guys to get after it and send it and bring it back.
"We got to see all the crazy personalities of the pioneers that I looked up to and now this group is going to be pioneers to the next generation of surfers. We are going to show the world something different, so I am very excited to be a part of this."
Small/minor surf for most of Friday should bump up slightly on Saturday. Larger surf is expected to build through Sunday, although onshore wind will likely be problematic. Confidence continues to glow that medium size NW swell will move in for the middle of next week (Tue-Thu) with generally light/favorable wind. Larger pulses of swell are possible Friday and Sunday. Surfline.  
The Quiksilver and Roxy Pro France and the Red Bull Airborne will be broadcast LIVE on WorldSurfLeague.com, the WSL's Facebook page, and the WSL app. Also, check local listings for coverage from the WSL's broadcast partners.
Local fans will be able to follow the event LIVE on a big screen on the Central square in Hossegor and enjoy movie screenings and music acts in various places during the event's waiting period.
Red Bull Airborne
– All 18 athletes are split into 6 Groups (6 athletes per Group, each athlete surfs in two Groups)
– Athletes surf once in Groups 1, 2, and 3 and then again in new Groups 4, 5, and 6
– Leaderboard format to determine the Top 6 Finalists
Red Bull Airborne Qualifying Round:
Group 1: Noa Deane (AUS), Italo Ferreira (BRA), Griffin Colapinto (USA), Matt Meola (HAW), Kalani David (HAW), Seb Williams (ZAF)
Group 2: Chippa Wilson (AUS), Mikey Wright (AUS), Mason Ho (HAW), Jordy Smith (ZAF), Eric Geiselman (USA), Leif Engstrom (USA)
Group 3: Albee Layer (HAW), Yago Dora (BRA), Filipe Toledo (BRA), Jack Freestone (AUS), Hector Santa Maria (PRI), Kael Walsh (AUS)
Group 4: Jack Freestone (AUS), Italo Ferreira (BRA), Yago Dora (BRA), Kalani David (HAW), Mason Ho (HAW), Eric Geiselman (USA)
Group 5: Mikey Wright (AUS), Albee Layer (HAW), Matt Meola (HAW), Hector Santa Maria (PRI), Griffin Colapinto (USA), Leif Engstrom (USA)
Group 6: Filipe Toledo (BRA), Chippa Wilson (AUS), Jordy Smith (ZAF), Noa Deane (AUS), Kael Walsh (AUS), Seb Williams (ZAF)
Roxy Pro France Round 2 Matchups:
Heat 1: Malia Manuel (HAW) vs. Keely Andrew (AUS)
Heat 2: Coco Ho (HAW) vs. Paige Hareb (NZL)
Heat 3: Caroline Marks (USA) vs. Vahine Fierro (PYF)
Heat 4: Sally Fitzgibbons (AUS) vs. Pauline Ado (FRA)
Heat 5: Nikki Van Dijk (AUS) vs. Macy Callaghan (AUS)
Heat 6: Courtney Conlogue (USA) vs. Sage Erickson (USA)
Quiksilver Pro France Round 1 Matchups:
Heat 1: Jordy Smith (ZAF), Ezekiel Lau (HAW), Matt Wilkinson (AUS)
Heat 2: Owen Wright (AUS), Sebastian Zietz (HAW), Joan Duru (FRA)
Heat 3: Italo Ferreira (BRA), Yago Dora (BRA), Keanu Asing (HAW)
Heat 4: Julian Wilson (AUS), Frederico Morais (PRT), Wiggolly Dantas (BRA)
Heat 5: Gabriel Medina (BRA), Tomas Hermes (BRA), Ryan Callinan (AUS)
Heat 6: Filipe Toledo (BRA), Connor O'Leary (AUS), Jorgann Couzinet (REU)
Heat 7: Wade Carmichael (AUS), Adriano de Souza (BRA), Miguel Pupo (BRA)
Heat 8: Kolohe Andino (USA), Adrian Buchan (AUS), Ian Gouveia (BRA)
Heat 9: Kanoa Igarashi (USA), Michael Rodrigues (BRA), Patrick Gudauskas (USA)
Heat 10: Michel Bourez (PYF), Griffin Colapinto (USA), Jesse Mendes (BRA)
Heat 11: Mikey Wright (AUS), Conner Coffin (USA), Michael February (ZAF)
Heat 12: Willian Cardoso (BRA), Jeremy Flores (FRA), Joel Parkinson (AUS)