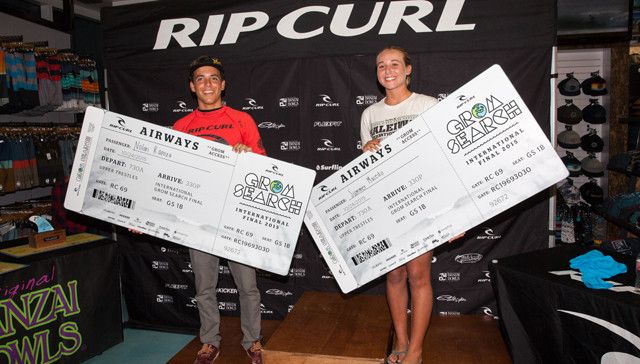 Nolan Rapoza & Summer Macedo © Steve Mo/Rip Curl
2015 Rip Curl GromSearch National Final 
Presented by Banzai Bowls
Upper Trestles, San Clemente California
24 October 2015
64 regional qualifying competitors battle in national final 
Surf News Network, 28 October, 2015. The highly-anticipated Rip Curl GromSearch National Final presented by Banzai Bowls capped off an amazing season at the famed cobblestone point break of Upper Trestles. A pulsing combo swell produced waves in the 4 to 6-foot range providing the nation's top 16 and under talent with impeccable conditions to display their skills.
Sixty-four regional qualifying competitors from across the East Coast, California, Barbados, Costa Rica, and the Hawaiian Islands comprised the draw, and at the end of the day four deserving surfers reigned victorious. Not only was $500 up for grabs for each division winner, but also for the boys & girls 16/U divisions, an all expenses-paid trip to compete in the International Rip Curl GromSearch Final, which is going on The Search in early 2016 to an undisclosed location.
In the premiere Boys 16 and under division, Long Beach, California's Nolan Rapoza put his right foot forward and in dominating fashion tore apart the Upper's lineup with a vicious backhand attack that eventually comboed all of his fellow competitors.
"It feels so great to win this National Title," explained a frothing Rapoza, "I never expected to win this contest because there were so many good surfers competing. I believe I came out on top because I was feeling confident coming into the event and the way I was surfing the week before felt really solid. Now looking on to the International Final, the chance for a World Title gets me so amped!"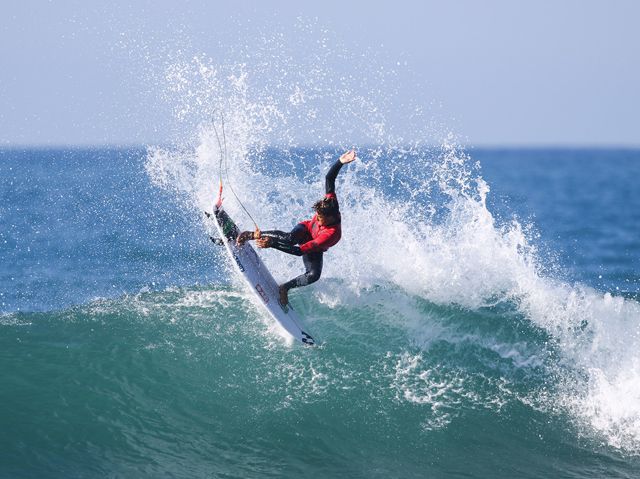 Eithan Osborne © Steve Mo/Rip Curl
Coming up 2nd in the final was last year's National Champ, Kei Kobayashi, 3rd place went to Maui powerhouse Cody Young, and 4th place was perennial contender Luke Gordon.
On the girl's side, Hawaiian Summer Macedo, continued her winning ways and posted a dominating heat total of 16.37 points in the final. Macedo who won an ISA World Junior Title just one week ago was the stand out girl in the event as she posted a perfect 10 in her semi final heat.
"Getting my first perfect 10 was so cool! When I saw that set coming towards me I could tell that the wave was a 10. When I actually stood up, I stopped thinking, and just had fun!" Macedo went on to explain the excitement about heading on The Search for the International Final, "I think that going and competing somewhere new is what's most exciting for me, I just want to compete at a high level and show everyone what I can do."
Runner up in the Girls 16 and under went to Hawaiian Gabriella Bryan, 3rd went to 12-year-old phenom Alyssa Spencer, and 4th was San Clemente stand out Malia Osterkamp.
In the Boys 14 and under division, Ventura's Eithan Osborne was the clear stand out of the event. No other competitor had more scores in the excellent range than young Osborne. Eithan scored an 8.67 and 7.5 on his opening two waves of the final and never looked back. Runner up, while also putting on a show for the crowd, was San Clemente's Cole Houshmand, 3rd place went to Newport Beach charger Tyler Gunter, and North Carolina's Bo Raynor came in 4th.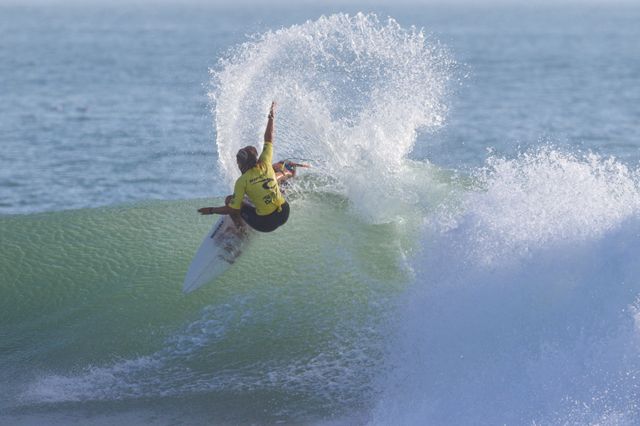 Summer Macedo © Steve Mo/Rip Curl
In the youngest but most exciting final, the Boys 12 and under, the super groms showed up and blew up! Lead by the committed and radical surfing of champion Eli Hanneman. Eli had the whole heat dominated until a late charge by Ocean Macedo who claimed a perfect 10 with less than 5 minutes remaining.
In the dying seconds Eli was stuck inside but found a magical reform and ripped his way to a crucial 8.83 capping it off with an air reverse and claim to the beach. One would argue this was the defining moment of the day. Macedo had to settle for 2nd, while local San Clemente super grom Kade Matson finished 3rd, and Oahu's Robert Grillho III rounded out the final in 4th.
A few specialty awards were also given out during the event. The Banzai Bowls maneuver of the event went to San Diego's Jake Marshall for an extremely difficult tail free rotation off the top of a set wave, which left the beach in awe. Marshall was awarded $500 in two dollar bills, packed into a custom made Banzai Bowl ceramic trophy.
Kade Matson was awarded with the SearchGPS Fastest Surfer Award. Matson edged out the competition as he was clocked going 18.8 MPH. Matson walked away with a brand new SearchGPS watch for his down the line speed.
Rip Curl would like to thank all of our amazing co-sponsors that make the GromSearch series possible. A special shout out to our presenting sponsor, Banzai Bowls, as well as Smith Optics, Kicker Audio, FlexFit, mophie, Futures Fins, DHD Surfboards, Famous Surf, Surface Sun Systems, Wahoo's Fish Tacos, and our media partners Surfline.com and Surfing Magazine.
Boys 16/Under
1. Nolan Rapoza                16.54  ($500)
2. Kei Kobayashi                12.10
3. Cody Young                        11.50
4. Luke Gordon                           10.53
Girls 16/Under
1. Summer Macedo                16.37         ($500)
2. Gabriella Bryan                10.96
3. Alyssa Spencer                10.80
4. Malia Osterkamp                  9.13
Boys 14/Under
1. Eithan Osborne                  16.17        ($500)
2. Cole Houshmand                 14.57
3. Tyler Gunter                         13.67
4. Bo Raynor                          11.80
Boys 12/Under
1. Eli Hanneman                18.66        ($500)
2. Ocean Macedo                16.67
3. Kade Matson                        12.17
4. Robert Grillho III                    7.03
Banzai Bowls Maneuver of the Event: Jake Marshall ($500)
SearchGPS Fastest Surfer Award: Kade Matson, 18.8 MPH