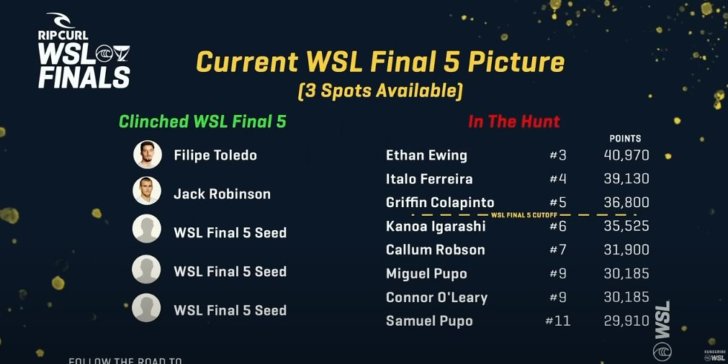 Aug 12, 2022 Title hopes are still alive for more than half of the tour.
The top 11 men and 9 women in the rankings still have a chance to clinch their spots in the Rip Curl WSL Finals with big performances at Teahupo'o.
The closest and most heated battles in Tahiti are between Griffin Colapinto and Kanoa Igarashi and Brisa Hennessy and Lakey Peterson for the crucial last spots in the WSL Final 5.
Carissa Moore and Filipe Toledo may be wearing yellow heading into Tahiti, but the top seeds are still very much up for grabs.
Johanne Defay and Jack Robinson are not far behind and will look to steal the Number 1 seed in the final event.
The most critical wave in the world is now somehow more extreme than ever.
Added to the mutant barrels, committed drops, and razor-sharp reef is the fact that Teahupo'o serves as the last fight for the WSL Final 5.
The women get their first shot at the famed barrel in 16 years and the world's best surfers get one last chance to lay it all on the line for a spot in the Rip Curl WSL Finals.