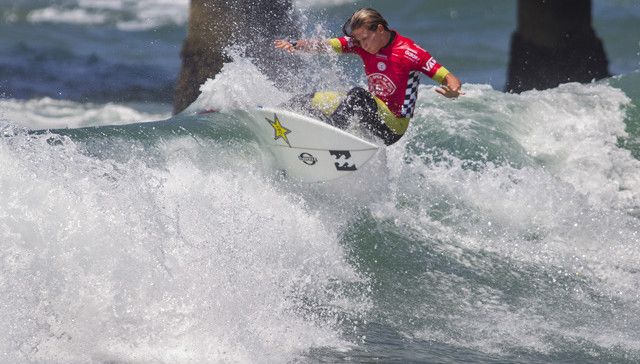 Felipe Toledo surfs above the rest round 3 at the Vans US Open of Surfing. Story coming.
WSL QS10000 Men's Event
WSL Women's Championship Tour Event
WSL JQS Men's Event
WSL JQS Women's Event
The Pier, Huntington Beach California
25 July – 2 August 2015
Conlogue to claim Jeep Leader Jersey – Moore eliminated
Surf News Network, 30 July, 2015.  Huntington Beach – Semifinalists were decided in dramatic fashion today at the Vans US Open of Surfing, stop no. 6 on the 2015 Samsung Galaxy World Surf League (WSL) Women's Championship Tour (CT). The world's best female surfers tested their beach-break skills as competition ran through Round 4 and the Quarterfinals today in two-to-three foot waves at Huntington Beach Pier.
Bianca Buitendag (ZAF) caused a huge upset after eliminating two-time WSL Champion Carissa Moore (HAW) in the Quarterfinals. What started as a low-scoring affair ended with an exciting exchange that unfolded in the final minutes. Moore posted a 5.60 but the South African netted a 7.60 to steal the lead and take victory over the two-time event winner. The result is Buitendag's best ever at the US Open, marking the second time that she has eliminated the Hawaiian this season and will see Moore relinquish the Jeep leader jersey to Courtney Conlogue (USA).
"I was keeping my cool and being patient," Buitendag said. "I'm not going to say I expected to be here, it's pretty shocking for me and I'm stoked. The whole heat I was waiting, which was frustrating. That one popped up in the last two minutes and I was just dying to surf. I'm taking things one event at a time after a tough start to the year. I'm so blessed and I'm just going with it."
"Disappointing to lose for sure, but there's a lot of opportunity left in the season," said Moore. "I'll re-focus and look forward to the next event at Trestles."
Malia Manuel (HAW) came out firing in her Quarterfinal bout against Conlogue, earning an 8.00 on her opening wave. The Huntington Beach local was quick to answer with an 8.60. The two past event winners went head-to-head but Conlogue kept busy and kept the pressure on to take the win and claim the no. 1 position on the Jeep Leaderboard for the first time in her career.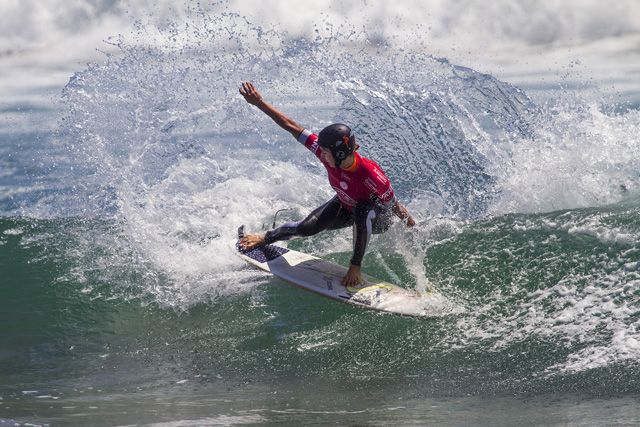 Sally Fitzgibbons © WSL/Morris
"It feels great but I think I just put a huge target on my back," said Conlogue. "I'm definitely going to keep working hard and grinding it out. I've worked my whole life for this moment and I'm just so happy to be here and have the opportunity and to be in reach of a World Title so we'll see how it goes. Last year being out with that injury forced me to reflect and made me realize just how much I love what I'm doing. That's what's helping me this year — having that appreciation and going for it. I'm going to regroup and recover now. There's four events left and I have a title to chase."
Johanne Defay (FRA) will join Buitendag in the Semifinals after upsetting Lakey Peterson (USA). A 7.00 on her second wave backed up with a 6.80 put the European threat in the top spot, leaving Peterson, current no. 4 on the Jeep Leaderboard, searching for an 8.13. Defay, who defeated Alessa Quizon (HAW) in Round 4 earlier today, looked confident, attacking the lip to win through to her second Semifinal of the season. The 2012 event winner, Peterson, was eliminated in fifth place.
"I had those two lefts and I stuck to what I've been doing since the first heat and it worked," said Defay. "To prepare I've been spending some time in France and I got some new boards when I got here, which have really helped me get through the sections."
Sally Fitzgibbons (AUS) claimed the last Semifinal spot after defeating compatriot Nikki Van Dijk (AUS) decisively in the final heat of the day. The world no. 3 and former event winner held a 7.93 and a 6.33 in her scoreline and it was enough to take down Van Dijk. Fitzgibbons will match-up against Conlogue in a heavyweight Semifinal clash when the women's competition resumes.
The day opened with the remaining heats of Round 2 of the Men's QS 10,000 with the top two surfers from each heat advancing on to Round 3 tomorrow.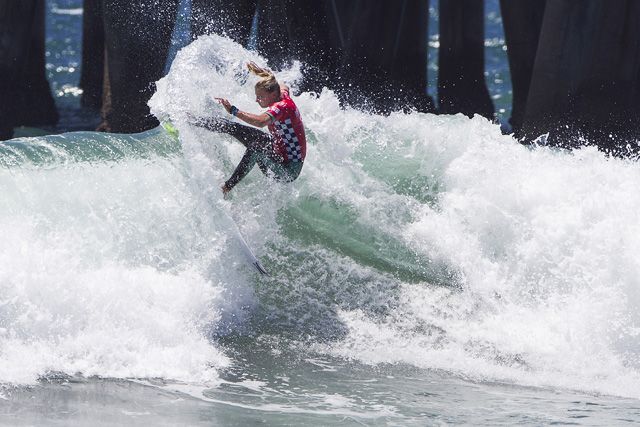 Lakey Peterson © WSL/Rowland
Defending event winner Filipe Toledo (BRA) dominated the lineup in the opening heat to advance through to Round 3. The young Brazilian's air-game was in full effect and he posted two excellent scores to earn the highest heat total of the contest so far, an 18.20.
"I'm really confident and my board is really good," said Toledo. "This is actually the exact board I rode at Snapper at the start of the year. I'm feeling confident to the point that I don't need a leash. Actually I don't train for the airs, it's natural — I just watch a lot of movies."
Heat 10 of Round 2 saw former CT surfer Dion Atkinson (AUS) dominate the field. He capitalized on the best waves coming through to deliver a succession of big turns for two eight-point rides and the win.
"It's hard with out there at the moment," Atkinson said. "It's just about trying to maximize any opportunity out here. You have to get a big first turn. I got down here early to watch the first few heats. I'm just trying to stick to my strengths and do the biggest turns I can."
CT standout Kolohe Andino (USA) looked focused and confident in Heat 11 and continued his momentum from Round 1. Andino sailed through in the face of a tough field, advancing on with a heat-high 9.10 for two big backside snaps.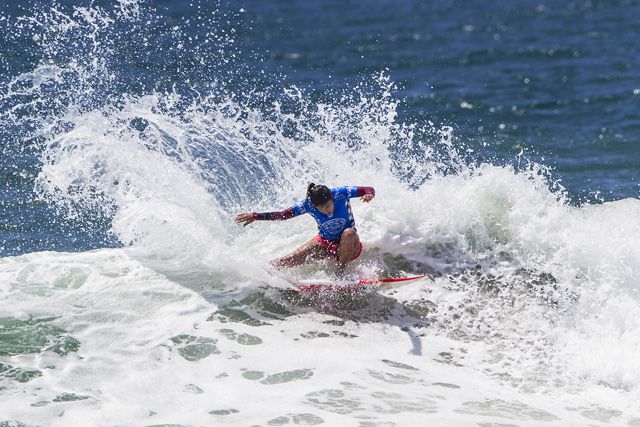 Silvana Lima © WSL/Rowland
"I'm doing everything in my power to do good for the rest of the year," said Andino. "I feel like if I keep working outside of the event it will be reflected in my results. I was thinking I definitely don't want those guys to get the best waves otherwise I'm going to lose because if they do get them they're going to get big scores. That was a stacked heat. I'm stoked that I got the good waves and surfed them well."
Competition will continue tomorrow at 7:30 a.m. with Men's Round 3 followed by the Men's Pro Junior Quarterfinals.
Each year, the Vans US Open of Surfing features the best in the world tearing up the storied break at Huntington Beach. Along with competitions for skate and BMX and dozens of on-site sponsors, the nine-day festival features four separate surf contests, including Junior Tour contests for men and women, a high-stakes men's Qualifying Series battle, and a women's Championship Tour contest for the Top 17.
Women's Quarterfinal Results:
QF 1: Johanne Defay (FRA) 13.80 def. Lakey Peterson (USA) 10.14
QF 2: Bianca Buitendag (ZAF) 11.10 def. Carissa Moore (HAW) 10.60
QF 3: Courtney Conlogue (USA) 16.43 def. Malia Manuel (HAW) 15.20
QF 4: Sally Fitzgibbons (AUS) 14.26 def. Nikki Van Dijk (AUS) 10.03
Women's Round 4 Results:
Heat 1: Johanne Defay (FRA) 14.00 def. Alessa Quizon (HAW) 10.60
Heat 2: Bianca Buitendag (ZAF) 11.10 def. Coco Ho (HAW) 10.63
Heat 3: Courtney Conlogue (USA) 12.83 def. Tatiana Weston-Webb (HAW) 10.33
Heat 4: Nikki Van Dijk (AUS) 14.97 def. Silvana Lima (BRA) 12.10
Women's Semifinal Match-Ups:
SF 1: Johanne Defay (FRA) vs. Bianca Buitendag (ZAF)
SF 2: Courtney Conlogue (USA) vs. Sally Fitzgibbons (AUS)
Men's Round 2 Results:
Heat 1: Adam Melling (AUS) 17.50, Joan Duru (FRA) 16.70, Patrick Gudauskas (USA) 13.77, Tiago Pires (PRT) 9.23
Heat 2: Michael Rodrigues (BRA) 13.74, Nathan Yeomans (USA) 13.70, Michael Dunphy (USA) 12.53, Santiago Muniz (ARG) 10.04
Heat 3: Kanoa Igarashi (USA) 17.50, Marco Fernandez (BRA) 12.96, Alejo Muniz (BRA) 12.73, Parker Coffin (USA) 9.43
Heat 4: Timmy Reyes (USA) 15.27, Carlos Munoz (CRI)13.97, Nathan Hedge (AUS) 12.87, Ian Gouveia (BRA) 12.07
Heat 5: Freddy Patacchia (HAW) 17.43, Ryan Callinan (AUS) 14.57, Ramzi Boukhiam (MAR) 10.50, Heitor Alves (BRA) 8.20
Heat 6: Hiroto Ohhara (JPN) 16.50, Mitch Crews (AUS) 15.00, Davey Cathels (AUS) 12.57, Steven Pierson (PYF) 4.50
Heat 7: Filipe Toledo (BRA) 18.20, Beyrick De Vries (ZAF) 16.54, Granger Larsen (HAW) 15.20, Caio Ibelli (BRA) 13.87
Heat 8: Miguel Pupo (BRA) 14.10, Alex Ribeiro (BRA) 13.64, Connor O'Leary (AUS) 12.83, Cooper Chapman (AUS) 12.10
Heat 9: Maxime Huscenot (FRA) 13.20, Aritz Aranburu (ESP) 11.90, Frederico Morais (PRT) 11.37, Jadson Andre (BRA) 8.74
Heat 10: Dion Atkinson (AUS) 17.00, Charles Martin (GLP) 13.54, Adrian Buchan (AUS) 11.93, Krystian Kymerson (BRA) 9.14
Heat 11: Kolohe Andino (USA) 16.60, Tomas Hermes (BRA) 11.57, Jack Freestone (AUS) 8.66, Nat Young (USA) 6.00 INT
Heat 12: Billy Stairmand (NZL) 13.10, Tanner Hendrickson (HAW) 12.07, Dane Reynolds (USA) 11.83, Joshua Moniz (HAW) 10.67
Men's Round 3 Match-Ups:
Heat 1: Adam Melling (AUS), Nathan Yeomans (USA), Marco Fernandez (BRA)
Heat 2: Michael Rodrigues (BRA), Joan Duru (FRA), Kanoa Igarashi (USA)
Heat 3:Tim Reyes (USA), Mitch Crews (AUS), Freddy Patacchia (HAW)
Heat 4: Hiroto Ohhara (JPN), Carlos Munoz (CRI), Ryan Callinan (AUS)
Heat 5: Filipe Toledo (BRA), Alex Ribeiro (BRA), Aritz Aranburu (ESP)
Heat 6: Miguel Pupo (BRA), Beyrick De Vries (ZAF), Maxime Huscenot (FRA)
Heat 7: Dion Atkinson (AUS), Tanner Hendrickson (HAW), Kolohe Andino (USA)
Heat 8: Billy Stairmand (NZL), Charles Martin (GLP), Tomas Hermes (BRA)