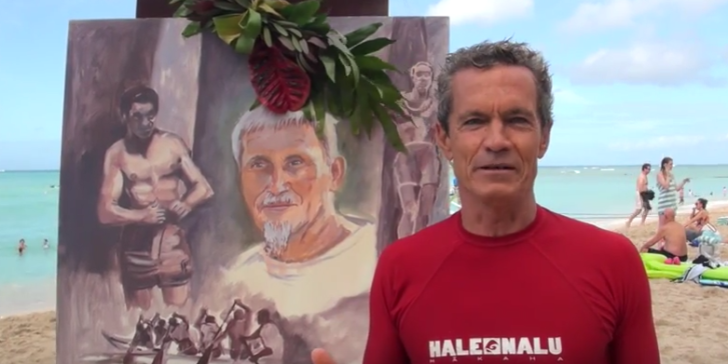 One of the last early beach boys and hot dogging surfing legends, today we celebrated the life of Albert "Rabbit" Kekai on the beach at Waikiki in front of Duke's Restaurant. There was a common consensus among the attendees that Rabbit was a kolohe rascal and an exceptional waterman.
Rabbit was a joke teller and famous for his number one hand signal. As the long time beach marshal for the Triple Crown of Surfing events on the North Shore of Oahu, Rabbit was known by all of the pro surfers in the Association of Surf Professionals, now known as the World Surf League.
See how many surfing luminaries you can recognize throughout this morning event which included the customary beach paddle out and rainbow.
I apologize for the sound quality of this video. It seems the waves of Waikiki were intent on making their presence known behind all of the speakers. And maybe that is appropriate when you celebrate the life of someone who was more at home in the water than on land. For those of you who were unable to attend this beach celebration, this should give you a good flavor of the love that surrounded this man. Please share this link with your friends.
I would like to thank Michael Leonard, Danny Carvalho, and Bill Brooks for the use of their music on this video. The music is Hawaiian in spirit and at heart. Michael's music is a secret to the world. Danny and Bill's music can be found on the internetas follows:

http://www.dannycarvalho.com
http://real-hawaiians.seesaa.net/cate