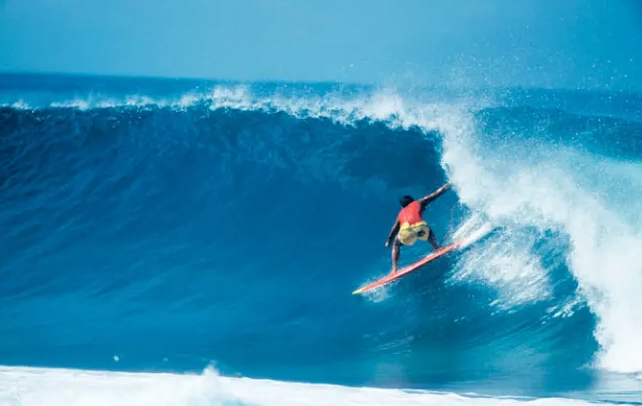 Dane Kealoha, surfing icon known for his power and competitive prowess and innovation, dies at 64 after a battle with cancer.
His family told local media that he died peacefully after fighting the good fight.
Our Hearts are heavy…
Dane is survived by his mother, 2 brothers, 4 sons, 3 daughters and 2 grandchildren…
Our Thoughts and Prayer to Danes' Ohana.
"He should've been World Champ," wrote Sunny Garcia for SURFER magazine in 2010. "He finished second in 1980 and third in '81.
In 1983, going into Hawaii for the last three events, the ASP had a run-in with the people organizing the Hawaii contests and decided that anyone who surfed the North Shore events would have their points stripped.
Dane said, 'F-ck that.' He surfed all three events and won two, and would have won the title if they hadn't screwed him. I think that really killed him.
He was only 25 when he retired."
Dane's competitive career may have faded far to soon, but his respect among his generation's legends never diminished. In fact, many generations came to see him as one of thee best Hawaiian Surfers of all time. Dane developed a distinctive surfing style/technique known as the "pig dog," It became his signature stance allowing him to ride deep inside the tube of the wave while maintaining balance and stability….it has been and is widely used up to the current generation.  SNN
"When I first met Dane back in 1976, he immediately became one of my favorite surfers – absolute raw power and foot-to-the-floor attitude," wrote Shaun Tomson (1977 World Champ). "No close-together ballerina feet softness, but a powerful and beautiful, classically pure Hawaiian style, charting back to the great Eddie Aikau. At the dawn of pro surfing and the start of the twin-fin era, at the Stubbies event in Australia, I watched Dane catch a wave at high tide, two-foot Burleigh Heads. There was barely enough clearance between his twin fins and the rocks as he leapt to his feet and started to pump down the line – faster and faster like there was a turbo beneath his feet – I had never seen anyone generate that type of speed on such a small wave – in fact, on any wave."