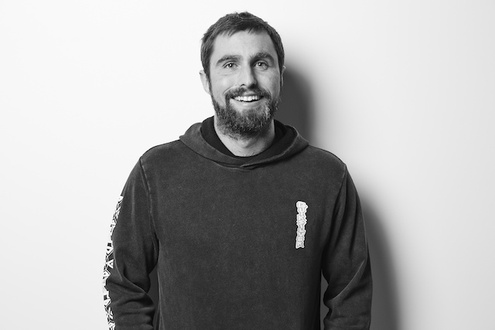 Josh Reid © BoardsportsSource/Quiksilver
Boardsports Source checks in with Josh Reid on Quik's direction
Surf News Network Aug 1st, 2015. Quiksilver debuted their new global creative direction at Agenda in early July. At the centre of the new direction is newly appointed Global Creative Director, Josh Reid a 30-year-old Australian who has worked for the brand for 11 years, and has surfed from them since he was 13. Promoted to Senior Boardshort Designer in Australia at age 20, Reid cut his teeth in the company's key product category before moving to Quik's HQ in Saint-Jean-de-Luz, France five years ago.
Josh openly admits that the last two years have been tough times for the surf brand, but as he explains how the brand's new creative direction was received at the tradeshow by retailers, he also tells SOURCE how the brand is repositioning itself: "All the art we're doing now is new and confident and recently we've probably relied too heavily on our heritage and re-inventing it, whereas now we're trying to pave a new way for Quik."
How long had you been in university before you left and joined Quiksilver?
It was in the first year that I saw a job opening and I figured that I'd take the work experience, and then I could always go back to uni if it didn't work out. But then I spent one year doing work experience, and the boardshorts designer became the head designer, and then they asked me to become the senior boardshort designer when I was 20.  So for the next five years I was the lead boardshort designer for Australia. Straight away I was chucked in the deep end, and I learned how to swim doing boardshorts, which is obviously the key product category for Quiksilver.
Surf Apparel has become a bit 'samey' – what are the reasons for you going out on a limb with this new creative direction? And where do you see Surf Apparel headed in the future?
We started this transition properly around 12 months ago. The traditional business that the surf industry caters for is a huge focus for Quik, and we're continuing to do that. We realized that first of all we had to re-establish our culture and reignite that. The creative group connected with some influential artists; the creative Director of Marketing, myself, Dane (Reynolds), Craig (Anderson) and all of us wanted to fix that internal culture of the brand.
It will start to be a whole new segment for Quiksilver. As we move into our season three lines, our ranges will be much more targeted. This area will start to target the core and our retail channels, and also start to open up the lifestyle market, which is currently sitting outside of the traditional major surf accounts. It is very much a repositioning procedure at the moment. We're in a transitionary period, and we're showing you one of the areas we're repositioning towards.
How much is you, being a young person, and being appointed the new Head of Design for Quiksilver, a reflection on how Quik are planning to move ahead in the future?
I think it's hugely important. But I also think it's also hugely important to understand your consumer. I know that even I am almost at the other end of our consumer bracket. A lot of the work that we've done over the past 12-24 months has been really identifying the consumers that we want to target – doing workshops with the kids directly.
The way that we're designing and changing the voice of everything is really informed from the consumer. The industry tends to talk to itself, and we just really wanted to connect with the kids, which is why we've been doing these workshops globally with our target audience.  You can be part of the brand, and you can grow old with the brand, but you've also got to remember the kids are always young, and you've got to continually capture their imagination.
Check out the full article HERE