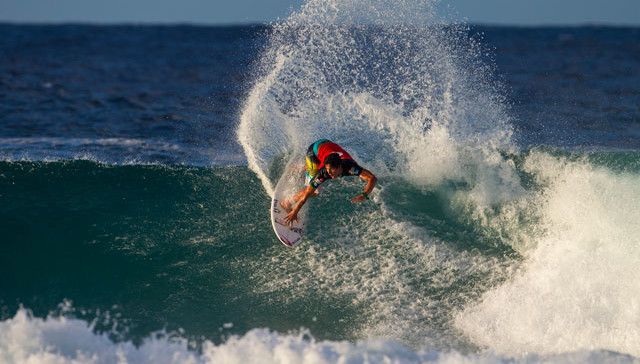 Rnd 2 1st place results. Quiksilver & Roxy Pro Gold Coast: photo of Gabriel Medina © ASP/Kirstin
Snapper Rocks, Queensland
28 February – 11 March 2015
2015 WSL CT  opening day finds Snapper rippable, Gold Coast Pro a go
Surf News Network, 27 February, 2015.  Snapper Rocks, Queensland – The world's best surfers will compete on Australia's Gold Coast today in the opening stop of the 2015 World Surf League (WSL) Samsung Galaxy Championship Tour (CT) season, the Quiksilver and Roxy Pro Gold Coast. The event gets underway today at 8 a.m. local time with Men's Round 1 followed by Women's Round 1.
"It's Day 1 of the 2015 season and we're on," Kieren Perrow, WSL Commissioner, said. "We have fun surf on offer this morning and will be commencing with Round 1 of the men's at 8 a.m. followed by Round 1 of the women's. Good luck to all our competitors today."
Reigning WSL Champions and defending event winners Gabriel Medina (BRA) and Stephanie Gilmore (AUS) will both compete in Round 1 today. Medina will face rookie compatriot Wiggolly Dantas (BRA) and event wildcard Dane Reynolds (USA), in Men's Round 1 Heat 6, while Gilmore faces a returned-to-form Silvana Lima (BRA) and Bronte Macaulay (AUS), (winner of the Trials) in Women's Round 1 Heat 3.
Surfline, official forecaster for the World Surf League, said "Saturday starts off with modest East swell, but slowly declines through the weekend into Monday. Small surf Monday through Thursday. Then a possible larger mix of South shifting SE windswell and South groundswell over the 6th-8th, but with breezy South veering SE winds. More surf potential after that."
The world's best surfing will be broadcast live through World Surf League's website, as well as on Fox Sports in Australia, MCS Extreme in France, EDGE Sports in China, South Korea Malaysia and other territories and the WSL's new partner in Brazil, Globo TV.
Quiksilver Pro Gold Coast Round 1 Match-Ups and 1st place results:
Heat 1: 1st Joel Parkinson (AUS), Miguel Pupo (BRA), Brett Simpson (USA)
Heat 2: Michel Bourez (PYF), 1st Sebastian Zietz (HAW), Ricardo Christie (NZL)
Heat 3: Kelly Slater (USA), 1st Fredrick Patacchia (HAW), C.J. Hobgood (USA)
Heat 4: 1st John John Florence (HAW), Jadson Andre (BRA), Glenn Hall (IRL)
Heat 5: Mick Fanning (AUS), 1st Matt Banting (AUS), Jack Freestone (AUS)
Heat 6: 1st Gabriel Medina (BRA), Wiggolly Dantas (BRA), Dane Reynolds (USA)
Heat 7: 1st Jordy Smith (ZAF), Kai Otton (AUS), Jeremy Flores (FRA)
Heat 8: Adriano de Souza (BRA), Filipe Toledo (BRA), 1st Dusty Payne (HAW)
Heat 9: Taj Burrow (AUS), 1st Bede Durbidge (AUS), Keanu Asing (HAW)
Heat 10: Josh Kerr (AUS), Adrian Buchan (AUS), 1st Matt Wilkinson (AUS)
Heat 11: Kolohe Andino (USA), 1st Julian Wilson (AUS), Italo Ferreira (BRA)
Heat 12: Owen Wright (AUS), Nat Young (USA), Adam Melling (AUS)
Roxy Pro Gold Coast Round 1 Match-Ups:
Heat 1: Malia Manuel (HAW), Johanne Defay (FRA), Sage Erickson (USA)
Heat 2: Sally Fitzgibbons (AUS), Courtney Conlogue (USA), Nikki Van Dijk (AUS)
Heat 3: Stephanie Gilmore (AUS), Silvana Lima (BRA), Bronte Macaulay (AUS)
Heat 4: Tyler Wright (AUS), Dimity Stoyle (AUS), Alessa Quizon (HAW)
Heat 5: Carissa Moore (HAW), Laura Enever (AUS), Tatiana Weston-Webb (HAW)
Heat 6: Lakey Peterson (USA), Bianca Buitendag (ZAF), Coco Ho (HAW)
WSL LIVE HERE