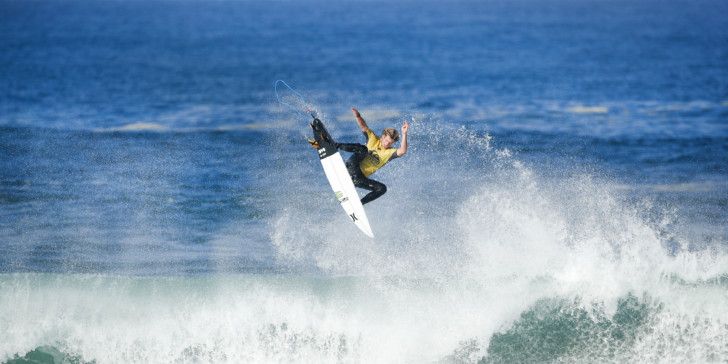 SEIGNOSSE/HOSSEGOR/CAPBRETON, Landes, Nouvelle-Aquitaine / France (Friday October 8, 2016) –
Featured Surfers in Today's News Feeds:
1. Leonardo Fioravanti (Italy) Defeats Kelly Slater (USA): Italy's Leonardo Fioravanti caused the days biggest upset defeating and eliminating 11- time world champion Kelly Slater. Fioravanti now bases himself at Hossegor and his local knowledge proved decisive in this heat picking the best waves and scoring well to defeat his childhood idol Kelly Slater. Leonardo progresses to Round 3 while Slater is eliminated in equal last place.
2. Filipe Toledo (BRA) claimed the second round's biggest performance and eliminated fellow Brazilian Alex Ribeiro (BRA), courtesy of his slick forehand attack on the clean waves of Culs Nus. Toledo's rebound in Round Two put a stop to the carnage amongst top seeds bailing in 25th place in France.
3. Jeremy Flores and Julian Wilson: Jeremy Flores from France is defeated by Australia's Julian Wilson. Flores is the local favourite but was eliminated in Round two by an in-form Wilson who found the best waves throughout the heat. Wilson won the heat on 12 points to Flores on 9.63. Flores exits the event in equal 25th place.
4. Sebastian Zietz (HAW): Powerful Hawaiian surfer Sebastian Zietz defeats Australia's Adam Melling in Round 2 at the Quiksilver Pro in France, Zietz goes to Round 3 while Melling exits the event in equal 25th place. The waves were tricky but Zietz found this 8.43 mid heat, one of the top scoring waves of the day to take the heat win.
Other surfers included – Joan Duru (FRA).
*** MORE SURFERS TO BE ADDED TO THE PLATFORM LATER IN THE DAY.***
LAST UPDATE FROM THURSDAY: ROXY PRO FRANCE ROUND 1 DELIVERS WSL TITLE DRAMA
John John Florence (HAW), current World No. 1, earned the highest heat score of the men's Quiksilver Pro France today, an excellent 16.10, to defeat event wildcard Joan Duru (FRA) and 2016 WSL Rookie Conner Coffin (USA) in Round 1 Heat 6.
Image: © WSL /  Poullenot
| | |
| --- | --- |
| Location:    |  Seignosse/Hossegor/Capbreton, Landes, Nouvelle-Aquitaine,  France |
| Event window: |  October 4 – 15, 2016 |
| Today's call: |  Men's Round 1, Heats 3-12 & Women's Round 1 complete |
| | |
| --- | --- |
| Conditions: | Four-to-six foot (1.5 – 2 metre) |
SEIGNOSSE/HOSSEGOR/CAPBRETON, Landes, Nouvelle-Aquitaine / France (Thursday, October 5, 2016) – The Quiksilver Pro France, Stop No. 9 of 11 on the 2016 Samsung Galaxy World Surf League (WSL) Championship Tour (CT), completed the remaining 10 heats of Round 1 this morning in solid four-to-six foot (1.5 – 2 metre) surf at the primary venue of Culs Nus. Women's Round 1 of the Roxy Pro France followed the men's action and saw incredible performances from the world's best female surfers to kick off Stop No. 9 of 10 on the CT.
With both the race to the 2016 WSL Men's Title and the battle for WSL Top 34 requalification on the line, the opening round of men's competition delivered no shortage of action in the solid beachbreaks of Southern France.
Lethal French wildcard Joan Duru (FRA) tried to upset the hierarchy, taking on current front-runner on the Jeep Leaderboard John John Florence (HAW) and Conner Coffin (USA) on home soil. Duru locked in two solid scores on his backhand and had Florence against the ropes until the Hawaiian found a deep tube for the winning score of 8.73 with only a couple of minutes remaining. Florence advances to Round 3 while Duru and Coffin will surf again in elimination Round 2.
"When I first paddled out it was really messy out front and the guys in the first heats this morning were struggling, I looked up the beach and it had some really clean peaks," Florence explained. "It's constantly changing here and it got really clean down here with some long walls. Gabriel (Medina) and I are just battling, and we're taking it heat by heat, hopefully the rest of the week has some good waves for us."
The defending event champion and No. 2 on the Jeep Leaderboard, Gabriel Medina (BRA), had a great battle with rookie Ryan Callinan (AUS) and Hawaiian powerhouseDusty Payne (HAW) in Heat 5 of the opening round. Medina put his foot on the gas at the ten minute mark to distance himself from his opponents and belted two good scores for a display of his radical under-the-lip snaps on the clean lines of Culs Nus.
"I love France, it's a good beach break and I'm excited to be back," Medina stated. "I've been surfing a lot and have been home for a while so I feel great. I'm trying to do my best again here in this contest, there's three to come and hopefully everything comes together and ends well in Hawaii."
Current No. 3 on the Jeep Leaderboard Matt Wilkinson (AUS) tripped on a tricky Round 1 bout against Miguel Pupo (BRA) and talented Italian wildcard Leonardo Fioravanti (ITA), unable to gather better than two below-average scores, and will have to surf the elimination Round 2. Pupo linked together two decent waves on his backhand and exploited the long rights with critical turns to advance straight into Round 3.
"I was trying to build on my scores this whole heat, but it's pretty hard out there with the rip, the shape of the wave is a bit fat with a little lip on it," Pupo analyzed. "Towards the end of the heat I paddled on a wave and lost priority, they caught two waves and I couldn't see them so I was just hoping for the best and luckily I made it. It's really important to skip the second round when you're in my position, number 22 in the rankings, but I kind of work better under-pressure so game on!"
Adrian Buchan (AUS) dominated his opening matchup in France as the goofy foot threaded the long lefthander barrels perfectly to relegate crowd-favorite Jeremy Flores (FRA) and Stuart Kennedy (AUS) to Round 2. A former event champion in Hossegor, Buchan rekindled the fire that won him the 2008 Quiksilver Pro France over Kelly Slater and looked sharp in the moving lineup.
"France is obviously somewhere I love coming back to, there's plenty of opportunity and it's a huge site you can roam so that was a calculated gamble (to sit on the north bank) but that's what I like about this event, if you can adapt and see different things before they happen you can put yourself in the right spot," Buchan reflected. "I'm having a great year and enjoying coming back to all these spots and surfing these incredible waves. This event is one that I feel comfortable at, I've been coming here since 2001 and I love France, so I want to be here on the last day. "
Brazil's Italo Ferreira (BRA) and Caio Ibelli (BRA) also claimed their tickets for Round 3, taking full advantage of the conditions on offer to put big numbers on the scoreboard and dispatch Julian Wilson (AUS), Wiggolly Dantas (BRA), Alex Ribeiro (BRA) andAlejo Muniz (BRA).
"I made some mistakes when I started the heat," Italo said. "I tried to do some airs and I fell and broke my board and hurt my leg. It's hard because that wave is very tricky so I'm happy to make that heat and to keep going."
Kolohe Andino (USA) claimed one of the strongest heat totals of the round for his excellent surfing on the long lefts of the north bank at Culs Nus. Andino ignited on his backhand with a combination of several turns for a 7.67 and the win over Sebastian Zietz (HAW) and Jack Freestone (AUS).
"I just tried to surf the waves the way they came, when you're practicing you try to get good at everything," Andino said. "Before this year started I said I wanted to finish in the Top 5, I've had a bunch of close heats that, had they gone my way I would be up there and maybe even fighting for the World Title. So I'm just off the mark but I feel like my consistency is getting a lot better and mentally I feel more stable, so those are good things and hopefully in years to come I can be up there going for it."
Reigning WSL Champion Adriano De Souza (BRA) stamped his authority on the final heat of the Quiksilver Pro France's opening round, surfing five great waves to a 14.00 point combined heat total and a spot into Round 3.
"It was really hard out there with the tide really low the wave breaks so fast, sometimes there's no space to do two or three turns," De Souza said. "I'm very happy with that win, it gives me more motivation for the next round and I want to find my rhythm back. I've had two Round Two losses in Tahiti and Trestles and needed to take a little break, and get back to work, so I'm stoked to have this heat go my way."
Following the completion of Men's Round 1, the Top 17 claimed ownership of the lineup at Culs Nus for the opening round of the Roxy Pro France.
Tyler Wright (AUS), current Jeep Ratings Leader, charged through Round 1 Heat 3 against Bianca Buitendag (ZAF) and rookie Chelsea Tuach (BRB). Wright opened her account with an excellent 8.00 and increased her lead with a 5.33. Buitendag posted an 8.70 combined score, but was not able to lock in the 8.16 required to challenge Wright. With the World Title on the line at this event, Wright's performance keeps her on track as she will skip elimination Round 2 and advance straight to Round 3.
"Waves like this allow you a lot of freedom because there's not just one spot and one particular wave that you have to be looking for and I really enjoy that," Wright said. "With that in mind I do have a gameplan in play as well. I've been in this position before and it was fun but even without wanting in there was more pressure on me, but now I feel so free. It feels like a very balanced lifestyle for me right now — I love France and I love what I'm doing."
Nikki Van Dijk (AUS) will also advance to Round 3 after taking down Courtney Conlogue (USA), current World No. 2 on the Jeep Leaderboard, and event wildcardBronte Macaulay (AUS) in Round 1 Heat 4. Van Dijk showcased committed surfing with strong snaps off of the lip to earn an excellent 8.50 and an incredible 7.60 to put pressure on Conlogue with fifteen minutes remaining. Conlogue will now have to battle out of elimination Round 2 to block Wright's World Title hopes at the Roxy Pro France.
Reigning three-time WSL Champion Carissa Moore (HAW) took on Laura Enever (AUS) and Alessa Quizon (HAW) in Round 1 Heat 5. Moore fired with two solid 7-point rides for a 15.17 combined score and the heat win. Quizon needed a near-perfect 9.17 to combat Moore, while Enever was not able to escape the combination. Enever and Quizon will be sent to elimination Round 2.
"My biggest goal is to figure out these beach breaks a little bit better because I think it's always been a weakness of mine to try and adapt," said Moore. "I haven't had win this year but I've learnt a lot. It's a hard pill to swallow not being in the title race but you can see the determination in Courtney (Conlogue) and in Tyler (Wright) and I think it's great for the sport. It's tough to sit back and watch but I'm happy to cheer them both on."
Six-time WSL Champion Stephanie Gilmore (AUS) closed out the day with a solid Round 1 win over Hawaiians Malia Manuel (HAW) and Coco Ho (HAW). Gilmore unleashed a series of clean and fast maneuvers to post a 5.83 and a critical 7.17. Gilmore's slight 3.74 point lead over Manuel will see her advance straight to Round 2, while Manuel and Ho will be relegated to elimination Round 2.
Johanne Defay (FRA) blazed through the opening heat of Round 1 against Sally Fitzgibbons (AUS) and 2016 WSL Rookie Keely Andrew (AUS). Defay secured an early lead with a solid 6.33 and 4.33 back-up score. The Australians struggled to find the waves to challenge the Frenchwoman and will surf again in Round 2.
"I love the beachbreaks here and the power, it's kind of the same conditions as last year and there are a lot of opportunities I feel," Defay said. "I love the support here, there's so many people that know my name, and they're very interested in surfing it's very special."
Sage Erickson (USA) defeated Tatiana Weston-Webb (HAW) and compatriot Lakey Peterson (USA) in the second heat of Round 1. Erickson stayed patient in the heat, only catching four waves to Weston-Webb's eight. Erickson's patience paid off as she earned an excellent 8.33 and strong 6.13. Needing a 7.80 with ten seconds left on the clock, the Hawaiian went for a big air-reverse attempt in the last ten seconds, but could not land the maneuver to combat the Californian.
"Lakey (Peterson) is someone I really aspire to surf like, she's so powerful and really attacks sections and Tatiana (Weston-Webb) does the same thing," Erickson said. "I had a quarters against Tyler (Wright) at Guincho and I felt like I had the waves but was hesitant so that was something I was kicking myself for, driving up 11 hrs to France. It's always learning with everything you do, especially on this tour if you don't learn you don't stay on."
Event organizers will reconvene at 8 a.m. local time (8pm HI time) tomorrow morning to assess conditions and make the next call.
"An active North Atlantic has set up good size WNW swell. Pulses of WNW swell from our storm will continue into the back half of the week. Reinforcing WNW swell will fill in for the weekend." Surfline
The Quiksilver and Roxy Pro France will be webcast LIVE on worldsurfleague.com and via the WSL app.
QUIKSILVER PRO FRANCE REMAINING ROUND 1 RESULTS:
Heat 3: Kai Otton (AUS) 11.84, Jordy Smith (ZAF) 8.83, Jadson Andre (BRA) 7.03
Heat 4: Miguel Pupo (BRA) 8.57, Matt Wilkinson (AUS) 8.24, Leonardo Fioravanti (ITA) 8.14
Heat 5: Gabriel Medina (BRA) 13.50, Ryan Callinan (AUS) 12.10,  Dusty Payne (HAW) 10.4
Heat 6: John John Florence (HAW) 16.10, Joan Duru (FRA) 15.34, Conner Coffin (USA) 10.74
Heat 7: Adrian Buchan (AUS) 13.26, Stuart Kennedy (AUS) 8.33, Jeremy Flores (FRA) 6.50
Heat 8: Italo Ferreira (BRA) 12.46, Alex Ribeiro (BRA) 9.74, Wiggolly Dantas (BRA) 8.53
Heat 9: Caio Ibelli (BRA) 13.36, Julian Wilson (AUS) 12.76, Alejo Muniz (BRA) 12.10
Heat 10: Kolohe Andino (USA) 14.24, Sebastian Zietz (HAW) 11.54, Jack Freestone (AUS) 10.80
Heat 11: Davey Cathels (AUS) 13.60, Filipe Toledo (BRA) 8.80, Josh Kerr (AUS) 7.83
Heat 12: Adriano De Souza (BRA) 14.00, Adam Melling (AUS) 8.97, Michel Bourez (PYF) 7.90
QUIKSILVER PRO FRANCE ROUND 2 MATCH-UPS:
Heat 1: Matt Wilkinson (AUS) vs. Joan Duru (FRA)
Heat 2: Jordy Smith (ZAF) vs. Ryan Callinan (AUS)
Heat 3: Kelly Slater (USA) vs. Leonardo Fioravanti (ITA)
Heat 4: Joel Parkinson (AUS) vs. Matt Banting (AUS)
Heat 5: Julian Wilson (AUS) vs. Jeremy Flores (FRA)
Heat 6: Filipe Toledo (BRA) vs. Alex Ribeiro (BRA)
Heat 7: Michel Bourez (PYF) vs. Alejo Muniz (BRA)
Heat 8: Josh Kerr (AUS) vs. Jack Freestone (AUS)
Heat 9: Sebastian Zietz (HAW) vs. Adam Melling (AUS)
Heat 10: Wiggolly Dantas (BRA) vs. Conner Coffin (USA)
Heat 11: Stuart Kennedy (AUS) vs. Dusty Payne (HAW)
Heat 12: Kanoa Igarashi (USA) vs. Jadson Andre (BRA)
ROXY PRO FRANCE ROUND 1 RESULTS:
Heat 1: Johanne Defay (FRA) 10.66, Sally Fitzgibbons (AUS) 8.70, Keely Andrew (AUS) 8.66
Heat 2: Sage Erickson (USA) 14.46, Tatiana Weston-Webb (HAW) 12.10, Lakey Peterson (USA) 9.37
Heat 3: Tyler Wright (AUS) 13.33, Bianca Buitendag (ZAF) 8.70, Chelsea Tuach (BRB) 3.50
Heat 4: Nikki Van Dijk (AUS) 16.10, Courtney Conlogue (USA) 14.33, Bronte Macaulay (AUS) 6.94
Heat 5: Carissa Moore (HAW) 15.17, Alessa Quizon (HAW) 12.00, Laura Enever (AUS) 6.27
Heat 6: Stephanie Gilmore (AUS) 13.00, Malia Manuel (HAW) 9.26, Coco Ho (HAW) 8.70
ROXY PRO FRANCE ROUND 2 MATCH-UPS:
Heat 1: Laura Enever (AUS) vs. Keely Andrews (AUS)
Heat 2: Sally Fitzgibbons (AUS) vs. Lakey Peterson (USA)
Heat 3: Courtney Conlogue (USA) vs. Chelsea Tuach (BRB)
Heat 4: Tatiana Weston-Webb (HAW) vs. Bronte Macaulay (AUS)
Heat 5: Malia Manuel (HAW) vs. Alessa Quizon (HAW)
Heat 6: Bianca Buitendag (ZAF) vs. Coco Ho (HAW)