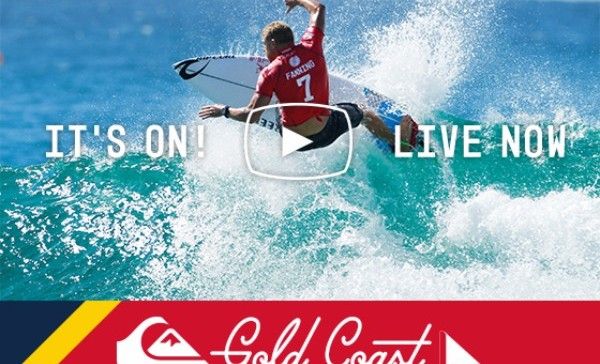 The first event of the year got going in Hawaii late afternoon in 2-3′ plus 100% rippable Snapper.
| | |
| --- | --- |
| Location:    |    Coolangatta, Queensland, Australia |
| Holding period: |    March 10- March 21, 2016 |
| Call: |    Men's Round 1 called ON for the day |
| Conditions: |    Four-to-five feet at Snapper Rocks |
COOLANGATTA, Queensland/AUS (Friday, March 11, 2016) – The world's best surfers will compete on the Gold Coast in Queensland, Australia today in the opening stop of the 2016 World Surf League (WSL) Samsung Galaxy Championship Tour (CT) season, the Quiksilver and Roxy Pro Gold Coast. The event gets underway today at 12pm local time with Men's Round 1.
"We are on. We are excited. First heat of the year, we are about to paddle out and we are going to start as soon as possible with the Quiksilver Pro," said WSL Commissioner Kieren Perrow. "Ideally we would like to get through Round 1 today."
The women's Round 1 heats will not run this afternoon, but a call will be made tomorrow morning.
"We don't have enough time [to run the women's Round 1]. If we can get through all the men's Round 1 that will utilize our whole afternoon and then we'll come back tomorrow," said Perrow. "We are expecting  the swell to slowly build over the next few days so we have a great looking weekend of surf coming up."
Last year's Quiksilver Gold Coast Champion Filipe Toledo (BRA) will face compatriot Jadson Andre (BRA) and CT replacement, Stuart Kennedy (AUS) in Round 1 Heat 3. Three-time World Champion Mick Fanning (AUS) will face Matt Banting (AUS) and Quiksilver Trial winner Wade Carmichael (AUS) in Round 1 Heat 5.
The Quiksilver and Roxy Pro Gold Coast will be webcast LIVE at WorldSurfLeague.com.
The event is also being carried by our LIVE broadcast partners Fox Sports Australia, CBS Sports in the United States, ESPN Brasil, Globosat, Edgesport, Sky NZ, Sport TV, Canal + Deportes, Channel Nine, MCS, Starhub, and Oceanic Time Warner Cable 250 & 1250 in Hawaii.
For more information, log onto WorldSurfLeague.com 
Quiksilver Pro Gold Coast Round 1 Match-Ups:
Heat 1: Italo Ferreira (BRA), Keanu Asing (HAW), Ryan Callinan (AUS)
Heat 2: Julian Wilson (AUS), Michel Bourez (PYF), Adam Melling (AUS)
Heat 3: Filipe Toledo (BRA), Jadson Andre (BRA), Stuart Kennedy (AUS)
Heat 4: Gabriel Medina (BRA), Caio Ibelli (BRA), Sebastian Zietz (HAW)
Heat 5: Mick Fanning (AUS), Matt Banting (AUS), Wade Carmichael (AUS)
Heat 6: Adriano de Souza (BRA), Kolohe Andino (USA), Michael Wright (AUS)
Heat 7: Jeremy Flores (FRA), Adrian Buchan (AUS), Davey Cathels (AUS)
Heat 8: Kelly Slater (USA), Matt Wilkinson (AUS), Conner Coffin (USA)
Heat 9: Nat Young (USA), Kai Otton (AUS), Alex Ribeiro (BRA)
Heat 10: Josh Kerr (AUS), Taj Burrow (AUS), Kanoa Igarashi (USA)
Heat 11: Jordy Smith (ZAF), Wiggolly Dantas (BRA), Miguel Pupo (BRA)
Heat 12: Joel Parkinson (AUS), John John Florence (HAW), Jack Freestone (AUS)
Roxy Pro Gold Coast Round 1 Match-Ups:
Heat 1: Tyler Wright (AUS), Johanne Defay (FRA), Alessa Quizon (HAW)
Heat 2: Bianca Buitendag (ZAF), Nikki Van Dijk (AUS), Coco Ho (HAW)
Heat 3: Carissa Moore (HAW), Chelsea Tuach (BRB), Isabella Nichols (AUS)
Heat 4: Courtney Conlogue (USA), Sage Erickson (USA), Bronte Macaulay (AUS)
Heat 5: Sally Fitzgibbons (AUS), Malia Manuel (HAW), Laura Enever (AUS)
Heat 6: Stephanie Gilmore (AUS), Tatiana Weston-Webb (HAW), Keely Andrew (AUS)
2016 World Surf League Championship Tour Australian Events:
Quiksilver and Roxy Pro Gold Coast: March 10-21, 2016
Rip Curl Pro Bells Beach: March 24-April 5,2016
Drug Aware Margaret River Pro: April 8-19, 2016