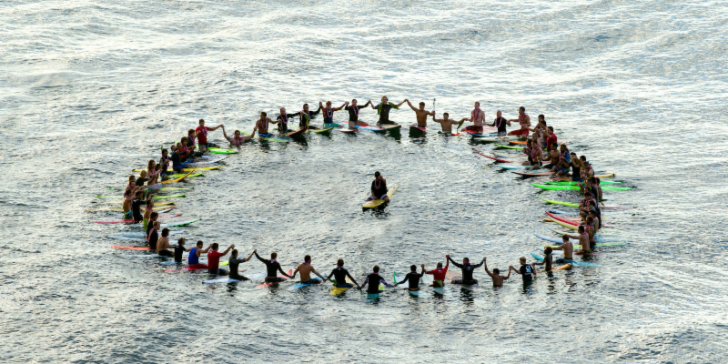 Photo: Clyde Aikau leads the circle tribute to his brother.  Quiksilver/Bosko
North Shore, Oahu, HAWAII – (Dec. 4, 2015) –  The traditional Hawaiian opening ceremony for the 31st annual Quiksilver In Memory of Eddie Aikau took place late yesterday as the sun set on Waimea Bay, Hawaii. It was an emotional gathering of big wave legends, rising stars of contemporary big wave surfing, the Aikau family, and surfing's expanded circle of friends and fans.
Eddie Aikau's younger brother Clyde set the tone for this year's event when he announced it would be his final year of taking to the hallowed lineup that he has ridden since first lifeguarding the Bay and riding giant waves with his big brother more than 40 years ago. Today, at 66, he describes himself as "the oldest, most serious big wave rider on the planet". He has surfed in every Eddie Aikau event held since its inception in 1985 (except '99), and won the 1986 event (Keone Downing Won 1990) (correction from original press).
This year's selected Invitees gathered together in Waimea Bay Beach Park to first receive a blessing from Hawaiian Kahu Billy Mitchell. With a clear and deliberate voice, Kahu Mitchell reminded surfers of their duty first to the care of one another in the lineup, perpetuating Eddie's legacy as a caretaker of the Bay, watching over the safety of other surfers ahead of pursuing the biggest waves themselves.
"This is a message of Aloha," said Mitchell. "This is about how surfers will treat each other when under some of the greatest pressure of their lives."
Following the official blessing, the Invitees collected their surfboards and paddled out the surf line at Waimea to gather together as a connected circle of one family of big wave riders and pay homage to those who came before and those who ride Waimea today.
"Just like the Aikaus are one family, big wave riders are one family," said Aikau. "What I try to do each year when we make that circle is reach for the surfers' inner soul, for their inner spirit. Because when you're putting your life on the line, it's what's in your spirit that will pull you through. So I try to reach their passion… their reason for why they're putting their lives on the line."
In line with the call for enhanced big wave safety, more than 90% of the surfers in this year's Quiksilver In Memory of Eddie Aikau have opted to accept the new Quiksilver Inflatable Ocean Safety Vest.
With a strong winter for giant surf taking shape, anticipation is high that the Quiksilver In Memory of Eddie Aikau ~ the original big wave riding event ~ will run. The holding period extends from now through February 29, 2016. All will wait for one giant day of surf to roll into Waimea Bay, and when that happens, "The Eddie" will GO.
he 2015/2016 Invitees are: (listed by first name alphabetical order)
Aaron Gold
Albee Layer
Bruce Irons
Clyde Aikau
Dave Wassel
Garrett McNamara
Grant Baker
Greg Long
Ian Walsh
Jamie Mitchell
Jamie O'Brien
Jeremy Flores
John John Florence
Kala Alexander
Kelly Slater
Kohl Christensen
Makua Rothman
Mark Healey
Nathan Fletcher
Noah Johnson
Peter Mel
Ramon Navarro
Reef McIntosh
Ross Clarke-Jones
Shane Dorian
Sunny Garcia
Takayuki Wakita
Tom Carroll
Official Alternates (in seeding order):
Mason Ho (Aikau Pick)
Danilo Couto
Mark Matthews
Koa Rothman
Ben Wilkinson
Jamie Sterling
Billy Kemper
Shawn Dollar
Carlos Burle
Kealii Mamala
Gabriel Villaran
Michael Ho
Kai Lenny
Kahea Hart
Nathan Florence
Damien Hobgood
Kalani Chapman
Ryan Hipwood
Danny Fuller
Nic Lamb
Anthony Tashnick
Rusty Long
Derek Dunfee
Brock Little