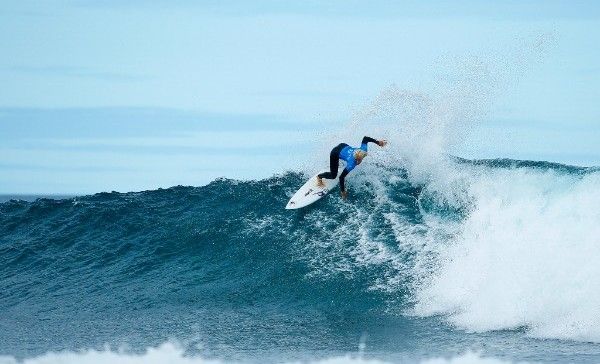 – GILMORE, QUIZON, WRIGHT AND WESTON-WEBB THROUGH TO THE QUARTERFINALS – WORLD'S BEST FEMALE SURFERS RELOCATE TO NEARBY WINKIPOP FOR ROUND 4
Tatiana Weston-Webb (HAW), 2015 WSL Rookie of the Year, posted a massive 9.60 point ride to defeat injury replacement Bronte Macaulay (AUS) and advance to the Quarterfinals.
Image: WSL / Sloane
| | |
| --- | --- |
| Location:    |   Bells Beach, Victoria/AUS |
| Event window: |   March 24 – April 5, 2016 |
| Today's call: |   Women's Round 4 called ON |
| Conditions: |   3 – 4 foot (1 metre) |
BELLS BEACH, Victoria/AUS (Thursday, March 31, 2016) – The Rip Curl Pro Bells Beach witnessed high drama today as the women faced off in elimination Round 4 for the opportunity to make the Quarterfinals.
The second stop on the World Surf League (WSL) Samsung Galaxy Championship Tour (CT), the Rip Curl Pro Bells Beach, saw heated battles unfold in clean, three-to-four foot (1 metre) waves at Winkipop, Bells Beach.
Stephanie Gilmore (AUS), six-time World Champion and three-time event winner, defeat Malia Manuel (HAW) in Heat 2 to secure a spot in the Quarterfinals. Manuel held control for most of the heat by locking in a solid 8.33, forcing Gilmore to beat a 15.66 two-wave combined score. Gilmore unleashed a variety of maneuvers to deliver a 15.87 and claw back into the lead.
"I was waiting for something that took me about fifteen minutes to figure out was not going to come," Gilmore said. "It really wasn't a good strategy. Malia had the perfect start and just kept working, and I was lucky that I had that one gem right toward the end of the heat. The whole time I was sitting there thinking of the forecast for tomorrow and wanting to make the heat because I want to surf tomorrow because it is going to be so pumping."
Tyler Wright (AUS), current Jeep Leaderboard frontrunner, and local favorite Nikki Van Dijk (AUS) charged out the gates, locking in scores within the opening minutes the heat. A lull hit the majority of the heat, but a solid set out the back provided both surfers the ammunition to perform. Van Dijk went for the first wave of the set and threw down a 6.97. Wright went on the second set wave and earned a 7.67 to take down the hometown hero by only 0.17 points.
"I felt like I sat for seventeen minutes, and then I caught that little one, which I did not think was a mistake," said Wright. "Then those last two sets came in. Nikki got the first one and I got the second one. It played out in my favor. I got three big turns so I was pretty happy with that. Tomorrow is going to be a new day surfing at the Bowl, but I am feeling good."
The opening heat of Round 4 saw Alessa Quizon (HAW) face fellow goofy-footerBianca Buitendag (ZAF). Both surfers came out swinging, but Quizon posted a 15.67 two-wave combined score, while Buitendag put up a 14.97. Quizon captured the lead by only 0.70 points to advance to the Quarterfinals.
"It was so much fun, I have never surfed Winkipop like this, so I am pretty stoked," said Quizon. "I know coming at Sally she is such an amazing surfer and she is so smart and consistent. I just need to be surfing just as consistent and smart. Hopefully I will have more of an advantage."
Tatiana Weston-Webb (HAW), 2015 WSL Rookie of the Year, knocked out injury replacement Bronte Macaulay (AUS) in the last heat of the day. Weston-Webb opened Heat 4 with a massive 9.60 point ride, showcasing her confidence, power and style. Macaulay tried to chip away at Weston-Webb's score, but Weston-Webb threw down a 7.33 to control the heat. Macaulay was not able to break the combination, and Weston-Webb will continue to the Quarterfinals.
For more information, log onto WorldSurfLeague.com
Rip Curl Women's Pro Bells Beach Round 4 Results:
Heat 1:  Alessa Quizon (HAW) 15.67 def. Bianca Buitendag (ZAF) 14.97
Heat 2: Stephanie Gilmore (AUS) 15.87 def. Malia Manuel (HAW) 15.66
Heat 3: Tyler Wright (AUS) 14.44 def. Nikki Van Dijk (AUS) 14.27
Heat 4: Tatiana Weston-Webb (HAW) 16.93 def. Bronte Macaulay (AUS) 11.10
Rip Curl Women's Pro Quarterfinal Match-ups:
QF 1: Sally Fitzgibbons (AUS) vs. Alessa Quizon (HAW)
QF 2: Carissa Moore (HAW) vs. Stephanie Gilmore (AUS)
QF 3: Courtney Conlogue (USA) vs. Tyler Wright (AUS)
QF 4: Johanne Defay (FRA) vs. Tatiana Weston-Webb (HAW)
Rip Curl Pro Bells Beach Round 4 Match-Ups:
Heat 1: Italo Ferreira (BRA), Nat Young (USA), Julian Wilson (AUS)
Heat 2: Matt Wilkinson (AUS), Wiggolly Dantas (BRA), Mason Ho (HAW)
Heat 3: Mick Fanning (AUS), Jordy Smith (ZAF), Conner Coffin (USA)
Heat 4: Michel Bourez (PYF), Caio Ibelli (BRA), Davey Cathels (AUS)