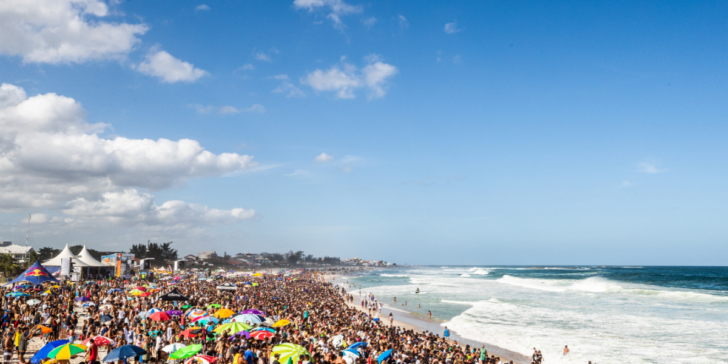 Only Four Brazilians Left Ahead of Final Series: Lima, Weston-Webb, Toledo, Medina…
Likey finish Sunday (Rio is 7 hours ahead…starts just after midnight in Hawaii)
Gilmore Continues Charge at Stop No. 5
Florence Injures Knee En Route to Quarters
Andino, Smith, Wilson, and Morais On Fire at Barrinha
World No. 2 Marks Falls to No. 16 Andrew
The Barrinha crowd for the Round of 16 at the Oi Rio Pro. Credit: © WSL / Diz
SAQUAREMA, Rio de Janeiro/Brasil (Saturday, June 22, 2019) – An action-packed day at the Oi Rio Pro, Stop No. 5 on the 2019 World Surf League (WSL) Championship Tour (CT), witnessed over 20,000 fans line the beach for the third day of the competition. The day started at Itaúna for the women's Round of 16 and then moved down the beach to Barrinha for the men's Round of 16.
Only Four Brasilians Left Ahead of Final Series: Lima, Weston-Webb, Toledo, Medina
Only four Brasilians remain in the competition today after the Round of 16. Silvana Lima, Tatiana Weston-Webb, Filipe Toledo, and Gabriel Medina still stand, while Taina Hinckel, Jesse Mendes, Michael Rodrigues, and Deivid Silva fell out of the draw. With the Final Series potentially running tomorrow, a capacity crowd is expected to cheer on these national heroes as they battle to bring the event title home.

Lima and Weston-Webb are through to the Quarterfinals after winning their Round of 16 heats against Malia Manuel (HAW) and Coco Ho (HAW), respectively. Both Lima's and Weston-Webb's best result in Brasil is a Semifinal finish. These surfers will have the crowd's support on Finals Day as the only two Brasilian women through to the Quarterfinals after Carissa Moore (HAW)eliminated wildcard Hinckel in Heat 5.
 Silvana Lima (BRA) Credit: © WSL / Poullenot
"Surfing these big waves is a little difficult because I'm smaller and the waves here are so powerful," said Lima. "But luckily, I found that really good one and I was able to advance into the Quarterfinals. It feels great to be competing here, excluding my first round heat, where I was feeling so nervous. It's such a special feeling hearing the crowd screaming your name and sending positive vibes. Thank you so much to the fans on the beach and watching on the webcast."

"Coco (Ho) is such a good surfer and not one to take lightly in a heat," said Weston-Webb. "I was kind of nervous before the heat given the conditions and that anything can happen in this type of ocean so I just really wanted to play a smart heat. I've definitely been using the support from the fans; it's like the coolest thing ever. I love being here in Brasil."
The crowd went wild for the first heat that saw 11-time WSL Champion Kelly Slater (USA) up first against defending event winner Toledo. Toledo put on a show with a near-perfect 9.17 (out of a possible 10) to kick off the heat. Slater surfed a few attempts but then captured the lead by besting Toledo's massive air with deep barrel exit for a 9.50. The heat came down to the final exchanges where Slater earned a 5.33 but was shut down in the last six minutes by Toledo's tube that garnered him a critical 8.67 for the win.

"That was a really good heat against Kelly Slater," Toledo said. "I started off with a high score, but I couldn't really hear anything out there. There was a lot of wind and the crowd was screaming so I didn't know what I got or what Kelly needed. But at the end of the heat that set came in and I was able to get that barrel for the win. I almost fell on the drop, but I barely made it finished it off with another high score. I hope conditions stay good for tomorrow for another epic finish in Saquarema."

"Brasil has been like nowhere else in the world for me," said Slater. "I remember coming here in 1992 and becoming very well-known and there would be like twenty thousand people on the beach and I'd need like ten security guards to escort me to the hotel. I've never experienced anything like that before or after in anywhere other than Brasil. I went out and surfed with all the locals today and I was at the bottom of the pecking order. I think the surfing world kind of shunned Brasil for a long time, and I feel Brasil went 'Ok, we're going to make our own rules now,' and I felt that in the water. I mean, everyone was super cool and I knew a lot of the guys like Raoni (Monteiro) and Leo Neves. It was fun to be with them and they let me have a few waves, it was super fun."
Gabriel Medina (BRA) Credit: © WSL / Poullenot
Gabriel Medina (BRA) closed the day with another big performance, this time defeating Michel Bourez (FRA) in Heat 8 for his place in the Quarterfinals. Medina has had a tough season so far with two consecutive 17th place results but will hope to rocket past the Quarterfinals, his best result of the season. The loss is Bourez's fourth 9th place result this year.

"I'm happy that I won that heat, but conditions were hard and the wind made the wave face bumpy," said Medina. "Now we'll just have to wait for tomorrow and I hope the waves get better so I can surf more. I think it's unfortunate that we came to Barrinha. I didn't feel it was the right decision. We don't surf any lefts on Tour and now that we finally get a chance to surf at Itaúna, they put us on the rights at Barrinha. It's tough being a goofy-footer on Tour. If you want to win a World Title as a goofy, you really need to surf well."
Gilmore Continues Charge at Stop No. 5, Florence Injures Knee En Route to Quarters
Pictured: Stephanie Gilmore (AUS) Credit: © WSL / Poullenot
Stephanie Gilmore (AUS), seven-time WSL Champion, moves into her fourth Quarterfinal this season after winning against Paige Hareb (NZL) in Heat 7. Gilmore, the defending event winner,  currently sits at World No. 1 but has only advanced past the Quarterfinals once this season at the Corona Bali Protected. Gilmore's next heat will be against Courtney Conlogue (USA), current World No. 5.

Watch Gilmore's post-heat interview. 

John John Florence (HAW), two-time event winner and World Champion, was against 2018 event runner-up Wade Carmichael (AUS) in Heat 5. Last year, Carmichael powered through a full day at Barrinha to earn his career-first Finals appearance but was unable to match that rhythm again today. Needing a 6.17, the Australian only scored a 3.83 on his last attempt and will leave in Equal 9th place. Despite the win, Florence hurt his knee and will work to prepare for the Quarterfinals against World No. 5 Jordy Smith (ZAF).

"I had a ton of speed on my last wave and I was going to do a turn and it was kind of breaking already and so I just tried to do a fly away, but the wave broke on my back leg and buckled the same knee I injured last year," said Florence. "It just got tweaked and I was in a little bit of pain. It's super powerful out there right now and I get really excited to do airs, so in my head I just felt like I should leave the water and go rest it and try to make sure it's all good. I'm going to get it looked at and see how it feels tomorrow."
Florence's and Kanoa Igarashi's (JPN) support from the Brasilian fans was made clear during their respective heats today. The crowd roared across the beach for both surfers' 7-point rides that gave them the advantage over their competitors. Igarashi sits in fourth on the Jeep Leaderboard, and his Quarterfinal berth helps his ranking points after No. 3 Italo Ferreira's elimination yesterday. Now, the 21-year-old needs to get through Toledo to match his success in Bali.
World No. 2 Caroline Marks Falls to No. 16 Keely Andrew 
Keely Andrew (AUS), the replacement surfer for Tyler Wright (AUS), dispatched World No. 2 Caroline Marks (USA) in R/16, Heat 3. Andrew suffered a knee injury in October last year that pulled her out of the final two events of the season and hindered her requalification for the 2019 CT. Now as the replacement for Wright, Andrew has had the past five events to make a comeback for a full-time spot on the 2020 CT. Today's result is Andrew's first move past the R/16, and she will work to continue her run at one of her favorite events. Andrew will be against event favorite Lima in the second Quarterfinal.

"I got pretty winded just paddling out," said Andrew. "I passed by Sally (Fitzgibbons) and she said, 'Good luck in the washing machine,' but that's what we train for and it feels good when you can pull it off. I'm using the same equipment that I used at Margaret River so I'm confident in this board and trusting myself. I love Brasil and I always have, it's one of my favorite countries in the world. The people are always so passionate and the energy is so positive, plus I love my farofa and beans."

Marks now exits in Equal 9th, her second Round 3 elimination in 2019 after a first-place finish on the Gold Coast and two Final Series appearances at Bells and in Western Australia.

2018 Oi Rio Pro runner-up Lakey Peterson (USA) eliminated rookie Macy Callaghan (AUS) in the first heat of the R/16. Earlier this month, Peterson conquered the wild conditions in Western Australia for the win and showed the same composure today in the rough surf. Peterson will match-up with Sally Fitzgibbons (AUS), who took down Johanne Defay (FRA) in R/16, Heat 2.

"I was out there while it was still dark because I was in the first heat and I just wanted to feel it before I got out there in a heat, that's something super important to me," said Peterson. "I went out on a 5',9" and thought 'nope', there's too much water moving, so I moved up to a bigger board. But I'm super stoked to make it through because it was a really grindy heat. It's really hard out there, so you've got adapt and I eventually found that right for a backup score. I think it's a good challenge for me and I am always willing to learn something new. The Title race is super close and I feel like this event can really distance the pack."
Andino, Smith, Wilson, and Morais On Fire at Barrinha
 Julian Wilson (AUS) Credit: © WSL / Poullenot
Smith is heating up in Brasil with a big win over Griffin Colapinto (USA) in Heat 6. The South African put the American in a combination situation (requiring two new scores) with a 15.63 two-wave total (out of a possible 20).

Watch Smith's post-heat interview. 

Kolohe Andino (USA), World No. 2, halted rookie Deivid Silva's (BRA) run in Brasil with an excellent 8.07 and a 6.00. Silva needed a 7.55 to advance but was not able to score past his 6.53 during the overlapping heat. Silva is still searching for his breakthrough event past this round and will now prepare for the sixth stop on the CT.

Watch Andino's post-heat interview. 

Frederico Morais (PRT), an injury replacement, continues to capitalize on his entry into this event with a Quarterfinal result locked in. Morais eliminated CT sophomore Michael Rodrigues (BRA) in Heat 3 and will be against Julian Wilson (AUS) when competition resumes. Wilson took down Jesse Mendes (BRA) in a heated battle that went all the way to the buzzer. The Australian attacked the Barrinha lip for an 8.33, beating Mendes by just 0.40. Wilson is now the only Australian left in the men's draw.