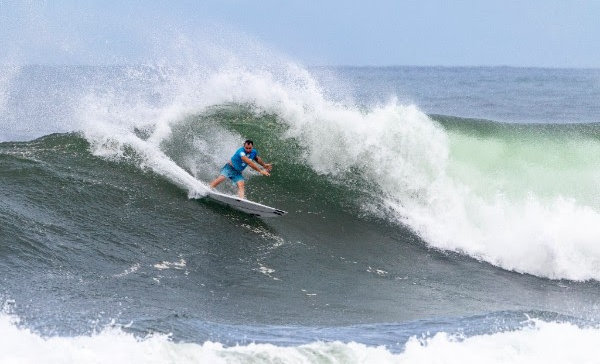 – JOEL PARKINSON SET FOR SUCCESSFUL SWAN SONG IN HAWAII
– WORLD NO. 2 FILIPE TOLEDO EARNS EVENT-BEST 19.10 HEAT TOTAL
– FINAL DAY FIRMED FOR SATURDAY, WINNER CROWNED AT 12PM HST
COVER SHOT: Joel Parkinson (AUS) advanced through Rounds 3 and 4 today, which marks his final year competing in the Hawaiian Pro. 
Credit:
 © WSL / Keoki
Event / Rating:      Hawaiian Pro, Men's QS 10,000
Window:                 November 12 – 24
Today's Call:          Round 3 Heats 9-16 and Round 4 Completed
Conditions:            6-8ft.+ NW swell, light offshore winds
Haleiwa, Oahu/HAWAII — (Friday, November 16, 2018) – The waves thundered through the lineup at Haleiwa Ali'i Beach for Day 4 of the Hawaiian Pro, the opening event of the Vans Triple Crown of Surfing and near-closing competition of the World Surf League (WSL) Qualifying Series (QS) circuit. Long-time WSL Championship Tour (CT) veteran Joel Parkinson (AUS) made his final appearance at the Hawaiian Pro, while today also saw one of the most hotly contested heats of the day with defending event winner and No. 2 in the world, Filipe Toledo (BRA), No. 4 on the QS Seth Moniz (HAW), No. 5 on the QS Peterson Crisanto (BRA) and CT sophomore Connor O'Leary (AUS).
A QS 10,000, the Hawaiian Pro is one day away from crowning an event winner who will inevitably take the lead on the 36th Annual Vans Triple Crown of Surfing (VTCS) title. The Quarterfinals will be an international blend with six Brazilians still in contention, along with three athletes from Australia, two from USA and one surfer each representing Hawaii, Japan, New Zealand, Italy and South Africa.
Contest organizers anticipate the competition to resume tomorrow, Saturday, November 17, with the first Quarterfinal heat hitting the water at 8:00a.m. local time and a winner being crowned at 12p.m.
The Vans Triple Crown of Surfing brings together a cross-section of the world's best athletes to Oahu's infamous North Shore. 
Credit:
© WSL / Heff
After 18 years on the Championship Tour, 2012 World Champion Joel Parkinson (AUS)announced earlier this year his plans to hang up the jersey and retire on a high note in Hawaii. The legendary athlete is a 3x Vans Triple Crown of Surfing Champion ('08, '09, '10) and one of the few who has won at every single venue in Hawaii. Today, Parkinson demonstrated elite-status surfing in the shifting lineup and was points ahead of fellow competitors in both his Round 3 and Round 4 heats.
"It's always been so special to me," Parkinson said of the VTCS. "I figured if I was not going to surf another contest again after December, after Pipe, I should come and do these two and give it my best shot. I've been surfing a lot, I feel good. Triple Crown needs a little bit of luck and a lot of good surfing so hopefully if I can do those things, maybe a little more luck than I need, I can probably put up a fight for a Triple Crown."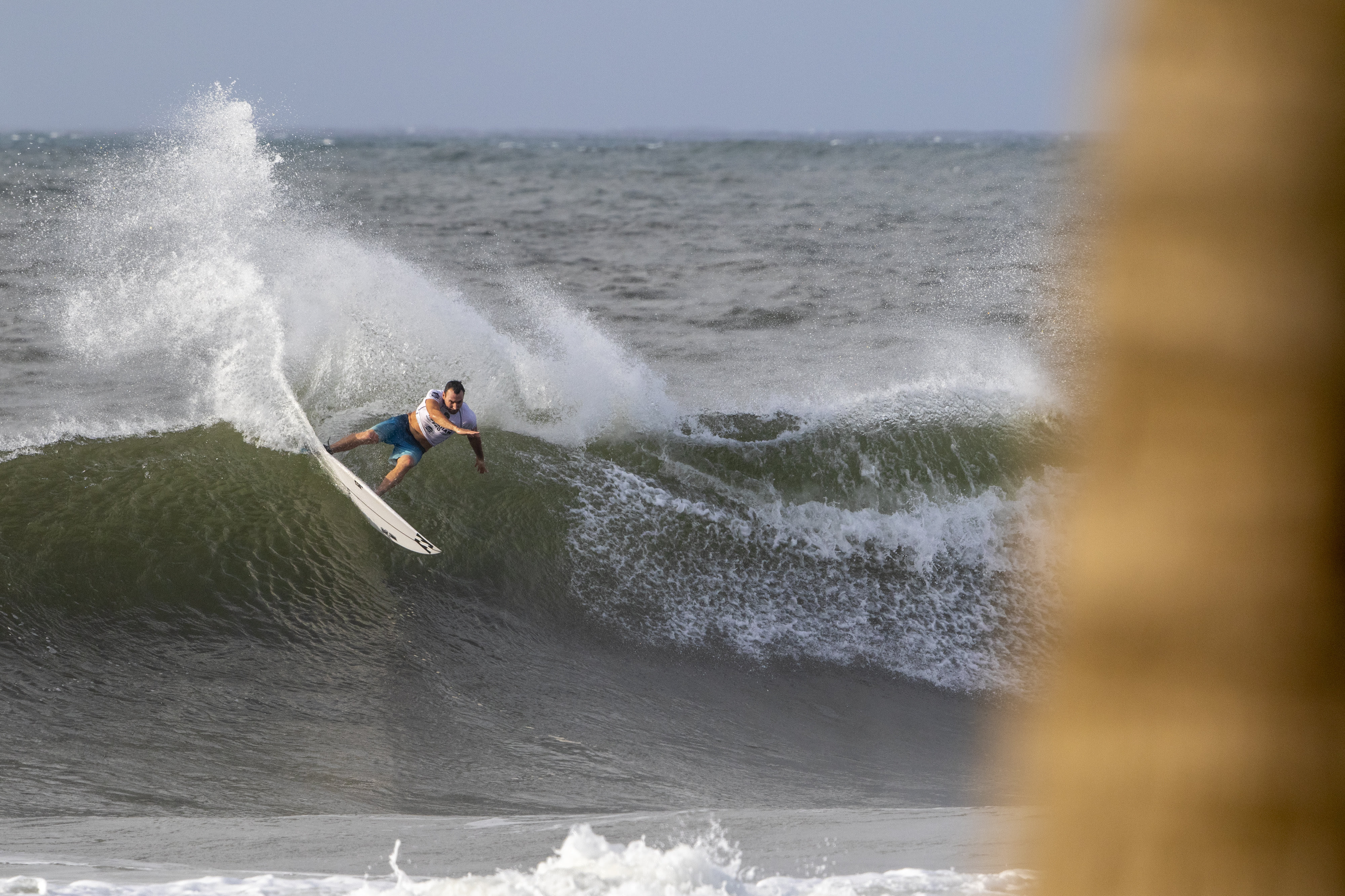 Joel Parkinson (AUS). 
Credit:
 © WSL / Keoki
His performance in the final heat of Round 4 cemented his celebrated reputation with two excellent scores, an 8.77 and 8.10, and a place in Quarterfinal 4. The 2010 Hawaiian Pro winner reminisced about his time in the islands as he gears up for retirement.
"I surfed here for so long, it's really nice to come down here and paddle out and just put the jersey on," said Parkinson. "I was just remembering all these times I got slammed here, just all these different heats. I remember there was a couple heats where it was huge, one time I was in a heat with Snake (Jake Patterson) and Kelly (Slater), and I think Myles Padaca, it was a long time ago but there's plenty of great memories, not just here but all over Hawaii. It definitely is one special place to me. I'll always be coming back here and surfing as much as I can, but competing I won't ever have to do again, which is nice."
The crowd was buzzing after Toledo earned a near-perfect heat total of 19.10 out of a possible 20 in Round 4 Heat 3. He opened with an excellent 9.50 for two critical turns and continued on an absolute tear, tallying the most waves ridden in the heat. Toledo took a commanding lead over competitors after nailing a 9.60 for a sweeping cutback with a dramatic finishing maneuver in the closeout section.
Filipe Toledo (BRA). 
Credit:
 © WSL / Heff
Toledo is fired up for the VTCS after skipping last year's Vans World Cup to focus on the final CT of the year, and looks forward to the Hawaiian Pro culmination and upcoming competition at the Billabong Pipe Masters.
"Last year was just a different strategy for me, to see if it was going to work or not," he said in reference to missing the 2017 Vans World Cup. "It didn't, so this year I'm going to go for the full-time comp. I'm happy with it, I'm feeling good and ready.
"I can't wait for Pipe and I really hope the swell shows up for us in the event window and we can really perform in perfect conditions and get barreled," Toledo continued. "I'm really happy to be in this position right now so it's going to be really exciting."
A battle for second advancing position behind Toledo ensued between Moniz and Crisanto, both who sit well within the cutoff for CT qualification. The two traded waves in the dying minutes and waited in anticipation on the beach as results were announced. Moniz's final wave, an 8.17 for a drawn-out, controlled carve into a floater, saw the Hawaiian pull ahead of Crisanto by .16 of a point for a spot in Quarterfinal 1.
Seth Moniz (HAW). 
Credit:
 © WSL / Heff
Rated No. 27 on the CT and No. 37 on the QS, Patrick Gudauskas (USA) is fighting for a good result at the Hawaiian Pro to secure a second consecutive year on tour among the world's best. His heat against David Van Zyl (ZAF), Joan Duru (FRA) and Victor Bernardo (BRA) in Round 3 was a back-and-forth battle as surfers remained busy in the lineup and ended within close point proximity to one another.
Gudauskas opened his campaign with aggressive lip attacks and tight snaps for two good scores, a 7.67 and 7.17. In Round 4, he upped his average heat total after posting an excellent 8.27 to advance behind Leonardo Fioravanti (ITA) to stay alive in the competition.
"It's pumping, it's so fun out there," Gudauskas said post-heat. "I was kind of in the mentality to just go for it, I want to just send it into the lip as much as I could. I had to breathe a little bit into the heat because I knew the waves were firing. It's actually hard to tell which ones are the good ones because there's so much water moving and lots of ribs."
Patrick Gudauskas (USA). 
Credit:
 © WSL / Heff
Gudauskas, with brothers Tanner and Dane, return to the North Shore each year to compete professionally and take part in the community activations around the North Shore throughout the six weeks of the VTCS. Last year was monumental, as Gudauskas qualified for the 2018 CT following a Semifinal finish at the Vans World Cup.
"Hawaii is the ultimate proving ground," Gudauskas said. "I think coming from California you literally always imagine Pipe and Sunset and Haleiwa and that's like literally all you dream about. I put as much time as I can over here. I'd love to just keep spending more time here. The waves are amazing, the people are so hospitable, I'm feeling really comfortable and the last couple years I've felt like everything's clicked (in terms of) how I'm approaching waves and surfing."
On Saturday, the Gudauskas Brothers will be joining Michael February (ZAF) for a free movie screening of Can't Steal Our Vibe and Talk Story event at Haleiwa Beach Park (across from Haleiwa boat harbor closest to Pua'ena Point), which begins at 7pm and is open to the public.
Each event of the 2018 Vans Triple Crown of Surfing will run on the four best days of surf within the event's holding window. LIVE streaming is available on WorldSurfLeague.com, VansTripleCrownOfSurfing.com, Facebook.com/wsllive and the WSL and Facebook apps (Facebook login required for mobile viewing). Or tune into Spectrum SURF Channel, which will televise the action LIVE and in replay on digital channels 20 and 1020HD, across the state of Hawaii.
Hawaiian Pro Results
Athletes listed in 1st through 4th
Round 4 (1st and 2nd advance, 3rd = 17th place, 4th = 25th place
H1: Bino Lopes (BRA), Mateus Herdy (BRA), Ethan Ewing (AUS), Michel Bourez (PYF)
H2: Jesse Mendes (BRA), Kanoa Igarashi (JPN), Finn McGill (HAW), Mason Ho (HAW)
H3: Filipe Toledo (BRA), Seth Moniz (HAW), Peterson Cristano (BRA), Connor O'Leary (AUS)
H4: Ricardo Christie (NZL), Miguel Pupo (BRA), Barron Mamiya (HAW), Willian Cardoso (BRA)
H5: Leonardo Fioravanti (ITA), Patrick Gudauskas (USA), Italo Ferreira (BRA), Ryan Callinan (AUS)
H6: Deivid Silva (BRA), Jake Marshall (USA), David Van Zyl (ZAF), Ezekiel Lau (HAW)
H7: Jack Robinson (AUS), Jordy Smith (ZAF), Reef Heazlewood (AUS), Michael February (ZAF)
H8: Joel Parkinson (AUS), Soli Bailey (AUS), Dion Atkinson (AUS), O'Neill Massin (PYF)
Round 3 (1st and 2nd advance, 3rd = 33rd place, 4th = 49th place)
H9: Italo Ferreira (BRA), Jake Marshall (USA), Tanner Hendrickson (HAW), Evan Geiselman (USA)
H10: Patrick Gudauskas (USA), David Van Zyl (ZAF), Joan Duru (FRA), Victor Bernardo (BRA)
H11: Deivid Silva (BRA), Leonardo Fioravanti (ITA), Kolohe Andino (USA), Torrey Meister (HAW)
H12: Ezekiel Lau (HAW), Ryan Callinan (AUS), Kiron Jabour (HAW), Alex Ribeiro (BRA)
H13: Jack Robinson (AUS), O'Neill Massin (PYF), Conner Coffin (USA), Jadson Andre (BRA)
H14: Michael February (ZAF), Dion Atkinson (AUS), Sebastian Zietz (HAW), Dusty Payne (HAW)
H15: Joel Parkinson (AUS), Reef Heazlewood (AUS), Stu Kennedy (AUS), Yago Dora (BRA)
H16: Soli Bailey (AUS), Jordy Smith (ZAF), Alejo Muniz (BRA), Cooper Chapman (AUS)
About Vans
Vans®, a VF Corporation (NYSE: VFC) brand, is the original action sports footwear, apparel and accessories brand. Vans® authentic collections are sold in 84 countries through a network of subsidiaries, distributors and international offices. Vans® has over 2,000 retail locations globally including owned, concession and partnership doors. The Vans® brand promotes creative self-expression in youth culture across action sports, art, music and street culture and delivers progressive platforms such as the Vans Park Series, Vans Triple Crown of Surfing®, Vans Pool Party, Vans Custom Culture, and Vans' cultural hub and international music venue, House of Vans.