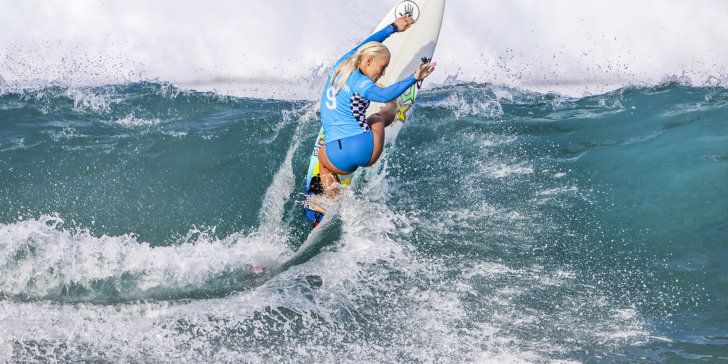 – ERICKSON ELIMINATES 3X WSL CHAMPION MOORE
– WESTON-WEBB, DEFAY, FITZGIBBONS & WRIGHT CONTINUE HUNT FOR SECOND WINS IN HB

– UPSETS PLAGUE TOP SEEDS IN MEN'S QS 10,000 
-SSW ON WAY FOR THE WEEKEND FINALS

Hometown hero Courtney Conlogue (USA) will continue her hunt for her first CT win in Huntington Beach after her win in  Round 3 Heat 4 of the Vans US Open of Surfing.
Credit: © WSL / Morris
  HUNTINGTON BEACH, California/ USA (Wednesday, August 2, 2017) – The Vans US Open of Surfing completed Rounds 3 and 4 today to determine the Quarterfinalists of the sixth stop on the World Surf League (WSL) Championship Tour (CT). Four-to-five foot+ waves provided great conditions for the elite surfers on the southside of the Huntington Beach Pier. Following the women's heats, the Men's QS 10,000 continued with Heats 14 through 22 of Round 2. 
Local favorite Courtney Conlogue (USA) is heating up at the Vans US Open with her win over three-time WSL Champion Carissa Moore (USA) and Pauline Ado (FRA) in Round 3 Heat 4. Conlogue fired off a 5.83 on her opening exchange and continued to hold the lead with a 6.40. Conlogue will advance to the Quarterfinals and get one step closer to hunting down her first CT win in Huntington Beach.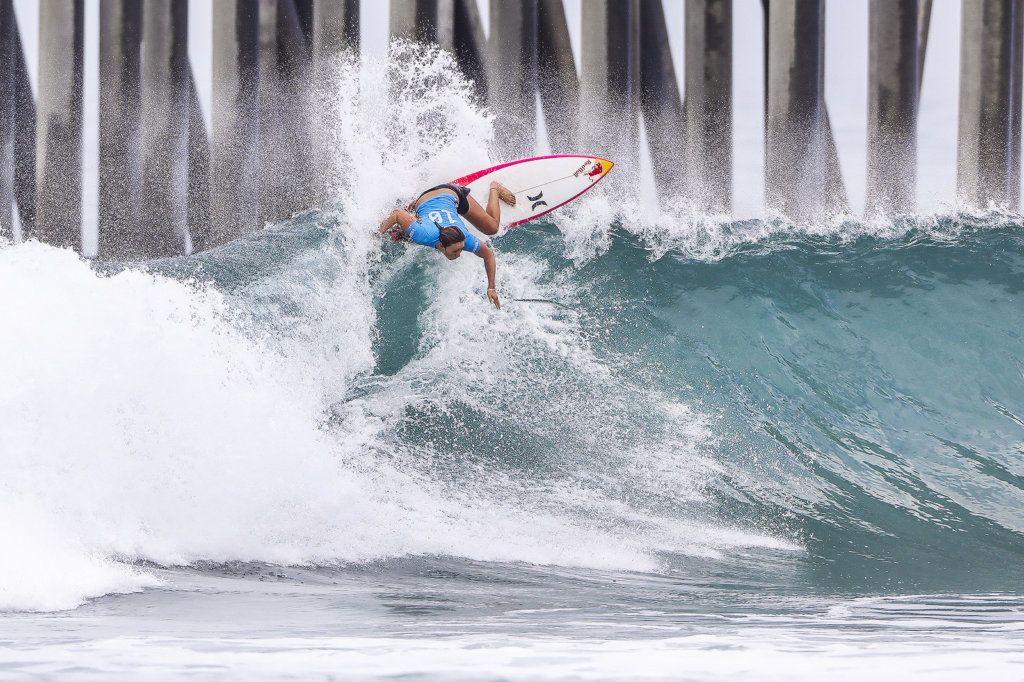 3X Women's World Champion Carissa Moore of Hawaii (pictured) finished equal 9th in the VANS US Open of Surfing after placing second to Sage Erickson of the USA in Heat 3 of Round Four in 4 – 5 foot conditions at Huntington Beach, California, USA, today Wednesday August 2, 2017.  PHOTO: © WSL / Morris SOCIAL : @wsl @kennethemorris
"When I am put into Round 2, I talk some sense into myself thinking it's more practice, but honestly none of us want to be there," Conlogue said. "You just embrace it and get through it. In my heat today I was just not wanting another 9th in my results, so I did everything in my power to just make sure I got to the Quarters. Carissa [Moore] and I had two different game plans and it probably came with a bit of local knowledge for me. Yesterday I was a little out of rhythm with the lineup so I just wanted to find that rhythm in my heat today and feel everything click."
Moore went on to face Sage Erickson (USA) in elimination Round 4 Heat 3. The Californian wasted no time, scoring a 6.33 in the first few minutes of the heat. Moore battled back with two 4-point rides, but Erickson secured her win with a second 6.33. Moore, who is currently 8th on the Jeep Leaderboard, will leave this event with a 9th place finish. Erickson, World No. 9, will advance to the Quarterfinals for the fourth time this season.
"I actually didn't feel nervous until toward the end of that heat when I made a silly mistake on the right that ended up closing out with two-minutes to go," Erickson said. "There were a few moments of nerves, but I feel really confident in my surfing. Coming up against Carissa [Moore] — she's a really hard draw just being a past World Champion — so I knew that it was going to be a task. I've gone through so many seasons of what I've been focusing on, there's so many elements in this sport and I think every athlete can relate to that. But, really just trusting in my dream and my goal to be on this tour and to stay on — I never wanted to come to this level and just be a survivor, but to challenge the top and be in that position."
Earlier this morning, current World No. 2 Sally Fitzgibbons (AUS) flew through Round 3 with a 14.33 heat total against Erickson and Silvana Lima (BRA). Fitzgibbons took full advantage of the southside sets to post an excellent 8.00 and solid 6.33 for the win and the highest two-wave total of the women's event today. Fitzgibbons will meet Erickson again in Quarterfinal 3.
"I think a World Title is always the intention and it's just about how you get there and events like this where anything can happen," Fitzgibbons said. "It's shaping up to be a week where you can show up and consistently build, and get that spark in yourself — the excitement is there for me especially this year. What I love most about coming here and being in this position is putting on the jersey and the process of it all. At this level, it's the tiniest thing that will send you out of the event, so it's about just being on and focused."
2016 WSL Champion Tyler Wright (AUS) lost to Coco Ho (HAW) in her first heat today, but came back with a big win over wildcard Maud Le Car (FRA) in Round 4 Heat 2. Wright threw down a commanding 7.57 to gain the heat lead. Le Car, with a 4.67, needed an excellent 9.07 after Wright locked in a 6.17. Le Car, who previously eliminated six-time WSL Champion Stephanie Gilmore (AUS), was not able to repeat her victory yesterday and will exit with in 9th place.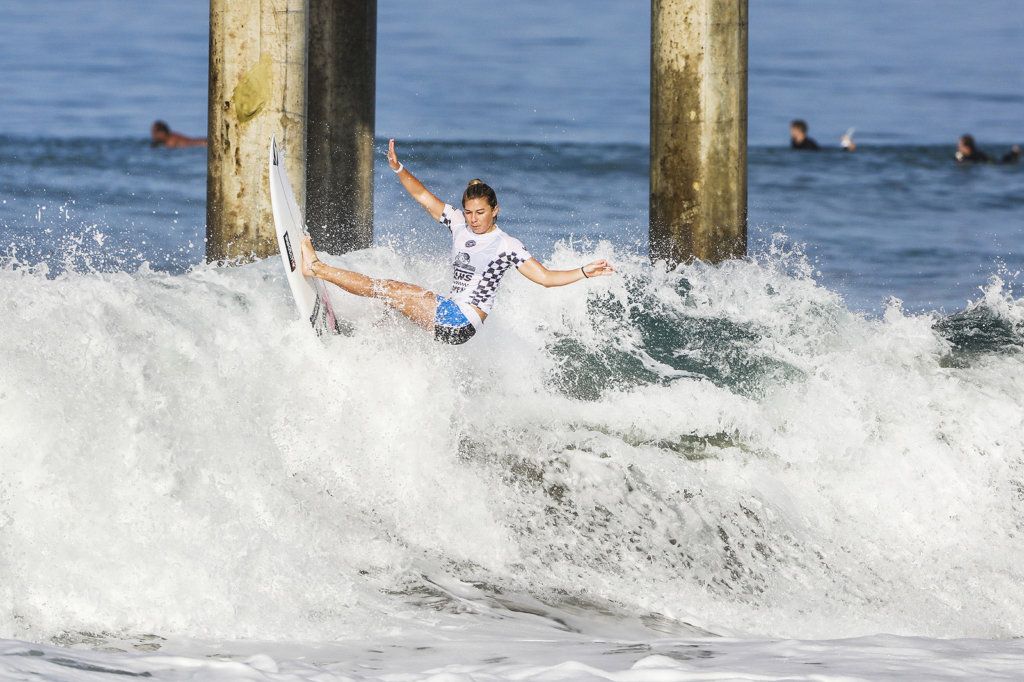 North Shore's Coco Ho of Hawaii (pictured) advanced directly to the Quarterfinals of the VANS US Open of Surfing after winning Heat 2 of Round Three in 4 – 5 foot conditions at Huntington Beach, California, USA, today Tuesday August 2, 2017.  PHOTO: © WSL / Morris SOCIAL : @wsl @kennethemorris
"It's always a part of the plan to end up in the Finals and I treat every heat pretty much the same with the same details and prep," Wright said. "Obviously, I have to adapt to whatever is on-hand. Clearly not enough training was done on my part as I thought paddling at J-Bay was going to be enough — but no — this current is super hectic. The water is constantly pulling you so it's taken it out of me today, but I've kind of just been managing that and  I'm managing energy in a heat."
The opening heat of Round 3 saw Johanne Defay (FRA), 2015 event winner, earn the first spot into the Quarterfinals after defeating Nikki Van Dijk (AUS) and wildcard Maud Le Car (FRA). After a few low-scoring attempts, Defay found her rhythm and garnered the top two scores of the heat. Defay is currently ranked 5th on the Jeep Leaderboard and will look to continue earn another win at the Vans US Open.
"It's such a relief to make it through that heat," Defay said. "We have really clean and fun conditions, but it's pretty big and a lot of closeouts are coming in. It was hard to find scores and get those two-turn waves with a good finish. I'm coming here each day early in the morning with different boards to see what fits the conditions and if it stays like this or gets a little smaller I'll stick with my same board."
In an extremely close head-to-head elimination heat, Tatiana Weston-Webb (HAW) narrowly got the advantage over Van Dijk. Weston-Webb received a 9.60 two-wave total to Van Dijk's 8.73 to earn her spot the Quarterfinals. Weston-Webb's victory today puts her in a great position to continue her hunt for a back-to-back event win. Van Dijk,who is currently ranked 6th, will leave with her second 9th place result in 2017.
Tatiana Weston-Webb of Hawaii (pictured) advanced to the Quarterfinals of the VANS US Open of Surfing after winning Heat 1 of Round Four in 4 – 5 foot conditions at Huntington Beach, California, USA, today Tuesday August 2, 2017.  PHOTO: © WSL / Morris SOCIAL : @wsl @kennethemorris
"It was really tough out there I won't lie," Weston-Webb said. "I was feeling like I may pass out at one point because the current is ridiculously strong and it's hard to get into position. I feel like the judges are expecting too much just because the conditions look perfect right now, but it's really tough and it was weird listening and expecting to hear a score and getting lower scores. But, at least I got the job done and I know if Nikki [Van Dijk] got a good one then she maybe would've gotten the score. I'll just keep continually believing in myself and figure out what the judges really want to see out there because obviously I wasn't really knowing."
Coco Ho (HAW) advanced straight to the Quarterfinals after her big win against Wright and Weston-Webb. Wright got off to a quick start in Round 3 Heat 2 to take the lead with a 5.00, but Ho climbed back with just a 0.60-point lead. Wright had one final opportunity to close the gap on Ho, but fell just short. Ho will face Wright again in the Quarterfinals when competition resumes.
"I didn't really think about the accolades in the water around me, everyone rips and everyone knows each other's strengths, but they're all really smart," Ho said. "We were all carrying 4s, which are the sketchiest heats, but I'm stoked to get the one that separated it. I've had a lot of support my whole career and I think it was the ones closest to me like my uncle  making me aware of my potential. He drove up from San Clemente at 5 a.m. with my backup board that I ended up riding in my heat."
Pauline Ado (FRA) and Silvana Lima (BRA) closed out the women's competition today with Round 4 Heat 4. Ado kept an early lead and continued to better her situation, with an 8.80 two-wave total. The Brazilian veteran could not close the 1-point gap and will be eliminated in Round 4 for the second time this year. Ado's win marks her first Quarterfinal berth of the season where she will have the chance to play spoiler when she comes up against Conlogue.
"It feels really good to make it through that one," said Ado. "it was a tough  heat and I wish I had better scores because it's really tricky out there with that strong current. I'm just so happy to get in a good rhythm and surf a few heats — it hasn't happened much this year so I'm really excited. I haven't thought about an event win too much, I've made a Semifinal here before so I at least want to do as well as that and we'll see."
The Vans US Open of Surfing Men's QS 10,000 continued after the women's action wrapped and upsets were in abundance throughout Round 2, Heats 14 through 22.
South African Michael February (ZAF) got a dose of the CT at J-Bay and came out with a clutch performance to earn his way into Round 3 as CT rookie Ian Gouveia (BRA) was eliminated. February found himself in fourth place heading into the five-minute mark and got to work on his backhand to earn a 7.10 and get back into the heat. But, the 24-year-old wasn't done yet and exploded through two more critical backhand attacks on a set wave that he finished off in the shorebreak, receiving a near-perfect 9.17 to complete his comeback run.
"That wave at the end was such a blessing," February said. "Those last two waves and then that 9 just really helped put me at ease. It's been the best start of my career ever. Coming into the US Open last year, I started in the Round of 112 because of my seed, and now here being 4th on the QS is a completely foreign feeling for me. I'm just trying to feel it out and get sorted, but I'm really happy to get that first heat out of the way. I'm not going to lie and say I don't want to qualify, everyone on the QS is trying to do that and I'm stoked with results from my last few events and just want to keep the positives alive going into the next few."
QS veteran Carlos Munoz (CRI) came up with a big performance of his own over top seeded surfers, former CT competitor Keanu Asing (HAW) and 2017 standout Yago Dora (BRA). The Costa Rican lit up Huntington's lineup, smashing bottom-to-top turn combinations to earn a 14.10 heat total. Munoz and Asing will continue through to the next round. Munoz comes into the Vans US Open of Surfing fresh off a win at the Surf Open Acapulco QS 1,000, his first-ever QS victory.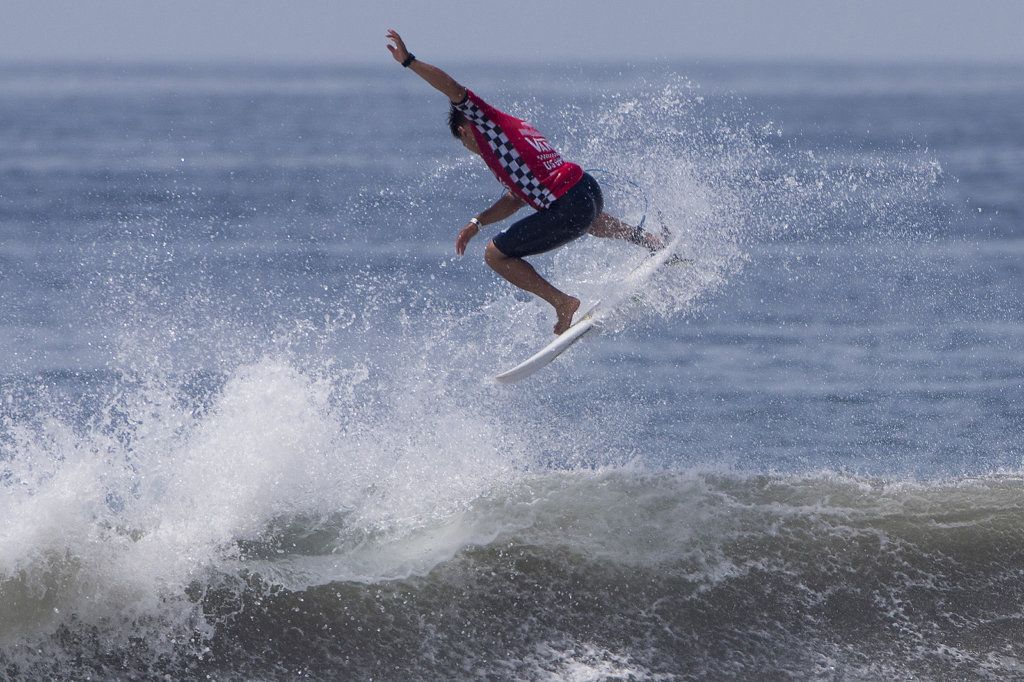 Ewa Beach Boy, Keanu Asing (HAW) surfing his Round 2 heat at the Vans US Open of Surfing Men's QS10,000 on Wednesday, August 2, 2017. PHOTO: © WSL/ Morris SOCIAL @wsl @kennethemorris
"I'm very happy to start this way with a heat win and it's been a tough year for me, but that win in Acapulco gave me a lot of confidence," Munoz said. "I've been training and surfing a lot these last couple of months and I just wasn't making any heats so I'm excited to come here to the big show with a win to start. Everybody wants to be in Top 10 by the end of the year and these last few events everyone's going to be training hard to try and qualify."
Fellow Costa Rican Noe Mar McGonagle (CRI) and South African Beyrick de Vries (ZAF)continued the upsets by eliminating CT rookie Ezekiel Lau (HAW) and top seeded surfer Michael Rodrigues (BRA).
Jadson Andre (BRA) stayed clear of an early exit by finding a classic Huntington Beach barrel that sling-shotted him out and through the pier pilings to finish off his 8.33 ride with forehand snaps. The CT competitor is in a slump at the elite level and now turns back to the QS for a spark and found just that in his opening heat.
"I saw a couple waves that had proper barrels and I was actually looking to find them out there after joking with Miguel [Pupo] saying I was out of my mind," Andre said. " I really love to compete on the QS and this event is always one of my favorites for the whole year so I'm definitely going to try for a good run here. I'm not in the position I want to be on the Championship Tour so I'm looking for a good result on the QS."
Griffin Colapinto (USA) continued that trend by advancing on, despite Miguel Pupo's (BRA) early exit at the hands of former CT competitor Dusty Payne (HAW). Colapinto's massive backside rock-n-roll floater on a bomb set him up for an inside finish that earned the San Clemente standout a 7.67 to begin his heat. At just 19-years-old, Colapinto is already a name known around the surfing world and is on his way to becoming a threat to some of the world's best.
"I'm feeling really good and that heat was super fun even though there weren't that many open corners, but that first left I got into the pier that let me get my big turn had me psyching they gave me a 7 which got my confidence going," Colapinto said. "I've had success here and just sleeping in my own bed, hanging with my friends and family, it's just the best thing to have a big contest at home. I'll just keep it light this week and keep laughing while taking it one heat a time to give it my best go."
The final heat of the day witnessed one last upset as CT rookie Leonardo Fioravanti (ITA) fell victim to an in-form Soli Bailey (AUS) and Marco Giorgi (URY).
Top seeds Pat Gudauskas (USA),  Mitch Crews (AUS) and Tomas Hermes (BRA) survived debut upsets alongside CT competitors Connor Coffin (USA), Caio Ibelli (BRA) and Italo Ferreira (BRA), who are also into Round 3.
Vans US Open of Surfing Men's QS10,000 action will recommence at 7:30 a.m. PDT with Round 2 Heat 23 before the Women's CT Quarterfinal bouts get underway.
The Vans US Open of Surfing will be broadcast LIVE from July 31 – August 6 via VansUSOpenofSurfing.com, WorldSurfLeague.com, the WSL app and on Facebook LIVE via the WSL's Facebook page. Also check local listings for coverage on CBS Sports Network in the U.S., Fox Sports in Australia, ESPN in Brazil, Sky NZ in New Zealand, SFR Sports in France and Portugal and as part of the EDGEsport Network.
For more information, check out WorldSurfLeague.com and for continued updates and schedule for the Vans US Open of Surfing visit VansUSOpenofSurfing.com.
Vans US Open of Surfing Women's Round 3 Results:
Heat 1: Johanne Defay (FRA) 10.10, Nikki Van Dijk (AUS) 7.36, Maud Le Car (FRA) 6.06
Heat 2: Coco Ho (HAW) 11.10, Tyler Wright (AUS) 10.50, Tatiana Weston-Webb (HAW) 10.47
Heat 3: Sally Fitzgibbons (AUS) 14.33, Sage Erickson (USA) 10.33, Silvana Lima (BRA) 8.57
Heat 4: Courtney Conlogue (USA) 12.23, Pauline Ado (FRA) 8.33, Carissa Moore (HAW) 2.54
Vans US Open of Surfing Women's Round 4 Results:
Heat 1: Tatiana Weston-Webb (HAW) 9.60 def. Nikki Van Dijk (AUS) 8.73
Heat 2: Tyler Wright (AUS) 13.74 def.  Maud Le Car (FRA) 7.64
Heat 3: Sage Erickson (USA) 12.66 def. Carissa Moore (HAW) 8.27
Heat 4: Pauline Ado (FRA)  8.80 def. Silvana Lima (BRA) 7.80
Vans US Open of Surfing Women's Quarterfinal Match-Ups:
QF 1: Johanne Defay (FRA) vs. Tatiana Weston-Webb (HAW)
QF 2: Coco Ho (HAW) vs. Tyler Wright (AUS)
QF 3: Sally Fitzgibbons (AUS) vs. Sage Erickson (USA)
QF 4: Courtney Conlogue (USA) vs. Pauline Ado (FRA)
Vans US Open of Surfing Men's QS10,000 Round 2 Results:
Heat 14: Carlos Munoz (CRI) 14.10, Keanu Asing (HAW) 11.83, Tom Whitaker (AUS) 11.80, Yago Dora (BRA) 11.70
Heat 15: Michael February (ZAF) 16.27, Heitor Alves (BRA) 14.47, Ian Gouveia (BRA) 14.20, Charly Martin (FRA) 13.20
Heat 16: Noe Mar McGonagle (CRI) 12.93,Beyrick De Vries (ZAF) 11.23,Michael Rodrigues (BRA) 9.66, Ezekial Lau (HAW) 7.50
Heat 17: Conner Coffin (USA) 12.40, Mitch Crews (AUS) 8.46, Krystian Kymerson (BRA) 6.77, Mateia Hiquily (PYF) 5.97
Heat 18: Jadson Andre (BRA) 14.50, Tomas Hermes (BRA) 11.23, Nathan Yeomans (USA)10.67, Wyatt McHale (HAW) 8.90
Heat 19: Griffin Colapinto (USA) 14.50, Dusty Payne (HAW) 13.03, Diego Mignot (FRA) 10.26, Miguel Pupo (BRA) 5.23
Heat 20: Maxime Huscenot (FRA) 11.34, Caio Ibelli (BRA) 9.60, Finn McGill (HAW) 9.27, Ramzi Boukhiam (MAR) 9.17
Heat 21: Patrick Gudauskas (USA) 11.43, Italo Ferreira (BRA) 11.24, Santiago Muniz (BRA) 11.10, David do Carmo (BRA) 8.67
Heat 22: Soli Bailey (AUS) 12.06, Marco Giorgi (URY) 11.10, Jorgann Couzinet (FRA) 9.63
Leonardo Fioravanti (ITA) 9.30
Vans US Open of Surfing Remaining Men's QS10,000 Round 2 Match-Ups:
Heat 23: Jesse Mendes (BRA), Tanner Gudauskas (USA), Billy Stairmand (NZL), Billy Kemper (HAW)
Heat 24: Frederico Morais (BRA), Brett Simpson (USA), Joshua Moniz (BRA), Kiron Jabour (HAW)