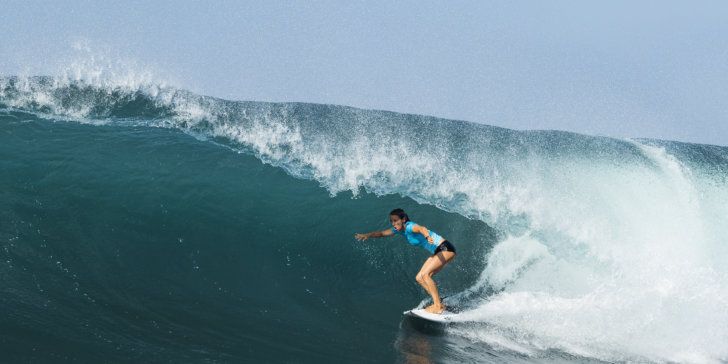 –
FILIPE TOLEDO MOVES TO NO. 1 ON JEEP LEADERBOARD
– SALLY FITZGIBBONS SCORES NEAR-PERFECT 9.93

– WSL CHAMPIONS MEDINA, DE SOUZA, AND MOORE ELIMINATED
 Cover Shot: Sally Fitzgibbons (AUS) pulling in deep at the Corona Bali Protected presented by Hurley, to score an almost perfect 9.93 (out of a possible 10) to win her Round 3 matchup with Malia Manuel (HAW) and Carissa Moore (HAW).
Credit: © WSL / Cestari
Location:   
  Keramas, East Bali, Indonesia
Event window:
  May 27 –  

June 8, 2018

Today's call:
 Women's Rd 3 and Men's Rd 4 completed
Conditions:
 Clean 4 – 6 Foot (1.7 – 2 metres)
Keramas, Bali/Indonesia (Friday, June 1, 2018) –  The Corona Bali Protected presented by Hurley, Stop No. 5 on the World Surf League (WSL) Championship Tour (CT), continued today in dreamy four-to-six foot (1.7 – 2 metre) conditions. The world's best surfers were treated to a taste of perfection as Keramas continued to deliver for women's Round 3 and men's Round 4, leaving just eight Quarterfinalists in each division.
Sally Fitzgibbons (AUS) is having a slow start to the 2018 CT compared to previous years. Today she faced the tough task of taking on Malia Manuel (HAW) and former WSL ChampionCarissa Moore (HAW) in Round 3 in pumping surf at the Corona Bali Protected. Fitzgibbons sat deep with priority when the best wave of the day rolled into the lineup, and she dropped in late to a dredging tube. After skillfully navigating two deep sections, Fitzgibbons came flying out of the tube and executed two powerful carves. She was rewarded with a near-perfect 9.93 (out of a possible 10), the highest single wave score of the event thus far. This left the two Hawaiian to battle for the second advancing position, with Manuel edging out Moore in a tight and dramatic finish.
"When you have priority and you see a wave like that it's hard not to get too excited," Fitzgibbons said. "Inside the wave I had to go through two sections and I was thinking 'I can do this.' Then when I came out I was so stoked. It was such a tough draw with Carissa (Moore) and Malia (Manuel), my first wave didn't work out so when I got that good one, it took a bit of pressure off and now I'm through to the Quarters."
Reigning, two-time WSL Champion Tyler Wright (AUS) made a mid-heat strategy adjustment during Heat 1 of Round 3 to overcome Tatiana Weston-Webb (BRA) and Coco Ho (HAW). Wright struggled to complete her turns in the morning glare so opted to sit closer to shore and aim for the hollower inside waves, which eventually paid off as she booked herself a spot in the Quarterfinals with a winning heat total of 14.93 (out of a possible 20). Weston-Webb finished the heat in second and will also progress, while Ho was eliminated from competition in Equal 9th.
"I just couldn't seem to do anything right at the start of that heat," Wright said. "I was falling off and struggling to make a turn, so I knew I had to change things up. The glare didn't seem to affect me as much when I was getting barreled so I just looked for the hollower ones and it seemed to be a tactic that paid off." 
Six-time WSL Champion Stephanie Gilmore (AUS) snuck through her Round 3 heat against fellow Australian Keely Andrew (AUS) and event standout Silvana Lima (BRA). In a slow heat for waves, each competitor had to make every opportunity count and that's exactly what Jeep Leader Gilmore did, finding the best wave of the 35-minute encounter to narrowly overcome Lima, who was in the second progressing spot and Andrew, who was eliminated.
"The heat before ours had so many good waves so I was really excited to get out there," Gilmore said. "Once we did, it just seemed to stop, so waiting for the sets wasn't an option and I just had to take what came to me. My surfing felt really good, but because of how slow it was finding a rhythm was tough. I'm just happy to have made that heat and hopefully get a few more waves in my next heat."
Heat 3 was an all-American matchup between current World No. 2 Lakey Peterson (USA), Sage Erickson (USA) and 2018 CT Rookie Caroline Marks (USA). It was the rookie who dominated early, leading with a 15.00 point heat total. Her compatriots were left battling for second qualifying spot until Peterson posted a near excellent 7.70 to move into first and progress with Marks into the Quarterfinals. Peterson will now meet Malia Manuel (HAW) in Quarterfinal 3.
"I really tried to keep busy in that heat to show my surfing as much as possible as the heats before ours were pretty slow," Peterson said. "Then it just turned on and started pumping, the waves were amazing all heat, I felt like I had to take every wave. It's amazing that the WSL is giving the women the opportunity to progress our surfing in such incredible waves like this. Seeing Steph (Gilmore) as the Jeep Leader win in the heat before me definitely motivated me to win — I'm keeping a close eye on her and what everyone else is doing. But at the end of I just want to focus on surfing my best and progressing through the event."
 Malia Manuel (HAW) taking down three-time WSL Champion Carissa Moore (HAW) in an epic battle at Keramas.
Credit: © WSL / Cestari
The final heat of the day was an all-Brazilian affair with 2015 WSL Champion Adriano de Souza (BRA) taking on Italo Ferreira (BRA) and Filipe Toledo (BRA). The heat had it all, tubes, aerials, fireworks, and it the end, it was Ferreira who won the heat and Toledo advancing in 2nd place. In the process. Toledo has amassed enough points to leapfrog Julian Wilson (AUS) and take the No. 1 spot on the Jeep Leaderboard, his first time since 2015.
"I have always dreamed of winning a World Title, so it's nice to take the Jeep Leader's Jersey," Toledo said. "But the work isn't over yet. Everyone on the CT wants to win and everyone is surfing so good, that's why there are top seeds losing all the time. I just need to focus on making heats and hopefully, I can win this event and make it two in a row."
Michel Bourez (PYF) had an absolute ball in his Round 4 heat win over Willian Cardoso (BRA), who also advanced to the Quarterfinals in the second position. Jesse Mendes (BRA) was eliminated with an Equal 9th, the best result of his Rookie season. Bourez threaded tube after tube and had the Keramas crowd on their feet with an incredible display of barrel-to-carve combos. Bourez will now take on Griffin Colapinto (USA) in the Quarterfinals when competition resumes.
"You know when the conditions are perfect when you forget about the competition and just focus on trying to catch more waves," Bourez said. "This wave really suits my surfing, I love getting barrels and doing big turns. I'm not a guy that likes surfing small beach breaks – I'm a big guy and I like waves that have a lot of push. I have done well here last time, but I am not thinking about it really, there's a lot of different guys on Tour now so it's different."
Wildcard Mikey Wright (AUS) yet again solidified the decision to provide him with an opportunity at the elite level, booking a spot in the Quarterfinals at the Corona Bali Protected. Wright trailed CT veteran Adrian Buchan (AUS) and 2018 CT Rookie Griffin Colapinto (USA) for the majority of the heat until he unleashed a series of committed power hacks- to snatch first place. Colapinto then followed and added some of his progressive flare to move into second, leaving Buchan eliminated from the event.
"I pretty much had to surf a whole heat in about 5 minutes because I needed two waves," Wright said. "I'm happy to be into the Quarters, we have had such perfect surf for this event, I hope it keeps on pumping."
Heat 3 of Round 4 was one of the most intense battles in competitive surfing as three of the CT's most passionate competitors, Gabriel Medina (BRA), Jordy Smith (ZAF) and Jeremy Flores (FRA), matched up for a spot in the Quarterfinals. While Medina and Flores fought for priority, Smith played his own game taking control of the heat and stayed separate to the others. At the 15-minute mark, Smith engaged in a fiery paddle battle with Medina with the two bumping and splashing in an attempt to gain the all important first go at a wave. In the end, Smith took the honours with Flores finishing in second leaving the 2014 WSL Champion Medina to be eliminated in Equal 9th place.
"I knew that those guys were going to peacock pretty hard and battle for priority so I just opted to keep to myself," Smith said. "The waves are so pumping and clean you can almost get overexcited to a lot of it is just staying calm and not over-surfing.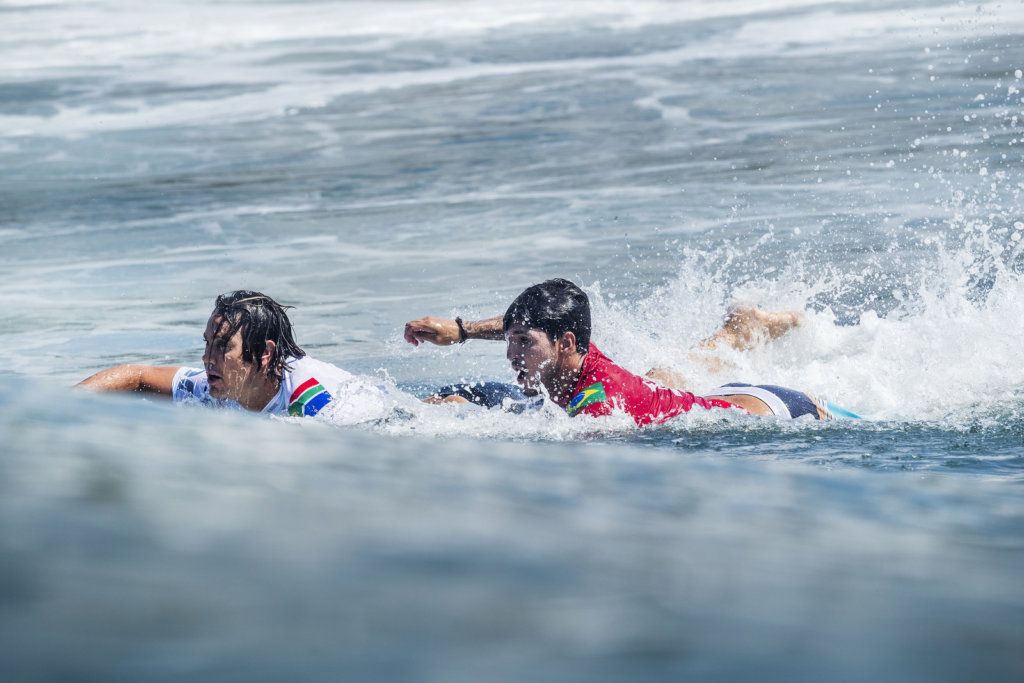 "That paddle-battle was crazy; Smith said. "He pulled my leg once and I was like, 'Okay that's an accident.' Then he pulled my arm twice and I thought that's deliberate, and was like, 'Put em up bru, let's go.' It's time to catch my breath and get ready for tomorrow."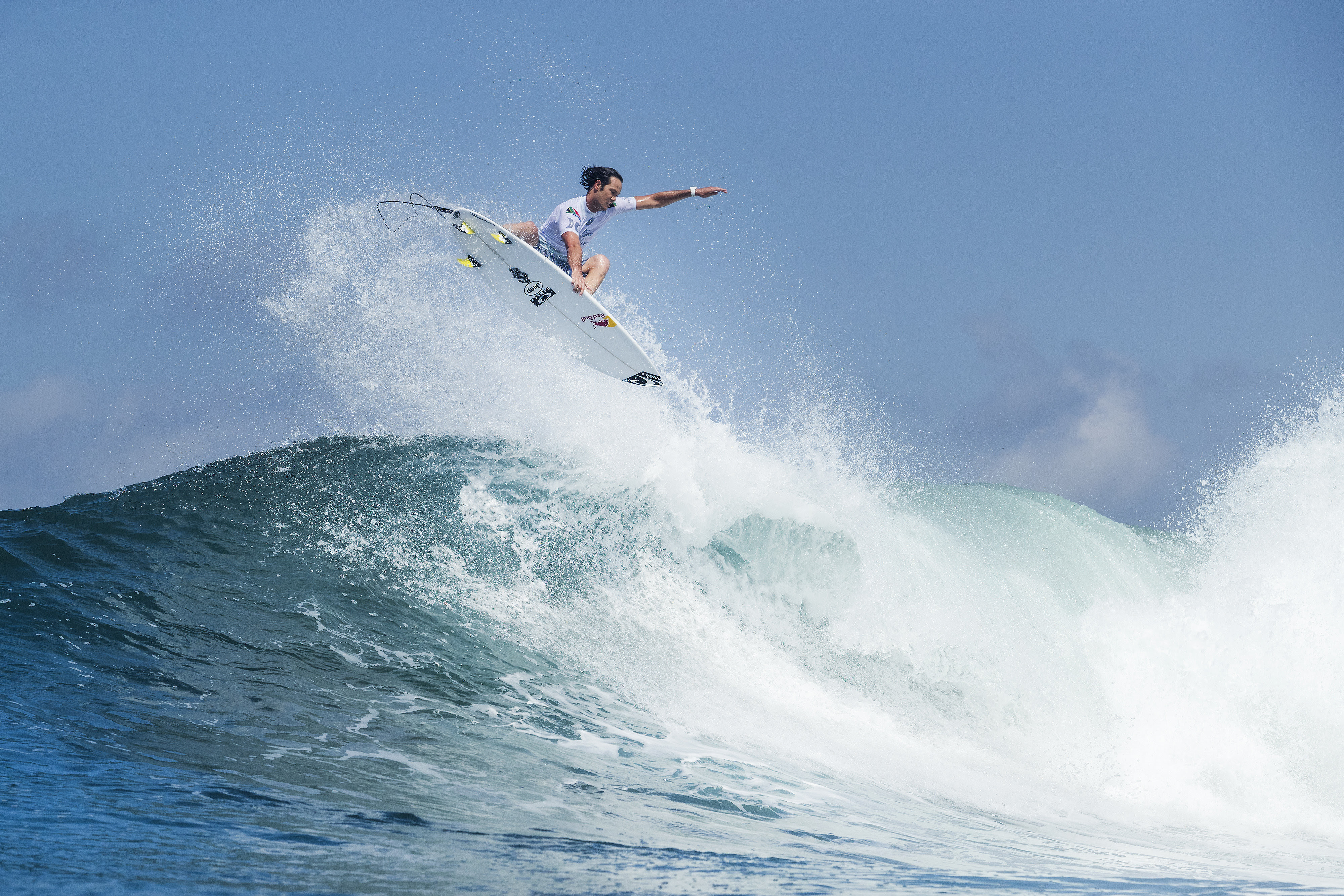 Jordy Smith (ZAF) letting his surfing (and paddling) do the talking at the Corona Bali Protected presented by Hurley.
Credit:© WSL / Cestari
The WSL Commissioner's Office will reconvene onsite at the Corona Bali Protected at6:40am for a possible 7 a.m. start tomorrow.
The Corona Bali Protected presented by Hurley will be broadcast LIVE on the WSL's Facebook page, WorldSurfLeague.com, and the WSL app. Also, check local listings for coverage from the WSL's broadcast partners.
Reinforcing SW-SSW swells move in and maintain chest-head high to slightly overhead sets at Keramas through Friday and the weekend. More similar size SSW swell lines up for 5th-6th and possibly the 9th as well. Good wind conditions again on Friday AM, but then turn problematic on the weekend with an increase of onshore flow. Better AM winds may return next week. Surfline
Corona Bali Protected Women's Round 3 Results:
Heat 1: Tyler Wright (AUS) 14.93 def. Tatiana Weston-Webb (BRA) 12.33, Coco Ho (HAW) 8.57
Heat 2: Stephanie Gilmore (AUS) 11.40 def. Silvana Lima (BRA) 9.54, Keely Andrew (AUS) 8.50
Heat 3: Lakey Peterson (USA) 15.03 def. Caroline Marks (USA) 15.00, Sage Erickson (USA) 11.67
Heat 4: Sally Fitzgibbons (AUS) 15.93 def. Malia Manuel (HAW) 14.00, Carissa Moore (HAW) 13.83
Corona Bali Protected Women's Quarterfinal Matchups:
Heat 1: Tyler Wright (AUS) vs. Silvana Lima (BRA)
Heat 2: Stephanie Gilmore (AUS) vs. Tatiana Weston-Webb (BRA)
Heat 3: Lakey Peterson (USA) vs. Malia Manuel (HAW)
Heat 4: Sally Fitzgibbons (AUS) vs. Caroline Marks (USA)
Corona Bali Protected Men's Round 4 Matchups:
Heat 1: Michel Bourez (PYF) 17.00 def. Willian Cardoso (BRA) 13.60, Jesse Mendes (BRA) 11.66
Heat 2: Mikey Wright (AUS) 15.80 def. Griffin Colapinto (USA) 13.73, Adrian Buchan (AUS) 12.50
Heat 3: Jordy Smith (ZAF) 11.76 def. Jeremy Flores (FRA) 11.70, Gabriel Medina (BRA) 10.76
Heat 4: Italo Ferreira (BRA) 17.00 def. Filipe Toledo (BRA) 13.87, Adriano de Souza (BRA) 13.16
Corona Bali Protected Men's Quarterfinal Matchups:
Heat 1: Michel Bourez (PYF) vs. Griffin Colapinto (USA)
Heat 2: Mikey Wright (AUS) vs. Willian Cardoso (BRA)
Heat 3: Jordy Smith (ZAF) vs. Filipe Toledo (BRA)
Heat 4: Italo Ferreira (BRA) vs. Jeremy Flores (FRA)