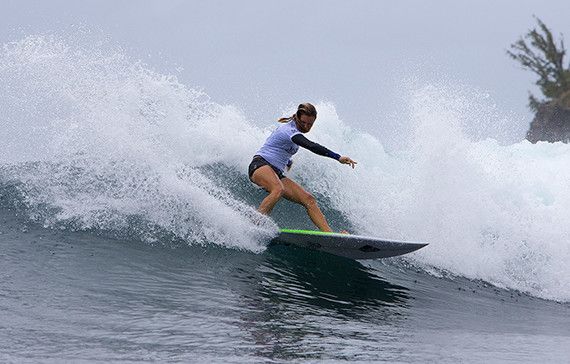 – 2016 WSL ROOKIE OF THE YEAR KEELY ANDREW ELIMINATES 6X WSL CHAMPION STEPHANIE GILMORE
– BIANCA BUITENDAG KEEPS REQUALIFICATION HOPES ALIVE WITH ROUND 4 WIN
 Keely Andrew (AUS) caused the upset of the day by eliminating 6X WSL Champion Stephanie Gilmore (AUS) from the Maui Women's Pro in Round 4.
Image: © WSL /  Poullenot
| | |
| --- | --- |
| Location:    |   Honolua Bay, Maui/Hawaii  |
| Event window: |   November 23 – December 5, 2016 |
| Today's call: |   Rounds 3 and 4 |
| Conditions: |   1-3′ foot afternoon, clean(SNN) |
HONOLUA BAY, Maui/Hawaii (Friday, December 2, 2016) – Competition at the tenth and final stop on the 2016 Samsung Galaxy World Surf League (WSL) Women's Championship Tour (CT), the Maui Women's Pro, resumed today in two foot surf at Honolua Bay. The event ran through Rounds 3 and 4, deciding the Quarterfinalists.
Tatiana Weston-Webb (HAW) dominated the opening heat of the day against six-time WSL Champion Stephanie Gilmore (AUS) and wildcard Brissa Hennessy (HAW). Weston-Webb kept busy and steadily built a 10.33 heat total by capitalizing on the opportunities available. Gilmore and Hennessy were relegated to Round 4 while Weston-Webb advanced directly to the Quarterfinals.
"I'm really stoked to have made that heat and strategy was definitely really important," said Weston-Webb. "I feel amazing to equal my best result at Honolua Bay by making the Quarterfinals. Winning in Hawaii is a dream for me and my goal is just to keep making it through heats."
Hennessy went on to battle newly crowned 2016 WSL Champion Tyler Wright (AUS) in Round 4. Wright opened strong with a 7.00 and continued to increase her score with an 8.00 to leave the trials winner in a combination situation and ultimately eliminate her in ninth place. Wright will face Weston-Webb in the Quarterfinals.
"I think I made a mistake in the first heat by giving Coco (Ho) a free ride, which definitely woke me up for this heat," said Wright. "This heat was more about making calculated decisions. Having some time and space here in Maui has been so good and an opportunity to relax and get back into my own rhythm after being so busy since winning the title. I look at every heat as an opportunity to learn, which I love."
Gilmore later took on Keely Andrew (AUS) in Round 4 and the pair battled for a Quarterfinal berth. The rookie found one of the better waves of heat to lock in a 5.67 and the lead over Gilmore. An excellent 8.83 (the highest score of the day) for a series of critical turns gave Andrew a commanding lead and her second Quarterfinal appearance of the year. The three-time event winner found a comeback wave to escape the combination with just over four minutes remaining, but it wasn't enough and she is eliminated in 9th place – her worst result at Honolua Bay.
"Steph (Gilmore) is one of my idols and I've grown up admiring her style and her personality," Andrew said. "I'm happy with that birthday present. I took the risk by taking a wave without priority but it paid off. I'm finally finding confidence in myself and in my surfing. Everything just seems to fit."
2015 event Semifinalist Coco Ho (HAW) claimed the early advantage in Round 3 Heat 2 against Wright and Andrew with a 7.83, the highest score of the heat. Andrew, the 2016 WSL Rookie of the Year, put herself back in the heat with two mid-range scores but Ho answered with a 5.83 to take her first Round 3 win since France in 2015 and her place in the Quarterfinals.
"It's so nice to be straight into the Quarters, even though I know that will be a tough draw," said Ho. "No matter what happens I'm excited to surf here at home and I hope it stays fun."
Bianca Buitendag (ZAF), who needs to win the event to re-qualify for the CT in 2017, wasn't able to find the back-up score required to defeat Courtney Conlogue (USA) in Heat 3 of Round 3. Conlogue advanced to the Quarterfinals while Buitendag was sent on to Round 4 alongside Alessa Quizon (HAW).
"It's a better result than last year," said Conlogue. "Even though it's tricky conditions I feel like they really test you as a competitor. It's still a really beautiful wave here and I really want to finish off the year strong and set myself up for 2017."
Buitendag claimed an important Round 4 win over Lakey Peterson (USA) to keep her requalification hopes alive. Despite an impressive performance from the American that saw her catch 11 waves, it was Buitendag who made the most of the opportunities and secured her place in the Quarterfinals with an excellent 8.33.
"Lakey (Peterson) surfs so good and as a friend it's also nice to surf against her," Buitendag said. "I saw Lakey's strategy of staying busy and I thought the only way I'm going to beat her is to do something different and be patient. I knew that was risky but it worked out. I'm just going heat by heat and we'll see where we end up."
A slow Round 3 heat saw Malia Manuel (HAW) take a narrow advantage over Carissa Moore (HAW) and Peterson to earn her place in the Quarterfinals.
"Thankfully my patience paid off and I got a few waves," said Manuel. "We're in the hands of mother nature so you just have to be confident in your preparation and take whatever comes your way."
Moore, two-time defending event winner, went on to advance over Quizon in the final heat of the day and will face Manuel in the Quarterfinals.
"It wasn't the prettiest win," Moore said. "I knew if Alessa (Quizon) got a set wave she would be very dangerous because she's so talented so I had to use priority against her. I don't like to do that to one of my best friends but I really respect her as a competitor and I hope she's able to re-qualify and get back on tour."
Event organizers will reconvene at 7.30am (local time) tomorrow to assess conditions and make the next call.
The Maui Women's Pro will be webcast LIVE on WorldSurfLeague.com as well as the WSL app.
The event is also being carried by the WSL's LIVE broadcast partners Fox Sports Australia, CBS Sports in the United States, ESPN Brasil, Globosat, Edgesport, Sky NZ, Sport TV, Canal + Deportes, Channel Nine, MCS, Starhub, and Oceanic Time Warner Cable 250 & 1250 in Hawaii.
Maui Women's Pro Round 3 Results:
Heat 1: Tatiana Weston-Webb (HAW) 10.33, Brisa Hennessy (HAW) 8.00, Stephanie Gilmore (AUS) 6.54
Heat 2: Coco Ho (HAW) 13.66, Keely Andrew (AUS) 10.83, Tyler Wright (AUS) 3.00
Heat 3: Courtney Conlogue (USA) 8.50, Bianca Buitendag (ZAF) 4.80, Alessa Quizon (HAW) 2.77
Heat 4: Malia Manuel (HAW) 9.57, Carissa Moore (HAW) 9.23, Lakey Peterson (USA) 8.00
Maui Women's Pro Round 4 Results:
Heat 1: Tyler Wright (AUS) 15.00 def. Brisa Hennessy (HAW) 11.90
Heat 2: Keely Andrew (AUS) 14.50 def. Stephanie Gilmore (AUS) 8.44
Heat 3: Bianca Buitendag (ZAF) 14.06 def. Lakey Peterson (USA) 13.07
Heat 4: Carissa Moore (HAW) 11.50 def. Alessa Quizon (HAW) 4.77
Maui Women's Pro Quarterfinal Match-Ups:
QF 1: Tatiana Weston-Webb (HAW) vs. Tyler Wright (AUS)
QF 2: Coco Ho (HAW) vs. Keely Andrew (AUS)
QF 3: Courtney Conlogue (USA) vs. Bianca Buitendag (ZAF)
QF 4: Malia Manuel (HAW) vs. Carissa Moore (HAW)