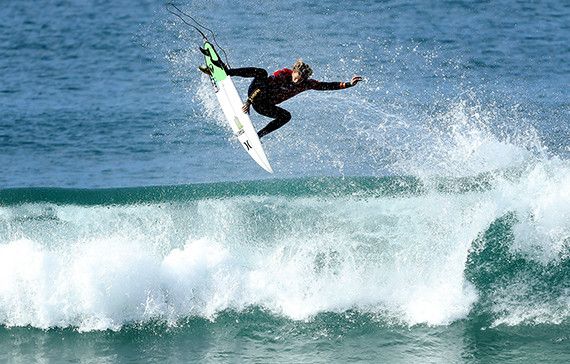 – JEFFREYS BAY STANDOUTS SLATER, FANNING, SMITH AND WILSON ADVANCE TO FINALS DAY
– WSL JEEP RATINGS' LEADER WILKINSON SUFFERS ROUND 3 ELIMINATION
– WSL CHAMPION DE SOUZA SENT HOME IN ROUND 5
John John Florence (HAW) earns his place in the Quarterfinals of the J-Bay Open.
Image: WSL / Kelly Cestari
| | |
| --- | --- |
| Location:    | Jeffreys Bay, South Africa |
| Event window: | July 6 – 17, 2016 |
| Today's call: | Rounds 3, 4 and 5 complete |
| | |
| --- | --- |
| Conditions: | 3-to-5 foot (1 – 1.5 metre) |
JEFFREYS BAY, South Africa (Saturday, July 9, 2016) – The J-Bay Open, Stop No. 6 on the 2016 Samsung Galaxy World Surf League (WSL) Championship Tour (CT), continued today. Competition ran through the remaining heats of Round 3 followed by Rounds 4 and 5. The WSL Top 34 battled to avoid elimination and earn a place in the Quarterfinals in building three-to-five foot (1 – 1.5 metre) surf at Jeffreys Bay.
John John Florence (HAW) was the first to claim his place in the Quarterfinals after an impressive performance in the opening heat of Round 4. Florence battled two-time J-Bay Open winner Jordy Smith (ZAF) and Josh Kerr (AUS). The Hawaiian opened his account with a big tail-high reverse for an 8.50 and backed it up with a series of snaps and was rewarded with an excellent 8.93 and the win. Despite a solid 15.43 heat total from Smith, he was sent to Round 5 along with Kerr.
"I've only surfed one CT here," Florence said. "I was hurt last year for this event so I'm just really stoked to make it to the quarters. The waves are pretty fun and it's getting better and better now so I'm excited to see what we have coming and I just want to get as much rest as I can."
Smith went on to battle Alejo Muniz (BRA) in Round 5 to earn a Quarterfinal berth of his own. Smith opened with a near-perfect 9.87 and quickly backed it up with a 7.50, leaving Muniz is a combination situation and sending him home in 9th place. Smith will face Florence in the Quarterfinals.
"I was pretty bummed to lose in Round 4," said Smith. "I just wanted to make a stamp on the next heat after that and I'm just happy to make it through another day. Definitely just going to put my head down and focus on what I'm doing and hopefully that will be enough. I just want to keep going and I'm really thankful for the crowd to be able to cheer me on like that, it's awesome."
11-time WSL Champion Kelly Slater (USA) confirmed his place in the Quarterfinals after bettering Michel Bourez (PYF) and Muniz in Round 4 Heat 2. Slater got to work quickly and posted a 7.67 on his opening ride and went on to find one of the bigger waves of the day and put together a series of critical maneuvers followed by a rare barrel for a 9.00 and first position. Slater, four-time event winner, sealed his victory with a another nine-point ride and an excellent 18.07 heat total.
"I feel comfortable out there," Slater said. "I made a couple little mistakes in the first heat, like just not being in the right spot. That one I was really about paying attention to where you needed to be. I'm actually riding an evolved version of the board I started riding at Trestles last year. I'm just trying to make Kelly great again."

: Slater remains on track to claim his fifth J-Bay Open event title.
Image: WSL / Kirstin
Kerr will face Slater in the Quarterfinals after defeating Bourez in Round 5 Heat 2. Kerr took to the air to land a stalefish for 7.73 at the end of the bout and take the win, despite an excellent 8.60 from Bourez, who goes home in 9th place.
"It's pretty hard at J-Bay to manufacture a score normally," said Kerr. "In conditions like this where it's a bit more broken up and has more sections you can actually go for something like a Hail Mary and hopefully make it pay off. When I saw Michel go for that wave I knew I had to do something better. I was lucky I got a clean section and landed it clean. Coming up against Kelly is always awesome because you know you have to bring your A game and leave it all out there. That's always my game plan against him."
Bourez previously dispatched World No. 6 Sebastian Zietz (HAW) in the opening heat of the day.
Three-time WSL Champion Mick Fanning (AUS) will also advance to the Quarterfinals after winning through his Round 4 heat against Wiggolly Dantas (BRA) and De Souza. Three-time J-Bay Open winner, Fanning opened strong with a solid eight-point ride and quickly backed it up with an excellent 9.00 to take the lead with a 17.00 heat total.
"My ankle is getting better each and every day," said Fanning. "The WSL medical staff have been amazing. I'm just stoked to get to paddle out and actually surf. You never know exactly what is going to happen here so I just want to have a lot of fun and enjoy the time. And also I don't know how much longer I have on this tour so it's about bringing friends to the places I love."

: Three-time WSL Champion Mick Fanning (AUS) will take on Filipe Toledo (BRA) in the Quarterfinals of the J-Bay Open when competition resumes.
Image: WSL / Kirstin
Julian Wilson (AUS) clinched his place in the Quarterfinals after defeating 2014 WSL Champion Gabriel Medina (BRA) and Filipe Toledo (BRA) in Round 4 Heat 3. Wilson netted the highest score of the heat, an 8.83, on his opening ride and held the lead from there, sending Medina and Toledo to Round 5.
"I've got a lot to draw on from here and I've got some good momentum at the moment," said Wilson. "It was a fun heat to surf with those guys. I don't get very many opportunities to surf with Gabriel or Filipe so I was pretty amped. I love the waves here. I love having that blow-for-blow sort of heat where everyone gets opportunities and you let the surfing do the talking. I'm just happy to be through to the Quarterfinals and I really want to keep it going and move through to the end."
Wilson previously eliminated 2012 WSL Champion and two-time J-Bay Open winnerJoel Parkinson (AUS) in a thrilling Round 3 match-up, and used his air game to get the advantage over his more experienced competitor with a pair of seven-point rides.
Wilson will match-up against Medina, current No. 2 on the Jeep Leaderboard, in the Quarterfinals. Medina defeated reigning WSL Champion Adriano de Souza (BRA) in Round 5 Heat 3. De Souza held the lead through the opening part of the heat but Medina went to the air and was rewarded with an 8.43 and the win. De Souza goes home in 9th place.
"It feels really good to win that heat," Medina said. "It's always tough against Adriano — he's a great competitor and a good friend of mine. Another heat here together and I'm stoked with the win. It should be a fun one against Julian in the Quarterfinals who is ripping at this contest, so hopefully we make a good heat."
Another all-Brazilian match-up in the final heat of the day saw Filipe Toledo (BRA) take on Dantas. Toledo had the edge and defeated Dantas with an 12.50 two-wave heat score. Toledo will meet Fanning in the Quarterfinals.
"That was a really long day and big day," said Toledo. "You really have to put a lot of energy into each wave. I tried on the first few waves to do an air and eventually I landed one. It wasn't the best wave but I'm happy to make it through to the Quarterfinals."
Matt Wilkinson (AUS), current World No.1 on the Jeep Leaderboard, was defeated by Muniz in Round 3 Heat 6 with a 12.20 heat total. Wilkinson, with priority, had a final opportunity to get the score but did not complete the ride and is eliminated from the competition in equal 13th place.
"It was really stressful because every time I surf against Wilkinson he beats me," said Muniz. "We had a heat in Fiji and he got me on the last wave. I needed that same score, a 2.70, the whole heat and I ended up losing there. So today in the water I was thinking 'I can't lose needing two points again."
"It was tricky out there," Wilkinson said. "It's hard to be positive but this place is amazing. I got my one opportunity and I wasn't nervous or anything when I took off, I just changed my mind halfway through a turn. That's often the way to fall off and I just slide and fell off. Not too rattled by it. I'm psyched to go get barreled at Teahupo'o. The wave terrifies me but I also like getting barreled. I've had one pretty good result there and I'm feeling a lot more confident in big waves this year. I'm going to go practice, get my boards all ready, and hopefully paddle into some big tubes."
Event organizers will reconvene tomorrow at 7 a.m. local time for a possible 7:30 a.m. start.
A medium to fairly solid SSW swell will build in through Saturday, peaking late in the day before easing through Sunday. Local wind looks most favorable for the first half of Saturday, with light onshore wind Saturday afternoon and moderate onshore wind on Sunday. Into the longer range we're watching for a smaller swell late Wed/Thur of next week, with potential for more swell over the final weekend of the waiting period. Surfline
The J-Bay Open has a competitive window from July 6 – 17, 2016 and will be webcast LIVE on WorldSurfLeague.com as well as the WSL app.
The event is also being carried by the WSL's LIVE broadcast partners Fox Sports Australia, CBS Sports in the United States, ESPN Brasil, Globosat, Edgesport, Sky NZ, Sport TV, Canal + Deportes, Channel Nine, MCS, Starhub, and Oceanic Time Warner Cable 250 & 1250 in Hawaii.
For more information, check out WorldSurfLeague.com
J-Bay Open Round 3 Results:
Heat 1: Jordy Smith (ZAF) 18.20 def. Kolohe Andino (USA) 10.10
Heat 2: John John Florence (HAW) 14.83 def. Dusty Payne (HAW) 13.93
Heat 3: Josh Kerr (AUS) 16.40 def. Italo Ferreira (BRA) 14.20
Heat 4: Kelly Slater (USA) 11.73 def. Adrian Buchan (AUS) 5.20
Heat 5: Michel Bourez (PYF) 14.67 def. Sebastian Zietz (HAW) 11.26
Heat 6: Alejo Muniz (BRA) 12.20 def. Matt Wilkinson (AUS)  10.27
Heat 7: Gabriel Medina (BRA) 16.00 def. Adam Melling (AUS) 15.17
Heat 8: Julian Wilson (AUS) 15.80 def. Joel Parkinson (AUS) 13.67
Heat 9: Filipe Toledo (BRA) 16.67 def. Miguel Pupo (BRA) 6.04
Heat 10: Mick Fanning (AUS) 18.37 def. Kanoa Igarashi (USA) 14.60
Heat 11: Wiggolly Dantas (BRA) 13.93 def. Caio Ibelli (BRA) 10.66
Heat 12: Adriano De Souza (BRA) 14.73 def. Davey Cathels (AUS) 12.30
J-Bay Open Round 4 Results:
Heat 1:John John Florence (HAW) 17.43, Jordy Smith (ZAF) 15.43, Josh Kerr (AUS) 11.77
Heat 2: Kelly Slater (USA) 18.07, Michel Bourez (PYF), 17.67 Alejo Meniz (BRA) 10.50
Heat 3: Julian Wilson (AUS) 15.43, Gabriel Medina (BRA) 13.83, Filipe Toledo (BRA) 13.77
Heat 4: Mick Fanning (AUS) 17.00, Wiggolly Dantas (BRA) 16.93, Adriano de Souza (BRA) 15.27
J-Bay Open Round 5 Results:
Heat 1: Jordy Smith (ZAF) 17.73 def. Alejo Muniz (BRA) 10.00
Heat 2: Josh Kerr (AUS) 15.30 def. Michel Bourez (PYF) 14.93
Heat 3: Gabriel Medina (BRA) 15.03 def. Adriano de Souza (BRA) 12.40
Heat 4: Filipe Toledo (BRA) 12.50 def. Wiggolly Dantas (BRA) 10.27
J-Bay Open Quarterfinal Match-Ups:
QF 1: John John Florence (HAW) vs. Jordy Smith (ZAF)
QF 2: Kelly Slater (USA) vs. Josh Kerr (AUS)
QF 3: Julian Wilson (AUS) vs. Gabriel Medina (BRA)
QF 4: Mick Fanning (AUS) vs. Filipe Toledo (BRA)