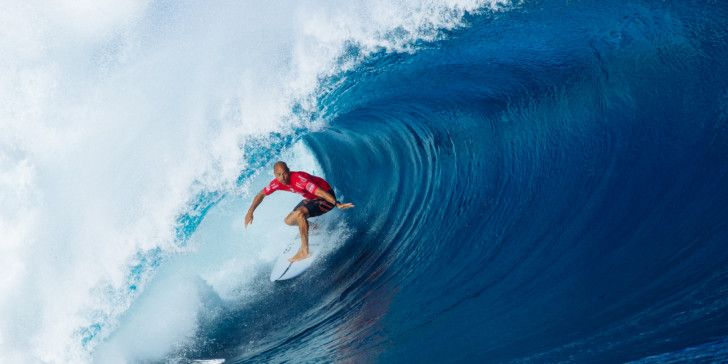 The surf is expected to be even bigger for the Quarters-Final! Epic. Fiji is 22 hours ahead. So about 930am HI time with about 4 hours left.
– SLATER SCORES NEAR PERFECT 19.77 IN PUMPING CLOUDBREAK CONDITIONS
– TOP SEEDS WILKINSON, FLORENCE, DE SOUZA, AND MEDINA THROUGH TO FINALS DAY
– SWELL BUILDING FOR DRAMATIC FINISH TOMORROW
 Kelly Slater (USA),11-time WSL Champion, earned a near perfect 19.77 score in Round 4 Heat 2 against reigning WSL Champion Adriano de Souza (BRA) and Wiggolly Dantas (BRA). Slater will face Dantas in the Quarterfinals when the Fiji Pro resumes.
Image: WSL / Sloane
| | |
| --- | --- |
| Location:    | Tavarua, Fiji |
| Event window: | June 5 – 17, 2016 |
| Today's call: | Men's Round 4 & 5 complete |
| | |
| --- | --- |
| Conditions: | 6 – 8 foot + (2 – 2.5 metre+) |
TAVARUA, Fiji (Thursday, June 16, 2016) – The stage is set for a thrilling finale tomorrow at the Fiji Pro, Stop No. 5 of 11 on the 2016 Samsung Galaxy WSL Championship Tour. Competition today ran through Rounds 4 and 5 with world's best surfers battling for a place in the Quarterfinals in perfect 6-to-8 foot (2 – 2.5 metre) Cloudbreak conditions.Kelly Slater (USA), 11-time WSL Champion, delivered the performance of the day and charged through his Round 4 heat against Adriano de Souza (BRA), reigning WSL Champion, and Wiggolly Dantas (BRA). Slater opened up with an excellent 9.77 and further established his dominance with a perfect 10.00 for a 19.77 heat score. The Brazilians tried to fight back, but were forced into a combination situation by the American. Slater's win earns him a direct advance to the Quarterfinals where he will face Dantas.
"I had to go on that last wave and I just misjudged it," Slater said. "That was a heartbreaker. I got pitched and broke my leash and board. I am kind of tripping, even though I had a great heat. But I am putting all that behind me. This is all for Robert Rohmann and his family today. I am thinking about you guys and I am sorry for your loss."
Matt Wilkinson (AUS), current Jeep Rankings' Leader, squeaked through Round 4 to secure his place in the Quarterfinals against John John Florence (HAW) and Adrian Buchan (AUS). The heat saw multiple lead changes with excellent-range scores, including Florence's no-grab barrel to earn a near perfect 9.93. Wilkinson chipped away with a 16.56 heat score, edging out Florence by only 0.13 points.
"Coming here is amazing because it is one of the best waves in the world and I really wanted to stop people questioning whether I can go left or not," Wilkinson said. "To beat John (Florence) and Ace (Adrian Buchan) out there is the hardest heat you could have. I think those are the best waves I've ever seen, so to get a heat win like that and get barrels like that is the best feeling in the world. To put a big result on the board when the waves are so pumping feels pretty awesome."
Florence went on to face Jadson Andre (BRA) in Round 5 Heat 4. Florence fired with two excellent 8.50 rides to take the lead and forced the Brazilian to find two new scores. Andre tried to fight back with a deep tube ride, but was not able to break the combination. Florence will advance to the Quarterfinals where he will surf against Wilkinson.
"I just tried to pick nice, clean waves," said Florence. "I knew there were a lot of clean waves coming in and I didn't have to make it harder for myself. I am excited to face Matt (Wilkinson) in the Quarterfinals. He got me in Round 3 and he is in the lead right now, but I am just going to focus on my own surfing. I'd love to get him back, but you never know. Tomorrow we are supposed to have good, big waves so I am excited."
De Souza narrowly survived elimination Round 5 Heat 1 against injury replacement and former CT charger Dusty Payne (HAW). De Souza and Payne went wave for wave, but the reigning World Champion locked in the win with an 11.34 heat score to defeat Payne by only 0.97 points. Payne will walk away with a 9th place finish while De Souza will go head-to-head against compatriot Gabriel Medina (BRA) in the Quarterfinals.
"We had a tough heat because there was so much expectation that the waves would be crazy good," De Souza said. "As soon as we were out there, I waited for a while and realized that I was in a heat and not in a freesurf and needed to get some points on the board. I am so happy to be in the Quarters. I am excited for tomorrow because I heard it will be bigger than this."
Gabriel Medina (BRA) was the first surfer to secure a Quarterfinal berth and opened the day's action by locking in a perfect 10.00 with a hollow tube ride. Dusty Payne (HAW) fired back with an excellent 8.33, but Medina carved out a huge opportunity for himself with massive aerial maneuvers to regain the lead. Medina, with a 14.60 heat score, defeated Payne and Michel Bourez (PYF).
"Everyone got sick waves in that heat and one of the sets was mine," Medina said. "I'm stoked to get a 10. The waves are incredible — I think it's the best Cloudbreak I've ever surfed. I tried to do my best on that wave, it was the best 4 of my life!"
Bourez was not able to make it out of his Round 5 heat against Wiggolly Dantas (BRA)and leaves the contest in equal 9th place. An interference call on Bourez disqualified his second wave score, leaving him with just a 3.77 combined score.
"There were not many waves in the heat," Dantas said. "When I saw that good wave that Bourez was on, I thought that I had to go because I had the priority. I am so happy to make my heat. It is hard when you block your friend like that, but I am stoked to make it. My boards are feeling good and I am feeling good."
Mick Fanning (AUS), three-time WSL Champion, battled Josh Kerr (AUS) and Jadson Andre (BRA) in Round 4 Heat 3 to earn his place in the Quarterfinals. Andre got the jump on the Australians with a strong 7.93, but Fanning captured the lead with an near perfect 9.80 barrel and an incredible 8.27. Kerr fought hard to climb back and scored a near perfect 9.07 but was not able to turn in a second excellent-range score to combat Fanning.
"That was so beautiful," said Fanning. "Looking out from that last wave and seeing all you guys with your hands in the air, I was losing it. The 10's that have gone done today have been for barrels that were so deep so I tried to stall as much as I could."
Fanning will face Adrian Buchan (AUS) in the Quarterfinals after Buchan dispatchedKerr in Round 5. Buchan gained control of the heat with a strong 7.50 score and secured his lead with an excellent 8.17 tube ride. Kerr fought back with a 10.66 heat score, but was not able to find the 9.34 required to advance.
"At this stage at the event you are in your own headspace when going up against your friends," Buchan said. "Josh (Kerr) and I are good mates and we have surfed so many heats together, and we always seem to draw each other. Those were the best waves I've ever surfed a heat in. It is tough to surf against friends, but I get to this point and know that I am really just competing against myself. I am excited to surf against Mick (Fanning) in the Quarterfinals. It is going to be a big challenge, but I am looking forward to it."
Event organizers will reconvene tomorrow at 6:30am local time for a possible 7am start.
For more information, check out WorldSurfLeague.com
Fiji Pro Round 4 Results:
Heat 1: Gabriel Medina (BRA) 14.60, Dusty Payne (HAW) 11.16, Michel Bourez (PYF) 10.23
Heat 2: Kelly Slater (USA) 19.77, Wiggolly Dantas (BRA) 13.34, Adriano de Souza (BRA) 11.60
Heat 3: Mick Fanning (AUS) 18.07, Josh Kerr (AUS) 15.07, Jadson Andre (BRA) 13.43
Heat 4: Matt Wilkinson (AUS) 16.56, John John Florence (HAW) 16.43, Adrian Buchan (AUS) 15.16
Fiji Pro Round 5 Results:
Heat 1: Adriano de Souza (BRA) 11.34 def. Dusty Payne (HAW) 10.37
Heat 2: Wiggolly Dantas (BRA) 14.27 def. Michel Bourez (PYF) 3.77
Heat 3: Adrian Buchan (AUS) 15.67 def. Josh Kerr (AUS) 10.66
Heat 4: John John Florence (HAW) 17.00 def. Jadson Andre (BRA) 10.17
Fiji Pro Quarterfinal Match-Ups:
QF 1: Gabriel Medina (BRA) vs. Adriano de Souza (BRA)
QF 2: Kelly Slater (USA) vs. Wiggolly Dantas (BRA)
QF 3: Mick Fanning (AUS) vs. Adrian Buchan (AUS)
QF 4: Matt Wilkinson (AUS) vs. John John Florence (HAW)