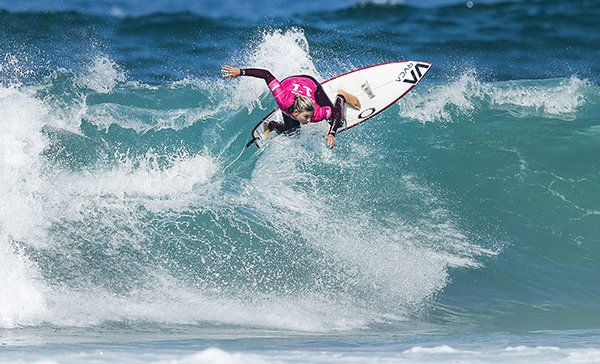 – SAGE ERICKSON ELIMINATES JEEP LEADERBOARD NO. 2 COURTNEY CONLOGUE CAUSING WSL TITLE SHAKEUP
– FIRST FOUR MAN-ON-MAN MATCHUPS OF MEN'S QS ROUND 5 DECIDED
– COMPETITION MOVES BACK TO MAIN SITE IN CARCAVELOS 
– MORE AT WORLDSURFLEAGUE.COM

Sage Erickson (USA) takes down current No. 2 on the Jeep Leaderboard Courtney Conlogue (USA) to advance to the Quarterfinals of the Cascais Women's Pro.
Credit: © WSL / Poullenot
Location:   
Cascais, Portugal
Event window:
September 26 – 

October 5, 2017

Today's call:
Women's Rd 4, Men's Rd3 H9-12 & Rd 4 Completed
| | |
| --- | --- |
| Conditions | Wind-affected three-to-four foot surf. |
CASCAIS WOMEN'S PRO ROUND 4 RESULTS:
Heat 1: Lakey Peterson (USA) 13.17 def. Silvana Lima (BRA) 5.17
Heat 2: Keely Andrew (AUS) 9.80 def. Teresa Bonvalot (PRT) 5.94
Heat 3: Malia Manuel (HAW) 11.83 def. Bianca Buitendag (ZAF) 10.43
Heat 4: Sage Erickson (USA) 12.10 def. Courtney Conlogue (USA) 11.23
CASCAIS WOMEN'S PRO QUARTERFINAL MATCH-UPS:
Heat 1: Nikki Van Dijk (AUS) vs. Lakey Peterson (USA)
Heat 2: Sally Fitzgibbons (AUS) vs. Keely Andrew (AUS)
Heat 3: Tatiana Weston-Webb (HAW) vs. Malia Manuel (HAW)
Heat 4: Carissa Moore (HAW) vs. Sage Erickson (USA)
REMAINING EDP BILLABONG PRO CASCAIS ROUND 3 RESULTS:
Heat 9: Maxime Huscenot (FRA) 12.60, Ethan Ewing (AUS) 12.57, Hiroto Ohhara (JPN) 9.30, Marc Lacomare (FRA) 8.83
Heat 10: Jesse Mendes (BRA) 12.20, Nat Young (USA) 12.06, Caio Ibelli (BRA) 11.27, Jackson Baker (AUS) 10.77
Heat 11: Ryan Callinan (AUS) 14.00, Alejo Muniz (BRA) 12.60, Miguel Pupo (BRA) 9.57, Michael February (ZAF) 8.20
Heat 12: Griffin Colapinto (USA) 15.77, Ezekiel Lau (HAW) 13.90, Cooper Chapman (AUS) 10.36, Mateus Herdy (BRA) 9.96
EDP BILLABONG PRO CASCAIS ROUND 4 RESULTS:
Heat 1: Stuart Kennedy (AUS) 14.83, Deivid Silva (BRA) 11.60, Cam Richards (USA) 10.67
Heat 2: Joan Duru (FRA) 15.36, Kanoa Igarashi (USA) 12.80, Alex Ribeiro (BRA) 10.80
Heat 3: Keanu Asing (HAW) 12.47, Wade Carmichael (AUS) 12.23, Mikey Wright (AUS) 11.40
Heat 4: Jadson Andre (BRA) 12.33, Italo Ferreira (BRA) 12.10, Kalani Ball (AUS) 7.27
REMAINING EDP BILLABONG PRO CASCAIS ROUND 4 MATCH-UPS:
Heat 5: Frederico Morais (PRT), Tomas Hermes (BRA), Ethan Ewing (AUS)
Heat 6: Leonardo Fioravanti (ITA), Willian Cardoso (BRA), Maxime Huscenot (FRA)
Heat 7: Jesse Mendes (BRA), Ezekiel Lau (HAW), Ryan Callinan (AUS)
Heat 8: Griffin Colapinto (USA), Nat Young (USA), Alejo Muniz (BRA)
PRAIA DE CARCAVELOS, Cascais/Portugal (Friday, September 29, 2017) – The Cascais Women's Pro, Stop No. 8 on the World Surf League Championship Tour (CT), completed Round 4 today at the back-up venue of Guincho, deciding the Quarterfinal match-ups. The EDP Billabong Pro Cascais also ran through heats 9 – 12 of Round 3 as well as heats 1 – 4 of Round 4.
Lakey Peterson (USA), the 2015 event runner-up, defeated Silvana Lima (BRA) in Round 4 Heat 1 to make the final series for the fourth time this season. Peterson, who currently sits in 8th place on the Jeep Leaderboard, will advance on in the competition where she will meet Nikki Van Dijk (AUS) for their second ever head-to-head CT match-up in Quarterfinal No. 1.
"I was ready to surf this morning so I'm glad we ran," Peterson said. "I'm happy to get this round done and keep the momentum going. That heat win felt really good. Silvana [Lima] is deadly in those conditions so I knew it would be tough. I just had to trust in my surfing and focus on a steady heat and looking powerful. Congrats to Silvana on the win the other week but it's nice to get one back on her."
Keely Andrew (AUS) battled wildcard Teresa Bonvalot (PRT) in Heat 2 of Round 4. Andrew kept busy throughout the 30-minute bout, posting nine scores to Bonvalot's three, to earn her Quarterfinal berth. Andrew, who is fresh from a runner-up finish at the recent Swatch Pro Trestles, will take on World No. 1 Sally Fitzgibbons (AUS) when competition continues. Bonvalot takes home her best result on the CT, Equal 9th place.
"It's always nice to make heats," said Andrew. "I obviously didn't get the scores that I was hoping for but making it through is what matters. For the rest of the year I just want to put my head down, make sure I can requalify through the top 10 on the CT and feel confident."
Malia Manuel (HAW) secured her second Quarterfinal berth this season with a Round 4 win today over injury replacement Bianca Buitendag (ZAF). The result is her best since returning to competition after a four-event absence due to injury and she'll look to better her 2013 Semifinal finish in Cascais. Buitendag, meanwhile, is sent home from her fifth CT wildcard of the year in Equal 9th place.
"It's always going to be tough against Bianca [Buitendag] because she's so powerful," Manuel said. "I just have to play my game and let her do her thing. I'm still not surfing how I want to be surfing and I'm not where I want to be yet but I got lucky and got a couple of opportunities so I'm happy to move on."
A strong start from Sage Erickson (USA) in the final heat of Round 4 put pressure on current No. 2 on the Jeep Leaderboard, Courtney Conlogue (USA). Erickson continued to hunt the lineup and found a back-up score to cement her lead and eventually eliminate the defending event winner, Conlogue. With only Erickson and Fitzgibbons remaining in the Top 6, the victory puts Erickson firmly in the World Title race.
"It's pretty crazy to be in this position as a contender," said Erickson. "For the longest time I've always been the spoiler or the underdog. I love Courtney [Conlogue] so much and I want her to win a title one day but I'm actually in a position where I could win one. The more that I take down those Top 4 the better I feel. She's a huge hurdle so it feels amazing to get over it and keep that momentum going. I want to go all the way and I think I surf better when I surf against the best so I'm excited."
"I just felt really out of rhythm today," Conlogue said. "No one wants a result like that but I'm still in the game and I still have a shot at the title. When you're in a world title race you're always going to have scars but it's how you recover from that and make sure it doesn't define you."
Competition had previously resumed with the remaining four heats of the men's Round Three early this morning.
Perennial QS threat Maxime Huscenot (FRA), 25, took out the opening heat of the day, slightly ahead of Australian Championship Tour rookie Ethan Ewing. Huscenot took it to the Guincho lefts and applied his precise backhand vertical attack to find two good scores and unfortunately eliminate fellow Frenchman Marc Lacomare in the process.
"I really want to win an event, I feel like my surfing is there and that's what's driving me," Huscenot said. "My dad and I have been training together since I'm 12, he's been filming me every day in Reunion before his work and before I went to school, he knows me perfectly and knows when I'm fired up or when I'm feeling down. It's awesome to have someone like this by your side, my mom and my sister are really involved as well, it's very nice."
The following two heats featured a collection of past and present CT talents as well as hopeful new qualifiers. Jesse Mendes (BRA), 24, continued his winning streak to move into Round Four alongside Nat Young (USA).
"Things are going my way a lot of the time and I'll take it!" Mendes said. "It's hard to get momentum, I was struggling for a few years getting big wins and unable to back them up. This year my focus has been on being consistent and I want to keep the ball rolling and enjoy it."
Ryan Callinan (AUS), 25, advanced as well, taking the top spot ahead of Alejo Muniz (BRA), Miguel Pupo (BRA) and Michael February (ZAF).
"I didn't feel like I had much pressure out there, there's still three big events left in the year," Callinan commented. "I'm not doing too well on the rankings but I just want to perform and surf my best in heats. Watching Fred (Morais) and how well he's doing this year gives me a bit of fire and Dog (Richard Marsh, his coach) is just telling me to attack and show everyone what I can do, not hold anything back."
Griffin Colapinto (USA), 19, and Ezekiel Lau (HAW) took the debate above the lip in the final heat, with the Californian bringing his a-game to take a big win over the Hawaiian. Colapinto sits right on the bubble of qualification coming into Cascais ranked No. 10 on the QS and will be looking to secure a strong finish in Portugal to solidify his position before the Hawaiian showdown.
Following the completion of Round Three, the first four heats of Round Four were completed in degrading conditions, eventually forcing event officials to call the rest of the Round off for the day. The event's top seeds took the top two qualifying spots in each heats  with highlight performances from Stuart Kennedy (AUS) and Joan Duru (FRA) in heats 1 & 2 when conditions were easier to work with.
Competitors and event officials will reconvene at 7:45 a.m Saturday at the main event site of Carcavelos for a potential start of the remaining heats of the men's Round Four.
A solid overhead NW swell builds into Guincho late Friday into Saturday, but expect the rise of strong northerly winds to accompany it (Carcavelos will remain small). A final WNW swell is due for October 3rd-4th with head-overhead sets for Guincho and improved conditions (a little more size showing for Carcavelos as well on this pulse). Surfline
The EDP Billabong Pro Cascais 2017 runs in conjunction with the Cascais Women's Pro, stop No. 8 on the WSL Women's Championship Tour and both events are broadcast LIVE via WorldSurfLeague.com, the WSL app and on Facebook LIVE via the WSL's Facebook page.
For more information, check out WorldSurfLeague.com.
The EDP Billabong Pro Cascais 2017 is supported by the Câmara Municipal de Cascais (Cascais City Council), Edp, Billabong, Tourism Portugal (Portuguese Waves), , Jogos Santa Casa, MEO&Moche, Hertz, MEO Beach Cam and CP (Comboios de Portugal/Trains of Portugal) among others.