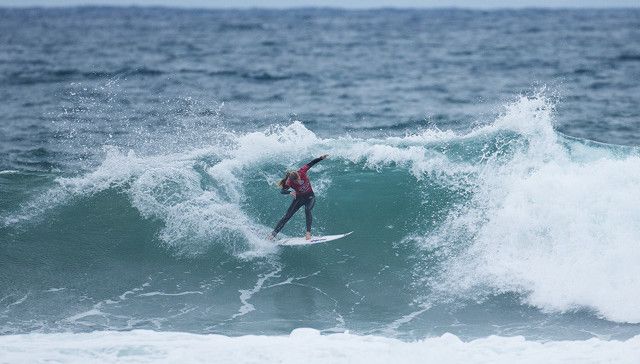 Pic: Lakey Peterson © WSL
Samsung Galaxy World Surf League Men's CT event
Samsung Galaxy World Surf League Women's CT event
Bells Beach, Victoria Australia
1 – 12 April 2015
Medina downs Slater, Fanning nixes Andre…
Surf News Network, 6 April, 2015 – Bells Beach.  A day of shock upsets at the Rip Curl Pro Bells Beach, stop no. 2 of the Samsung Galaxy World Surf League (WSL) Championship Tour (CT), as the men's and women's Quarterfinalists were decided in challenging conditions. Three former event winners were eliminated from the competition today with Kelly Slater (USA) going down to Gabriel Medina (BRA), Joel Parkinson (AUS) was defeated by Josh Kerr (AUS) and Silvana Lima (BRA) fell at the hands of Lakey Peterson (USA).
Lakey Peterson opened strong against Lima with an excellent 8.33. The pair battled in the early-morning conditions but Lima, 2009 Rip Curl Pro Bells Beach winner, couldn't match the American's early high score and is eliminated from the competition in equal 9th place. Peterson moves through to the Quarterfinals where she will face Sally Fitzgibbons (AUS).
"It's always good start with a great score," said Peterson. "It's really hard to pick them out there today and to surf smoothly is really tough. Silvana is such a good surfer so I was definitely a bit worried going into that heat. I try not to worry about who I'm surfing against but I knew I needed to get a quick start and put the pressure on. Everyone wants to win here, and that's part of what makes the event so special — it would be incredible to win it."

Johanne Defay © WSL
Johanne Defay (FRA) also earned her place in the Quarterfinals, taking out Alessa Quizon (HAW) with a 14.54 two-wave heat total. The result for Defay, the lone European surfer on the women's CT, is an improvement last year's 9th-place finish at Bells Beach and she'll match-up against defending event winner Carissa Moore (HAW) in the next round.
"I'm definitely going to stay around and watch the surfing, it's just so good," said Defay. "I have a routine that I stick to when I'm competing and it seems to be working here at Bells."
Looking dominant, Tyler Wright (AUS) stormed through her Round 4 heat against Bianca Buitendag (ZAF). Wright's final score, an excellent 9.13 (out of a possible 10), sealed the deal and led her to a convincing win over her South African opponent. Wright will match-up against reigning six-time WSL Champion Stephanie Gilmore (AUS) in the Quarterfinals.
"It's so good to be here and in the home town of Rip Curl," Wright said. "I feel like Bells really suits my surfing, sometimes I almost get too excited when the face opens up. I have so many ideas of how I want to play with this one turn and it's just a dream to be out there. The results don't really come into my head, I just want to win heats so I can surf out there in uncrowded Bells over and over."

Mick Fanning © WSL
Courtney Conlogue (USA) was the final woman to take her place in the Quarterfinals after claiming victory against dangerous rookie Tatiana Weston-Webb (HAW). The Hawaiian battled throughout the 30-minute bout and, despite the highest score of the heat, couldn't find a backup to edge the win, leaving Conlogue to move forward in the contest.
"Conditions are super challenging so you have to take those opportunities when they come through," Conlogue said. "I just tried to have priority when those bigger sets came through. I'm looking forward to competing against Coco (Ho). She got the upperhand in our last heat so I want a rematch."
Opening up Men's Round 5 was one of the most anticipated heats of the year so far with 11-time world champion Kelly Slater (USA) coming up against the new guard, reigning WSL Champion, Gabriel Medina (BRA). 23 years his senior, Slater was in control for the majority of the heat with 2 mid-range scores, but with less than five minutes remaining, Medina took off on a smaller inside wave without priority and rapped three nice turns to land a heat high 7.17 and take the win. Medina's victory today sees him take the edge over Slater with six wins to the American's five across the pair's 11 CT match-ups.
"That was pretty close," Medina said. "It was a tough heat against Kelly (Slater), I knew it was going to be hard. I'm stoked to be in the quarters, it's a tough event and I'm looking for a solid result here."

Gabriel Medina © WSL
As the wind increased and conditions began to deteriorate, three time Rip Curl Pro Bells Beach winner Joel Parkinson (AUS) met fellow Coolangatta raised surfer Josh Kerr (AUS) in a Heat 2 of Round 5. Parkinson's silky rail surfing had him in the box seat for the entire heat with Kerr not finding a wave until the 20-minute mark. Kerr was able to hit the front after the final siren, take the win and will do battle with Owen Wright in Quarterfinal 2 when competition resumes.
"A good one came right before our heat started, so I just sat there waiting for one of them," Kerr said. "Then it completely changed, the wind came up and it was really tough."
Mick Fanning (AUS) battled Jadson Andre (BRA) for a Quarterfinal berth. The pair have previously matched up three times at Bells and the Australian has won all three bouts. Andre held the lead for the first half of the heat with Fanning searching the challenging lineup for a score of significance. The defending event winner found a solid 7.00 to put him back in contention and backed it up with a 5.27 for the win and a place in the Quarterfinals for the tenth consecutive year.
"It's really tough out there and I was really anxious, I was losing my mind," said Fanning. "I got lucky with that 7-point-ride, it opened up for me with two sections. The ocean is a tricky beast, but she's gorgeous. I'll now match-up with Jordy (Smith) again, we've had some great battles over the years and I'm really looking forward to it."

Tyler Wright © WSL
Jeremy Flores (FRA) had a lot to surf for in the last heat of Round 5 against past Bells runner-up Nat Young (USA), battling for the remaining spot in the Quarterfinals. Showing composure above his years, Young posted two good scores to hold the tour veteran at bay and look to continue his success at the Rip Curl Pro.
Rip Curl Pro Bells Beach Round 5 Results (1st to QF, 2nd = 9th):
Heat 1: Gabriel Medina (BRA) 13.00 def. Kelly Slater (USA) 12.53
Heat 2: Josh Kerr (AUS) 10.40 def. Joel Parkinson (AUS) 10.17
Heat 3: Mick Fanning (AUS) 12.27 def. Jadson Andre (BRA) 11.60
Heat 4: Nat Young (USA) 14.66 def. Jeremy Flores (FRA) 5.93
Rip Curl Pro Bells Beach Quarterfinal Match-ups:
Heat 1: Adriano de Souza (BRA) vs. Gabriel Medina (BRA)
Heat 2: Owen Wright (AUS) vs. Josh Kerr (AUS)
Heat 3: Jordy Smith (ZAF) vs. Mick Fanning (AUS)
Heat 4: Filipe Toledo (BRA) vs. Nat Young (AUS)
Rip Curl Women's Pro Bells Beach Round 4 Results (1st to QF, 2nd = 9th):
Heat 1: Lakey Peterson (USA) 16.13 def. Silvana Lima (BRA) 13.23
Heat 2: Johanne Defay (FRA) 14.54 def. Alessa Quizon (HAW) 11.60
Heat 3: Tyler Wright (AUS) 17.63 def. Bianca Buitendag (ZAF) 10.90
Heat 4: Courtney Conlogue (USA) 13.44 def. Tatiana Weston-Webb (HAW) 13.26
Rip Curl Women's Pro Bells Beach Quarterfinal Match-ups:
Heat 1: Sally Fitzgibbons (AUS) vs. Lakey Peterson (USA)
Heat 2: Carissa Moore (HAW) vs. Johanne Defay (FRA)
Heat 3: Stephanie Gilmore (AUS) vs. Tyler Wright (AUS)
Heat 4: Coco Ho (HAW) vs. Courtney Conlogue (USA)