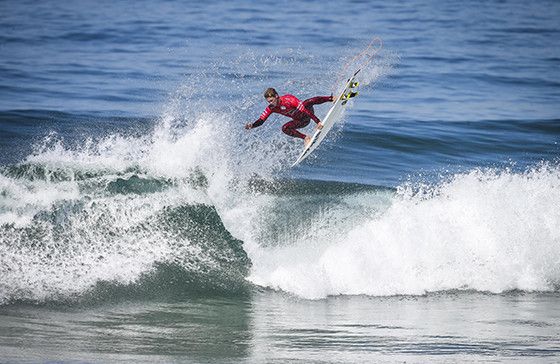 – JESSE MENDES CLAIMS FIRST PERFECT 10 OF THE EVENT
– POSSIBLE FINISH SATURDAY, NEXT CALL 7:45AM

Jesse Mendes (BRA) scored a perfect 10 point ride for this aerial maneuver in Round 5 today.
Image: © WSL / Masurel
| | |
| --- | --- |
| Location:    | Cascais, Portugal |
| Event window: | September 24 – October 2, 2016 |
| Today's call: | Next Call 7:45AM Saturday |
PRAIA DE GUINCHO, Cascais/Portugal (Friday, September 30, 2016) – The Billabong Pro Cascais pres. by Allianz resumed in good three-to-four foot surf at the back-up venue of Guincho and ran two more rounds of competition to decide the event's Quarterfinalists. Excellent high-performance surfing went down in the playful surf on offer to whittle the field down to just eight and set up for an exciting finish in Cascais.
Jesse Mendes (BRA), 23, made his way into the Quarterfinals with an incredible performance over fellow Brazilian Yago Dora (BRA). Mendes took it to the air on a clean left and completed a perfect full-rotation on his forehand, landing just in front of the explosion of water to belt a perfect 10 point ride on his second attempt. With a solid 7.17 on his first wave now serving as a back-up, Mendes controlled the rest of the heat and watched as Dora was unable to get out of a combination situation.
"Every heat I had was kind of at that same tide and I've always wanted to catch that wide left but it never came my way, this one did and I couldn't do much, I just had one pump and I saw that biggest ramp and I thought, that's it you gotta land one in a heat," Mendes reflected. "I don't land a lot of airs in heats and I had to just let it out, it feels great. I'm trying to keep it simple, stick to rail surfing and throw some spray, it's just easier to get points. For an air to be an 8 it's got to be massive so my main focus is to try and get three turns back-to-back, and if an opportunity for an air comes I'll give it a try."
Joan Duru (FRA), 27, continued his successful campaign towards becoming a Championship Tour surfer next season, as the talented Frenchman went to his favorite weapon, a lethal backhand to edge out Jadson Andre (BRA) in Round Five with 14.67 points over the Brazilian's 12.53. Duru, whose biggest result in 2016 is a runner-up spot in Ballito, will look to finish strong on finals day and claim a first major win on the Qualifying Series.
"Manu (Portet) is here and he's helping me a lot, this spot changes all the time and there are wide big sets sometimes that you don't see coming so he's a great help," Duru stated.
CT rookie Ryan Callinan (AUS), 24, survived a tough matchup again World N°8 Italo Ferreira (BRA) and managed to clinch the win on a buzzer-beater wave right on the horn. The two surfers gave their everything in a final exchange on back-to-back rights, Callinan getting the nod with a more radical approach and a five-turn combo for a 7.83 and the win.
"That was pretty heavy, I saw Italo's last one and I didn't think he improved so I thought I could get it but that was definitely nerve-wracking," Callinan said. "Watching all the heats before I was seeing so many good waves and I was so excited to surf, but I didn't really get any opportunities and in the end I was just trying to catch waves. That last one was small but it ran all the way through."
This win is of the utmost importance for the young Australian who needs to back his Championship Tour season with a solid showing on the QS for a chance to stay on the Top 34 next season. As conditions deteriorated quickly on the high tide, event officials put the competition on hold and decided to resume at 5PM when waves became more consistent again.
Ian Gouveia (BRA), 23, took a page out of the Mendes book on airs, and threw his own full rotation for a near-perfect 9.83 and the win over other form surfer Connor O'Leary (AUS). Gouveia has been on an absolute tear in the past few weeks, reaching back-to-back finals in Pantin and the Azores for a fourth place and a win in the two QS6,000 events. With a quarterfinal berth in Cascais, the talented Brazilian will climb further up on the Qualifying Series rankings and be a potential force to reckon with on next year's Championship Tour.
"I was just looking for those ramps, Jesse's air earlier inspired me and I knew I had to do something like that cause Connor's backside is really amazing and he's been ripping the whole contest," Gouveia commented. "Having my girlfriend and baby here is the best support I could ask for, I'm stoked!"
Bino Lopes (BRA), Tanner Gudauskas (USA), Jeremy Flores (FRA) and Jack Freestone (AUS) complete the draw of eight hopefuls who will battle it out on finals day.
Surfers and organizers will reconvene at 7:45AM Saturday to assess conditions and decide of the day's schedule.
The WSL Men's QS10,000 Billabong Pro Cascais pres. by Allianz is scheduled from September 24 – October 2, 2016 and runs in conjunction with the Cascais Women's Proin Cascais, Portugal. For all results, photos, video highlights, press releases and LIVE webcast, log on to worldsurfleague.com or the WSL mobile app.
The Billabong Pro Cascais presented by Allianz Seguros is supported by the Câmara Municipal de Cascais (Cascais City Council), Billabong, Allianz Seguros, Tourism Portugal (Portuguese Waves), EDP, MEO, Jogos Santa Casa, Hertz & MagicSeaWeed among others.
Upcoming Billabong Pro Cascais Quarterfinal Match-Ups:
QF 1: Jesse Mendes (BRA) vs. Joan Duru (FRA)
QF 2: Bino Lopes (BRA) vs. Ryan Callinan (AUS)
QF 3: Ian Gouveia (BRA) vs. Tanner Gudauskas (USA)
QF 4: Jeremy Flores (FRA) vs. Jack Freestone (AUS)
Billabong Pro Cascais Round 5 Results:
Heat 1: Jesse Mendes (BRA) 17.67 def. Yago Dora (BRA) 7.40
Heat 2: Joan Duru (FRA) 14.67 def. Jadson Andre (BRA) 12.53
Heat 3: Bino Lopes (BRA) 14.50 def. Hizunome Bettero (BRA) 12.34
Heat 4: Ryan Callinan (AUS) 12.66 def. Italo Ferreira (BRA) 11.87
Heat 5: Ian Gouveia (BRA) 16.06 def. Connor O'Leary (AUS) 7.37
Heat 6: Tanner Gudauskas (USA) 13.16 def. Brett Simpson (USA) 4.33
Heat 7: Jeremy Flores (FRA) 13.24 def. Soli Bailey (AUS) 11.14
Heat 8: Jack Freestone (AUS) 15.60 def. Tomas Hermes (BRA) 14.00
Billabong Pro Cascais Round 4 Results:
Heat 1: Jesse Mendes (BRA) 12.67, Jadson Andre (BRA) 12.10, Gony Zubizarreta (ESP) 11.34
Heat 2: Joan Duru (FRA) 15.50, Yago Dora (BRA) 11.40, Stuart Kennedy (AUS) 8.13
Heat 3: Hizunome Bettero (BRA) 13.17, Ryan Callinan (AUS) 12.43, Ramzi Boukhiam (MAR) 10.83
Heat 4: Italo Ferreira (BRA) 15.56, Bino Lopes (BRA) 13.27, Aritz Aranburu (ESP) 12.50
Heat 5: Connor O'Leary (AUS) 16.76, Brett Simpson (USA) 15.44, Tom Whitaker (AUS) 12.10
Heat 6: Tanner Gudauskas (USA) 14.20, Ian Gouveia (BRA) 13.30, Victor Bernardo (BRA) 11.60
Heat 7: Jeremy Flores (FRA) 16.63, Jack Freestone (AUS) 13.87, Kanoa Igarashi (USA) 12.33
Heat 8: Tomas Hermes (BRA) 13.23, Soli Bailey (AUS) 12.70, Dimitri Ouvre (BLM) 12.57