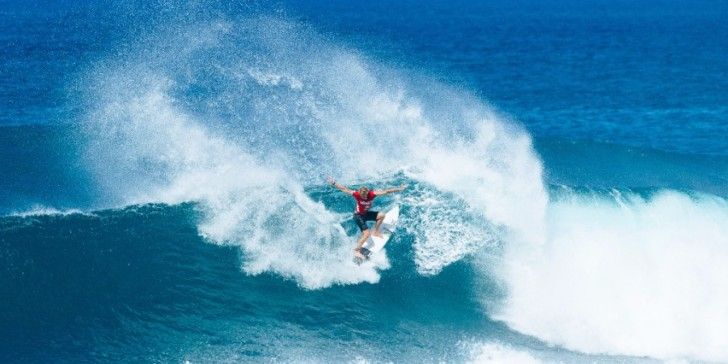 THE VANS WORLD CUP
World Champion John John Florence (HAW) once again proved his power and dominance. Image: WSL / Sloane
| | |
| --- | --- |
| Event:    |       Vans World Cup of Surfing                                                |
| Location: |       Sunset Beach, North Shore, Oahu |
| Event Window: |       November 24 – December 6 |
| | |

NORTH SHORE, Oahu, Hawaii – (Saturday, December 3, 2016) —
 A big day of ratings shake ups at the Vans World Cup – the  second stop of the Vans Triple Crown and final event of the World Surf League (WSL) Qualifying Series – tightened the qualification implications for 2017. The biggest upset of the day saw Samsung Galaxy Championship Tour (CT) rookie
Ryan Callinan (AUS)
jeopardize his qualification chances for 2017 after losing his Round Three heat to
Adrian Buchan (AUS)
and
Koa Smith (HAW)
. The only way Callinan can make next year's Tour is if
Jeremy Flores (FRA)
or
Jadson Andre (BRA)
double qualify after the year-ending Billabong Pipe Masters.
Frederico Morais (PRT)
overtook Callinan for the 9th place spot on the Qualifying Series (QS) after a strong performance and smooth surfing secured mid-range scores and advancement behind
Tanner Gudauskas (USA)
. Morais also knocked
Kanoa Igarashi (USA)
, another CT rookie, and re-qualification hopeful
Keanu Asing (HAW)
out of the competition on his tear to the podium."I was so nervous, everyone's making heats," said Morais. "It depends on me. I don't want anyone to lose. I want to make heats and qualify for myself. So yeah, I'm stoked to make it through right at the end. Really close heat, really good surfers, but yeah Sunset was fun."World Champion
John John Florence (HAW)
posted the highest single wave score of the event, a 9.77, for three aggressive turns and his signature loose style. His final maneuver was a carve off the face of the wave, which judges deemed an excellent capstone to the ride.Florence was inspired to find this gem after
Billy Kemper (HAW)
posted a 9.07 on his opening ride in the heat to set the bar.
"Billy got that 9 and it was such a good wave," said John John. "It definitely motivated me a little bit but I was just kind of worried about myself out there and just looking for the waves I knew I wanted to get. I ended up getting one and getting a good score so I was stoked."
On a roll this year, Florence looked just as inform and unstoppable as he did on the Final day at the Hawaiian Pro, the first event of the Vans Triple Crown. The Hawaii athlete competes now for the event win and the Vans Triple Crown title.
"These three events are right up there with the World Title," said Florence. "It's crazy, they are such different waves. They can be big. Haleiwa can be 10 feet or 2 foot lefts. You have to be ready for anything. Same for out here, it can be small at the point or huge Sunset. You really have to be in sync with the ocean for these events. I'm fortunate enough to have grown up here and surf the point growing up and so it's a lot of fun surfing with no one out."
Eleven-time World Champion Kelly Slater stayed active during Heat 11 and was one of the few athletes to hunt down a left at Sunset. His highest score, a 6.83, was for a right-breaking wave with multiple sections, but nevertheless was enough to see him advance in first ahead of Ethan Ewing (USA).
A win at this venue still evades Slater and with his last Vans Triple Crown victory in 1998, he looks hungry for another win on Hawaiian turf.
Ewing looks safe to qualify for his first year on the CT after a highly successful year on the QS and is also one of the few surfers left in contention for the Vans Triple Crown Rookie Award. O'Neill Massin (PYF) and Ian Crane (USA) are also fighting for the title.
Jadson Andre (BRA) made a move up the QS rankings after today's performance and now sits in the 10th slot after a heat win and a couple successes this year. His best result came in Brazil at the Hang Loose Pro Contest this past November, a 2nd place finish behind Igarashi, and the feats continue here in Hawaii. He went up against an inform Torrey Meister (HAW) in Heat 10 and threw wave selection out the window by tallying up the most rides in the heat. But the Brazilian secured a 5.27 and 7.67 for advancement behind Meister.
Contest organizers will reconvene at 7am HST to make a call for the Final day of competition, which looks highly likely for tomorrow. Surfline, the official forecasters, predict 6-8 foot faces as the NW swell trends down with leftover larger sets possibly gracing the lineup.
RESULTS
Surfers shown 1st through 4th, all athletes from Hawaii unless otherwise noted.
Round of 64, 1st and 2nd advance, 3rd = 33rd place, 4th = 49th place
H1: Matt Wilkinson (AUS), Ezekiel Lau, Santiago Muniz (ARG), Mitch Coleborn (AUS)
H2: Deivid Silva (BRA), Wiggolly Dantas (BRA), Noe Mar McGonagle (CRI), Davey Cathels (AUS)
H3: Ricardo Christie (NZL), Jack Freestone (AUS), Conner Coffin (USA), Lucas Silveira (BRA)
H4: Adriano De Souza (BRA), Ian Gouveia (BRA), Alex Ribeiro (BRA), Michael Dunphy (USA)
H5: Filipe Toledo (BRA), Marc Lacomare (FRA), Joan Duru (FRA), Soli Bailey (AUS)
H6: Adrian Buchan (AUS), Koa Smith, Connor O'Leary (AUS), Ryan Callinan (AUS)
H7: Tanner Gudauskas (USA), Frederico Morais (PRT), Kanoa Igarashi (USA), Keanu Asing
H8: John John Florence, Billy Kemper, Michael February (ZAF), Wyatt McHale
H9: Gabriel Medina (BRA), O'Neill Massin (PYF), Bino Lopes (BRA), Nathan Florence
H10: Torrey Meister, Jadson Andre (BRA), Nat Young (USA), Mitch Crews (AUS)
H11: Kelly Slater (USA), Ethan Ewing (USA), Bede Durbidge (AUS), Tom Whitaker (AUS)
H12: Patrick Gudauskas (USA), Jeremy Flores (FRA), Italo Ferreira (BRA), Mihimana Braye (PFY)
H13: Adam Melling (AUS), Joel Parkinson (AUS), Leonardo Fioravanti (ITA), Finn McGill
H14: Kai Otton (AUS), Eli Olson, Joshua Moniz, Caio Ibelli (BRA)
H15: Miguel Pupo (BRA), Ian Crane (USA), Matt Banting (AUS), Aritz Aranburu (ESP)
H16: Jesse Mendes (BRA), Jordy Smith (ZAF), Sebastian Zietz, Yago Dora (BRA)