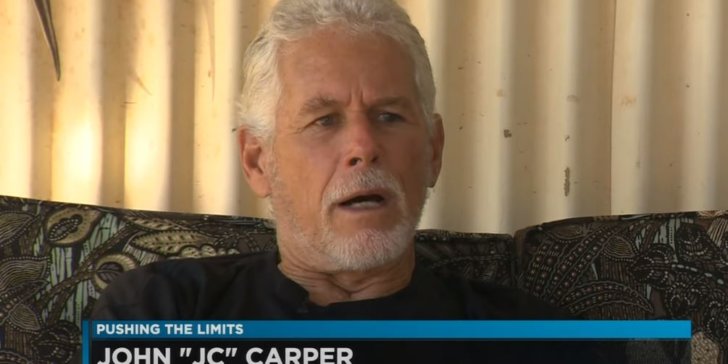 We examine the evolution of the most important piece of equipment for every surfer: the surfboard itself.
SURFBOARDS HAVE COME A LONG WAY SINCE DUKE KAHANAMOKU SURFED WAIKIKI WITH WOODEN BOARDS WEIGHING ABOUT A HUNDRED POUNDS… THESE DAYS SURFERS ARE CHASING THE BIGGEST WAVES ON THE PLANET… ON BOARDS SHAPED SPECIFICALLY TO HARNESS THE SPEED AND POWER OF THE MASSIVE SWELLS…
JOHN CARPER IS A NORTH SHORE SHAPER WHO HAS SPENT YEARS DESIGNING BOARDS THAT HAVE CAUGHT SOME OF THE BIGGEST WAVES AROUND THE WORLD…
We were making longer versions.. little bit by little bit, Pipe boards then Waimea boards, right about the time we were getting good at the Waimea boards, we didn't even know about Jaws, nobody knew about Jaws… I lived in Hookipa for god sakes.
JAWS, OF COURSE, BEING ONE OF THE PREMIERE BIG WAVES SPOTS IN THE WORLD.. IN THE BEGINNING THANKS TO LAIRD HAMILTON.. JAWS WAS DOMINATED BY TOW IN SURFERS WITH JET SKIS… BUT AFTER A FEW YEARS OF TOWING IN… A HANDFUL OF SURFERS LED BY CARPER'S TEAM RIDER SHANE DORIAN .. THOUGHT PADDLING INTO THE WAVES WAS A BIGGER CHALLENGE.
Then the tow in thing came to Shane really embraced that we made a million tow-in boards.. but he always thought tow-in was cheating, felt it was too easy..
GRANTED THERE'S NOTHING EASY ABOUT RIDING GIANT SURF TOW IN OR NOT .. BUT FOR SHANE, PADDLING INTO THE WAVE WAS THE TRUE AND CORRECT WAY OF SURFING BIG WAVES… BUT THE EQUIPMENT NEEDED REFINEMENT… AND THIS IS WHERE THE SURFER SHAPER COLLABORATION IS VITAL..
We've spent hundreds maybe thousands of hours together we've spent a lot of time over the years talking about this we have our own language he's very nontechnical….
AND THAT FEEDBACK WAS ESSENTIAL BECAUSE, IN THE BEGINNING, THE BOARDS WERE NOT WORKING…
We can't paddle into these waves.. we can't do it.. we catch 'em… we blow off at the top.
THEY NEEDED A BOARD WITH ENOUGH WEIGHT TO HELP PROPEL THE SURFER DOWN THE WAVE AND CUT THROUGH THE WIND CHOP.. BUT IT WAS A SLOW PROCESS ESPECIALLY FIGURING OUT THE CORRECT LENGTH OF THE BOARDS.
Let's start making your boards for Jaws really heavy.. we could make them really heavy with a ton of glass big stringer heavy foam…
We started going up 10 footers 10-6 we went to 11-3..
THE FINAL PRODUCT MEASURED TEN FEET SIX INCHES… AND WEIGHED 27 POUNDS… MOST HIGH-PERFORMANCE SHORTBOARDS WEIGH LESS THAN 6 POUNDS… IT TOOK HALF A DAY TO SHAPE… AND WAS GLASSED TWICE… CARPER CALLED IT A P.B.U. BOARD… PRAY BEFORE USE…
AND DORIAN LOVED IT.
Once you get momentum on the board he says they feel like a shortboard to him. .. he says it feels just like a shortboard.. he seems to turn it..you can see he turns it very well.
THEY'RE NOW WORKING ON SHORTER LIGHTER BOARDS… AND IF YOU'RE INTERESTED… FIRST MAKE SURE YOU CAN AFFORD IT.. THESE BABIES RUN ABOUT TWO GRAND..
… Eli Olson talks about his epic ride on an enormous wave off the north shore of Oahu
"Not only was it the biggest waves I've ever seen in person when I was surfing, the fact that I was by myself, it was just like, such a rare, special thing."