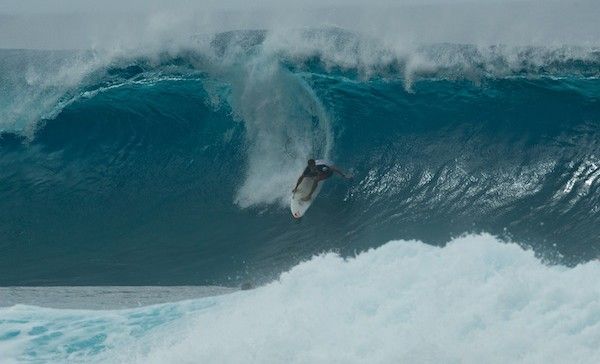 Super Sunday looks to deliver the goods with clean light offshore 4-6′ occ higher (local scale) with rights and lefts. The Sun is rising to a beautiful day. See u there or on Oceanic 250 while u watch the Super Bowl. Cheers! SNN
Image: IAN WALSH (HAW); taking it up a notch with the rising surf heights.
Photo: Ben Reed/Volcom
| | |
| --- | --- |
| EVENT:    | VOLCOM PIPE PRO |
| Rating/Purse: | WSL QS3000, $100,000 |
| Location: | Banzai Pipeline, North Shore Oahu, Hawaii |
| Conditions: | Technical barrels, 12-18 foot wave face heights |
PIPELINE, Oahu/Hawaii (Saturday, January 31, 2015): Top seeds took the waves for Round 3 of the VOLCOM PIPE PRO today and conditions kicked up in size and severity throughout the afternoon. Second Reef Pipe began to feather and it was boom or bust, delivering high scores, heavy wipeouts, the occasional injury and a slew of snapped surfboards as wave face heights reached 18 feet. The Volcom Pipe Pro is a $100,000 WSL QS 3000-rated event.
Maui's IAN WALSH, 31, a regular at Pipeline and a big wave specialist, featured in a heat of high drama as the swell took a major jump in the early afternoon and became highly dangerous. Walsh was pitted against locals EZEKIEL LAU and EVAN VALIERE, and 17-year-old Italian rookie LEONARDO FIORAVANTI, and all four were pushing the limits.
Walsh came through with the highest individual wave score of the competition to that point with a critical drop and deep tube ride for 9.5 points out of a maximum 10.
But a different story unfolded for Fioravanti, who took a brutal wipeout after takeoff and was whisked out of the impact zone by Hawaiian Water Patrol. He left the beach in an ambulance with a suspected back injury, putting his 2015 season in jeopardy.
"It's really challenging Pipeline today," said Walsh. "There's been a lot of different moods throughout the day. It started really wonky with a short interval swell…   and it's not in the defined lineup that we're used to.
"It definitely has a danger factor today being that it's compressed onto the inside of the reef and there's not that many good waves, so you do have to roll the dice on waves.. and create your own opportunity.
"It's unfortunate that Leo got hurt. I was bummed when I saw him waving his arm (for help). You don't want that to happen to anyone out here and it's so quick to get hurt. Boom! You're on the bottom and a lot of times you don't even know what happened."
As the afternoon progressed, the scores began to fly thick and fast. NATHAN FLORENCE (HAW), younger brother of Hawaii's top pro surfer John John Florence, took heat scores up a notch when he posted 14.86 points out of 20. Then the very next heat, MIKEY BRUNEAU (HAW) took it further with the highest scoring tube ride – 9.57, and the highest heat score of the event so far: 15.0.
"I just want to get another opportunity to surf out there with only three other guys out," said Bruneau. "I love Pipeline so much. I fell on the wave before (the 9.57) and was kind of shattered. I lost priority and there was one minute left. Then that thing popped up and looked pretty lurchy, but I figured I had to go. It spat me out and I was pretty stoked."
Other incredible rides today were logged by IAN GOUVEIA (BRA); JAMIE O'BRIEN (HAW); DUSTY PAYNE (HAW); KIRON JABOUR (HAW); and EVAN GEISELMAN (Fl., USA) – (see VNR highlights).
The first seven of 16 Round 3 heats were held today. JOHN JOHN FLORENCE and BRUCE IRONS will headline the opening heat when competition resumes – presumably tomorrow, immediately followed by 11-time WSL World Champion KELLY SLATER.
The next call will be at 7am tomorrow. The Volcom Pipe Pro requires three full days of competition and will be held on the best days of waves between now and February 8.
Head to the official 2015 Volcom Pipe Pro website www.VolcomPipePro.com/live to watch LIVE.
RESULTS:
Shown in order of 1st through 4th; 1st and 2nd advance
Round 3:
H1: K David (HAW) 7.34; S Zietz (HAW) 7.07; T Hendrickson (HAW) 4.1; C Arambide (USA) 4.03 ~ H2: E Lau (HAW) 12.0; I Walsh (HAW) 10.83; E Valiere (HAW) 9.2; L Fioravanti (ITA) 1.37 ~ H3: H Bettero (BRZ) 12.33; G Gillette (HAW) 10.67; C Munoz (CRI) 3.7; M Coleborn (AUS) 3.5 ~ H4: N Florence (HAW) 14.86; S Murakami (JPN) 12.04; F Patacchia (HAW) 7.6; J DaSilva (BRA) 3.14 ~ H5: M Bruneau (HAW) 15.0; D Payne (HAW) 14.63; M Giorgi (URY) 13.4; G Larsen (HAW) 3.1 ~ H6: J O'Brien (HAW) 14.4; I Gouveia (BRA) 12.8; N Yeomans (USA) 11.97; J Duru (FRA) 11.0 ~ H7: NM McGonagle (CRI) 12.4; A Aranburu (ESP) 10.93; O Eleogram (HAW) 10.17; M Tudela (PER) 6.17
Round 2:
H1: K David (HAW) 11.07; E Lau (HAW) 10.97; A Kato (JPN) 5.9; E Stewart (HAW) 5.47 ~ H2: E Valiere (HAW) 11.5; C Arrambide (USA) 9.57; P Sullivan (HAW) 7.0; T Wakita (HAW) 2.6 ~ H3: H Bettero (BRA) 13.76; S Murakami (JPN) 11.03; A Toyon (FRA) 5.96; M McNamara (HAW) 5.77 ~ H4: N Florence (HAW) 11.7; G Gillette (HAW) 6.37; K Chapman (HAW) 5.0; K Ohashi (JPN) 4.07 ~ H5: M Giorgi (URY) 13.86; J O'Brien (HAW) 12.83; J Halested (HAW) 2.53; S Bailey (AUS) 1.27 ~ H6: N Yeomans (USA) 12.0; M Bruneau (HAW) 10.43; K Sullivan (HAW) 6.93; H Batista (BRA) 6.9 ~ H7: O Eleogram (HAW) 13.27; S Moniz (HAW) 8.67; P Henrique (BRA) 7.2; J Centeio (HAW) 2.33 ~ H8: Y Dora (BRA) 9.6; M Tudela (PER) 8.47; L McNamara (HAW) 6.8; H Arai (JPN) 2.6 ~ H9: D Staples (ZAF) 9.17; H Gaskell (HAW) 7.3; I Gentil (HAW) 7.27 ~ H10: B Kemper 5.93; K Alexander 3.13; S Garcia 2.57; H Ohhara (JPN) 1.77 ~ H11: L Davis (USA) 10.1; L Felipe (BRA) 7.56; R McIntosh (HAW) 6.54; D Goodale (HAW) 2.57 ~ H12: E Geiselman (USA) 14.5; K Jaquias (HAW) 9.03; K Oliveira (HAW) 6.73; K Tanaka (JPN) 5.83 ~ H13: B Stack (USA) 10.1; B Toth (PRI) 5.1; K Smith (HAW) 3.97; L Usuna (ARG) 2.9 ~ H14: G Satt (CHL) 11.93; L Shepardson (HAW) 7.1; T Nakamura (JPN) 4.38; K Kino (HAW) 3.3 ~ 15: A Smith (HAW) 14.27; M Ohno (JPN) 8.34; R Inaba (JPN) 7.04; K Cazimero (HAW) 6.4 ~ H16: K Jabour (HAW) 14.57; M Padaca (HAW) 9.03; PC Distingui (FRA) 5.27; O Anwar (IDN) 3.63