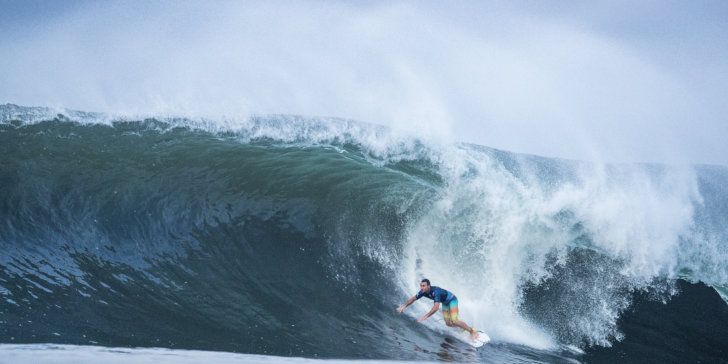 2018 CT ROOKIE GRIFFIN COLAPINTO (USA) FLARES AT KERAMAS
–  REIGNING WSL CHAMPION JOHN JOHN FLORENCE (HAW) POSTS HIGHEST HEAT TOTAL OF ROUND 1
 2012 WSL Champion, and former winner at Keramas Joel Parkinson (AUS) won his opening round heat at the Corona Bali Protected with a great display of commitment.
Credit: © WSL / Cestari
Location:   
  Keramas, East Bali, Indonesia
Event window:
  

May 27 –  June 8, 2018

Today's call:
 Men's Round 1 Completed 11 Heats
Conditions:
 Clean 6 – 8 Foot (2 – 2.4 metres)
Keramas, Bali/Indonesia (Sunday, May 27, 2018) –  The World Surf League (WSL) Championship Tour (CT) officially returned to Indonesia today with the opening 11 Heat of Men's Round 1 being run at the Corona Bali Protected. The opening day saw pumping six-to-eight foot (2 – 2.4 metre) conditions at Keramas on Bali's east coast.
Reigning two-time WSL Champion John John Florence (HAW) has so far had a below-par season for his standards as he still searches for a solid result in 2018. Florence made his intentions clear in his Round 1 match-up with 2018 CT Rookie Michael Rodrigues (BRA) and wildcard Miguel Pupo (BRA) as he posted an excellent 8.17 (out of a possible 10), for a heat total of 15.17 to take a comfortable Round 1 win.
"The waves are firing right now," Florence said. "I've been watching it all morning and knew there were some bigger ones if you waited for them so I just sat and waited for the exact wave I wanted. Luckily when that big open one came when I had priority and it all worked out."
Griffin Colapinto (USA) continued to strengthen his charge in the 2018 CT Rookie of the year race with a solid Round 1 victory over fellow rookie Jesse Mendes (BRA) and CT veteranAdrian Buchan (AUS). After a slow start to his heat, Colapinto found a long draining barrel to take the lead. He then backed it up with the highest single wave score of the event so far with an 8.50 for a critical two turn wave completed with a huge air reverse.
"I've been waiting for a section to do an air like that all year," Colapinto said. "I'm glad the judges left room because I know I've got more to show and I don't want to peak too early. The first half of that heat I was struggling to find a good wave so was stoked to finally get into a rhythm. I know I can get big scores with moves like that which gives me confidence. This wave offers you a lot of options — I love this place."

2018 CT Rookie Griffin Colapinto (USA) throwing caution to the wind at the Corona Bali Protected on his way to a Round 1 heat victory.
Credit: © WSL / Sloane
Gabriel Medina (BRA), Brasil's first WSL Champion survived a bizarre opening heat at the Corona Bali Protected today. The waves just about stopped completely, leaving the current World No. 4 to scrape out a win with a heat total of just 5.60.
"That was a really strange heat," Medina said. "The waves have been good all morning, then the tide changed and the waves just stopped. We didn't even get to surf, really, but that's competition. I really love this wave, hopefully, I can get to surf in the next round."
Current Jeep Leader Julian Wilson (AUS) continued his run of form in 2018 during his opening round heat taking down compatriot Connor O'Leary (AUS) and local wildcard Oney Anwar (IDN). Wilson played a patient game, waiting for the bigger set waves that were still offering open tubes and it paid off as Wilson progresses directly into Round 3 while O'Leary and Anwar will battle it out in elimination Round 2.
"I had a short amount of time in between Brasil and here so didn't really surf," Wilson said. "I just spent time with my family and recharged which was so nice. It's good to be back in the water and especially here at Keramas, it's going to be a good week with no shortage of swell. There is almost too much swell today but it is still a lot of fun out there."
CT sophomore Conner Coffin (USA) barrel rode his way to an impressive heat win against current World No. 2 Filipe Toledo (BRA) and WSL wildcard Mikey Wright (AUS). Although he was stoked with the heat win, Coffin was just as animated about the message behind the Corona Bali Protected CT event.
"It's so good that we are having a real look at issues the environment is facing," Coffin said.  "As a surf community, we spend so much time in the ocean so need to be aware of these things. In Bali, it is very apparent that there is a big issue with trash and plastic so I think it's great that the Corona Bali Protected and WSL are bringing awareness to this and encouraging everyone to do their part in helping to reduce the issues and be conscious of this."
The last time the elite CT rolled into Bali in 2013, Joel Parkinson (AUS) took the win at Keramas. The 2012 WSL Champion started where he left off, narrowly overcoming Italo Ferreira (BRA) and Keanu Asing (HAW) to win the heat and progress directly into Round 3. Parkinson's experience certainly paid off as the newly arriving swell made conditions difficult to read.
"It was definitely tricky to know what waves were going to be good out there," Parkinson said. "All three of us made a few mistakes on wave choice which can be the case in the first heat of the day. There is definitely some sick waves coming through and I was hoping to snag one but I'm just happy to get the job done. I chose to ride a quad fin set up (four fins as opposed to three) as it's what I rode here in 2013 and it worked well then for me — they're just great in a barreling wave like this."
Last year's Pipe Master Jeremy Flores (FRA) is currently sitting equal 17th on the CT rankings and is looking to change up a couple things this week in Bali in the hopes of posting his best result of the 2018 season thus far.
"It feels strange for me this year, I feel like I am surfing good, but losing heats by really small margins," Flores said. "This year also feels different because I have a baby now and I am missing her when I am away from home. But it's great to be here in Bali, this is my third CT in Bali because I surfed in the Search event at Padang and here in Keramas in 2013. I've changed a few things in my preparation and hopefully, I can make a few heats and climb up the rankings."
It was a tough day for the majority of the 2018 Rookie Class with Michael February (ZAF),Michael Rodrigues (BRA), Jesse Mendes (BRA) Tomas Hermes (BRA) and Wade Carmichael (AUS) all being pushed into the dreaded elimination Round 2.
With a rapidly dropping tide and increasing onshore winds, conditions at Keramas deteriorated leaving the WSL Commissioner's Office to put the event on standby after Heat 11. The WSLCommissioner's will reconvene tomorrow morning at 6:00 a.m. local time to assess the conditions and make the next call for a potential 6:30 a.m. start at the Keramas.
The Corona Bali Protected will be broadcast LIVE on the WSL's Facebook page,WorldSurfLeague.com, and the WSL app. Also, check local listings for coverage from the WSL's broadcast partners.
Surf bumps up a little more on Monday with a good pulse of reinforcing SSW swell. Easing Tuesday but still plenty of juice in the tank, especially early. Then another SW-SSW swell move in to maintain fun size surf through the middle to end of the week, with yet more SSW swell lining up for the 3rd-6th. Early mornings cleanest each day, along with best tides.  Surfline.
Corona Bali Protected Men's Round 1 Results:
Heat 1: Joel Parkinson (AUS) 10.37, Italo Ferreira (BRA) 10.10, Keanu Asing (HAW) 7.17
Heat 2: Owen Wright (AUS) 14.17, Michael February (ZAF) 9.74, Ezekiel Lau (HAW) 9.57
Heat 3: John John Florence (HAW) 15.17, Michael Rodrigues (BRA) 8.00, Miguel Pupo (BRA) 4.16
Heat 4: Conner Coffin (USA) 10.94, Filipe Toledo (BRA) 9.46, Mikey Wright (AUS) 5.84
Heat 5: Gabriel Medina (BRA) 5.60, Barron Mamiya (HAW) 2.97, Tomas Hermes (BRA) 2.07
Heat 6: Julian Wilson (AUS) 11.50, Connor O'Leary (AUS) 6.44, Oney Anwar (IDN) 6.27
Heat 7: Jeremy Flores (FRA) 8.77, Kolohe Andino (USA) 8.66, Ian Gouveia (BRA) 2.73
Heat 8: Jordy Smith (ZAF) 15.10, Joan Duru (FRA) 13.04, Kanoa Igarashi (JPN) 8.33
Heat 9: Griffin Colapinto (USA) 15.07, Adrian Buchan (AUS) 10.83, Jesse Mendes (BRA) 10.40
Heat 10: Michel Bourez (PYF) 12.16, Patrick Gudauskas (USA) 8.57, Matt Wilkinson (AUS) 5.67
Heat 11: Willian Cardoso (BRA) 7.84, Frederico Morais (PRT) 6.44, Wade Carmichael (AUS) 4.83
Corona Bali Protected Remaining Matchups: 
Heat 12: Adriano de Souza (BRA), Sebastian Zietz (HAW), Yago Dora (BRA)
Corona Bali Protected Women's Pro Round 1 Matchups:
Heat 1: Tyler Wright (AUS), Johanne Defay (FRA), Coco Ho (HAW)
Heat 2: Tatiana Weston-Webb (HAW), Caroline Marks (USA), Bronte Macaulay (AUS)
Heat 3: Stephanie Gilmore (AUS), Sage Erickson (USA), Carol Henrique (PRT)
Heat 4: Lakey Peterson (USA), Keely Andrew (AUS), Paige Hareb (NZL)
Heat 5: Carissa Moore (HAW), Silvana Lima (BRA), Courtney Conlogue (USA)
Heat 6: Nikki Van Dijk (AUS), Sally Fitzgibbons (AUS), Malia Manuel (HAW)