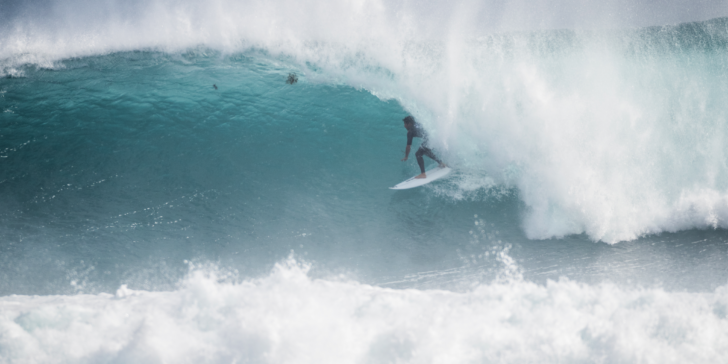 Jeremy Flores Winds Back the Clock at Main Break

Local Favorites Robinson, Hardy, Willcox, and Cox Eliminated Early

World Champions Gilmore, Florence, Medina, and Ferreira Advance to Round of 16

Sage Erickson and Keely Andrew Dispatch Courtney Conlogue
Pictured: Jeremy Flores (FRA) dominated the day with a near-perfect 9.40 against local favorite Jack Robinson (AUS) at the Boost Mobile Margaret River Pro pres. by Corona. Credit: © WSL / Dunbar
MARGARET RIVER, Western Australia, Australia (Monday, May 3, 2021) – The Boost Mobile Margaret River Pro pres. by Corona, the fourth stop on the 2021 World Surf League (WSL) Championship Tour (CT), continued in sizable conditions for the remaining two heats of the men's Seeding Round, the men's and women's Elimination Rounds, and the men's Round of 32. The day's competition saw non-stop action with the overlapping format for the men's Round of 32, and the field is now narrowed to the top 16 men and top 16 women.
Jeremy Flores Pulls Out All the Stops To Take Down Local Favorite
CT veteran Jeremy Flores (FRA) put on one of his best performances in recent history to overcome CT rookie and local favorite, Jack Robinson (AUS), in what was arguably the heat of the season so far. The pair went blow-for-blow, both finding rare Main Break tube rides to post solid scores throughout the matchup with Robinson leading the charge and leaving Flores needing an excellent score to take the lead. Then, with only a couple of minutes left in the heat, the Frenchman found a bomb and laid two massive frontside hacks to post a near-perfect 9.40 (out of a possible 10) to claim victory over Robinson.
"After all of these years this is the sort of heat I'm always hoping for," Flores said. "Coming up against the local boy, who rips in pumping surf, this is what we do this for. We are at opposite ends of our careers, his is starting and I'm coming towards the end. If we were in smaller waves I'd struggle to match it in the air but in waves like this, I know I can perform well. It feels good to know I can still match it with a young beast like Jack Robinson. I'm glad to have a heat with him before I end my career and I'm even more glad to win it."
World Champions Gilmore, Florence, and Medina, Ferreira Advance to Round of 16 
John John Florence (HAW), two-time WSL Champion and two-time event winner, continues to excel at Main Break with a win over Leonardo Fioravanti (ITA) in the Round of 32. Fioravanti opened the exchange with an excellent 8.67 (out of a possible 10) but failed to back up his first score against Florence's 7.67 and 8.37 scores. Florence will now face Peterson Crisanto (BRA) in the Round of 16.
Crisanto eliminated Australian Olympic qualifier Owen Wright (AUS) in the second heat of the Round of 32 with a 14.76 combined score (out of a possible 20) to Wright's 12.60.
Gabriel Medina (BRA), two-time WSL Champion and current World No. 1, shows no signs of slowing down and will advance to the Round of 16 after defeating Connor O'Leary (AUS) in Heat 9 of the Round of 32. Medina posted two seven-point rides for the win and will match up with Seth Moniz (HAW) next. Medina looks on track to equal or improve on his best result in WA after his performances so far.
Italo Ferreira (BRA), current World No. 2, will move into the next round with a win over CT veteran Adrian Buchan (AUS) in Heat 13 of the R/32. Ferreira locked in big scores for a 15.57 two-wave total, but he will now need to pull a win over top-performer Caio Ibelli (BRA) in the next round. Ibelli earned the third highest heat total of the day, an incredible 17.04, against Michel Bourez (FRA). Ibelli's performance was reminiscent of that at this location in 2019 when he finished in equal third place at Main Break.

"I'm feeling a lot of nostalgia from 2019 at the moment," Ibelli said. "Same board, same waves and same light. It all feels so good. Days like this are why we are professional surfers — when the waves are like this — I live for it. We want more events to be like this where you can be entertained all day and then surf pumping waves in our heats. It's so much fun."

2015 WSL Champion Adriano de Souza (BRA) did not make the cut in his heat against Frederico Morais (PRT). De Souza will exit Margaret River in 17th place, which is a surprising result as the former event winner in 2015. Last year, De Souza announced his retirement from full-time competition and the next event will mark his last lap in Australia before retiring at the end of the season.
Local Favorites Robinson, Hardy, Willcox, and Cox Eliminated Early
Event wildcard Willow Hardy (AUS) was eliminated by seven-time WSL Champion Stephanie Gilmore (AUS) and Malia Manuel (HAW) in the first women's Elimination Round. Despite the elimination, the 14-year old showcased major commitment in the waves of consequence in her first CT appearance and let the world know that she will be one to watch in the future.
"That was definitely one for the memories," said Hardy. "I am never going to forget this day. I just love getting out there in the pumping waves and trying to send it. The girls were really encouraging and it was so nice to surf with the people I look up to most. Thank you to everyone for all the support, it has really been amazing."
On the Men's side of the draw, along with rookie Robinson, event wildcard Cyrus Cox (AUS) lost in the first elimination heat of the day to Conner Coffin (USA) and Alex Ribeiro (BRA), while Jacob Willcox (AUS) went down to an in-form Kanoa Igarashi (JPN) in the Round of 32.
Sage Erickson and Keely Andrew Dispatch Courtney Conlogue
Sage Erickson (USA) has been in the Elimination Round three times this season and needed to advance to avoid a second early elimination on the Australian leg. Erickson posted a strong ride on her opening wave, a 6.83 for the lead, and a 5.67 to hold control of the heat. Keely Andrew (AUS) was close behind with a 6.17 and 5.80, putting Courtney Conlogue (USA) under pressure. Despite earning a solid 7.27 and a 4.17, Conlogue missed the requirement on her last wave to advance to the Round of 16.
"I came down last night just to really get a grasp of how big it was and it was huge and the whole bay was closing out," said Erickson. "But today I was nervous again when I saw that we were on. I had a chat with Jessi and Renato about what the forecast was looking like and what to expect, and they really want to elevate and push the women in bigger surf. Being a part of that generation, I can do my part. So today I was like I am going to have fun and Tom was like, 'Just smile, you're so happy and you'll have a great time,' so it's good."
Watch LIVE 
The Boost Mobile Margaret River Pro pres. by Corona runs through May 12. The event will be broadcast LIVE on WorldSurfLeague.com and the free WSL app. Also, check local listings for coverage from the WSL's broadcast partners.For fans wishing to attend the event in person, event entry will be first-come, first-serve starting at 7:00 a.m. AWST on each 'on' day of competition. The venue capacity will be limited to a maximum of 2,500 people at one time, adhering closely to WA state government guidelines. There will be opportunities to enter throughout the day as spots will open when guests leave.
The Boost Mobile Margaret River Pro pres. by Corona is proudly supported by our partners Boost Mobile, Tourism Western Australia, Corona, Red Bull, Oakley, Hydro Flask, Rip Curl, Harvey Norman, Bonsoy, Dometic Outdoor, Bond University, Oakberry, Healthway and Shire of Augusta Margaret River.
Boost Mobile Margaret River Pro Women's Elimination Round 2 Results:
HEAT 1: Malia Manuel (HAW) 11.57 DEF. Stephanie Gilmore (AUS) 10.77, Willow Hardy (AUS) 5.74
HEAT 2: Sage Erickson (USA) 12.50 DEF. Keely Andrew (AUS) 11.97, Courtney Conlogue (USA) 11.44Boost Mobile Margaret River Pro Women's Round of 16 Matchups: 
HEAT 1: Caroline Marks (USA) vs. Bronte Macaulay (AUS)
HEAT 2: Johanne Defay (FRA) vs. Amuro Tsuzuki (JPN)
HEAT 3: Tatiana Weston-Webb (BRA) vs. Sage Erickson (USA)
HEAT 4: Tyler Wright (AUS) vs. Brisa Hennessy (CRI)
HEAT 5: Carissa Moore (HAW) vs. Macy Callaghan (AUS)
HEAT 6: Isabella Nichols (AUS) vs. Keely Andrew (AUS)
HEAT 7: Stephanie Gilmore (AUS) vs. Nikki Van Dijk (AUS)
HEAT 8: Sally Fitzgibbons (AUS) vs. Malia Manuel (HAW)

Boost Mobile Margaret River Pro Remaining Men's Seeding Round 1 (H11-12) Results:
HEAT 11: Owen Wright (AUS) 15.00 DEF. Jeremy Flores (FRA) 11.77, Deivid Silva (BRA) 10.00
HEAT 12: Caio Ibelli (BRA) 13.30 DEF. Ethan Ewing (AUS) 12.63, Yago Dora (BRA) 11.50

Boost Mobile Margaret River Pro Men's Elimination Round 2 Results: 
HEAT 1: Conner Coffin (USA) 14.00 DEF. Alex Ribeiro (BRA) 9.94, Cyrus Cox (AUS) 6.87
HEAT 2: Deivid Silva (BRA) 13.03 DEF. Frederico Morais (PRT) 12.43, Reef Heazlewood (AUS) 10.77
HEAT 3: Jack Robinson (AUS) 14.17 DEF. Yago Dora (BRA) 13.00, Mikey Wright (AUS) 12.06
HEAT 4: Morgan Cibilic (AUS) 14.74 DEF. Connor O'Leary (AUS) 14.43, Jack Freestone (AUS) 11.16

Boost Mobile Margaret River Pro Men's Round of 32 Results:
HEAT 1: John John Florence (HAW) 16.04 DEF. Leonardo Fioravanti (ITA) 11.00
HEAT 2: Peterson Crisanto (BRA) 14.76 DEF. Owen Wright (AUS) 12.60
HEAT 3: Griffin Colapinto (USA) 15.67 DEF. Deivid Silva (BRA) 10.40
HEAT 4: Jeremy Flores (FRA) 17.00 DEF. Jack Robinson (AUS) 16.50
HEAT 5: Jordy Smith (ZAF) 12.67 DEF. Alex Ribeiro (BRA) 12.64
HEAT 6: Julian Wilson (AUS) 12.67 DEF. Wade Carmichael (AUS) 10.46
HEAT 7: Ryan Callinan (AUS) 15.00 DEF. Ethan Ewing (AUS) 8.80
HEAT 8: Frederico Morais (PRT) 14.50 DEF. Adriano de Souza (BRA) 12.30
HEAT 9: Gabriel Medina (BRA) 14.97 DEF. Connor O'Leary (AUS) 11.57
HEAT 10: Seth Moniz (HAW) 15.03 DEF. Morgan Cibilic (AUS) 14.84
HEAT 11: Matthew McGillivray (ZAF) 14.06 DEF. Conner Coffin (USA) 11.83
HEAT 12: Kanoa Igarashi (JPN) 14.76 DEF. Jacob Willcox (AUS) 14.33
HEAT 13: Italo Ferreira (BRA) 15.57 DEF. Adrian Buchan (AUS) 10.50
HEAT 14: Caio Ibelli (BRA) 17.04 DEF. Michel Bourez (FRA) 13.24
HEAT 15: Jadson Andre (BRA) 10.90 DEF. Yago Dora (BRA) 10.64
HEAT 16: Filipe Toledo (BRA) 15.50 DEF. Miguel Pupo (BRA) 11.33

Boost Mobile Margaret River Pro Men's Round of 16 Matchups:
HEAT 1: John John Florence (HAW) vs. Peterson Crisanto (BRA)
HEAT 2: Griffin Colapinto (USA) vs. Jeremy Flores (FRA)
HEAT 3: Jordy Smith (ZAF) vs. Julian Wilson (AUS)
HEAT 4: Ryan Callinan (AUS) vs. Frederico Morais (PRT)
HEAT 5: Gabriel Medina (BRA) vs. Seth Moniz (HAW)
HEAT 6: Matthew McGillivray (ZAF) vs. Kanoa Igarashi (JPN)
HEAT 7: Italo Ferreira (BRA) vs. Caio Ibelli (BRA)
HEAT 8: Jadson Andre (BRA) vs. Filipe Toledo (BRA)