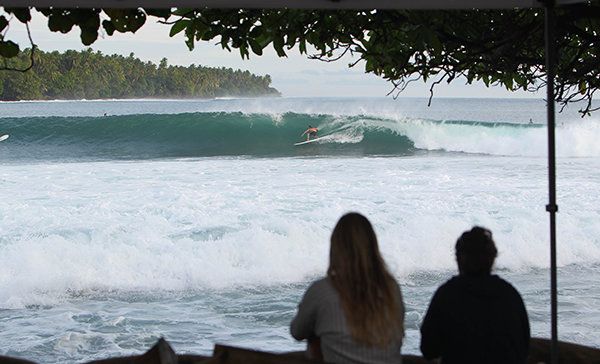 – HISTORICAL EVENT BEGINS WITH TUPIRA PERFECTION
– MASSIVE DAY OF COMPETITION UNFOLDS WITH INCREDIBLE PERFORMANCES
– BOTH MEN AND WOMEN'S VITAL ROUND TWO MATCHUPS DETERMINED
Caption: An incredible day of historical, groundbreaking action came to life at Tupira, Papua New Guinea as the first-ever professional surfing event was called ON in pumping waves.
Credit: © WSL / Tim Hain
TUPIRA, Papua New Guinea (Sunday, March 19, 2017) – The World Surf League (WSL) Kumul PNG World Longboard Championships fired into a historical day of action with Tupira perfection reeling through from start to finish. Morning's first light revealed three-to-six foot waves as the world's best got their true first taste of Papua New Guinea power for the first-ever professional surfing event on the country's soil.  Competition scorched through Round One of both the men and women's event, setting up crucial Round Two elimination heats.
Thousands of spectators from around the PNG provinces flooded in to witness this groundbreaking event and created a standing room only atmosphere throughout the day.

Ben Skinner (GBR) finding a proper Tupira barrel in the first-ever heat contested on PNG soil.
Credit: WSL/ Hain
Ben Skinner (GBR), Alfonzo Pieters (ZAF) and Kevin Skvarna (USA) represented the first-ever heat on PNG soil and it was Skinner who found the Tupira gems for a big win. Skinner earned a 7.83 (out of a possible 10) on his final wave to solidify the win and advance directly into Round Three. The Great Britain competitor looked poised and confident inside the hollow barrels on offer at the start of the event.
"It was epic, it really is amazing to be here in this beautiful place," Skinner said. "We all didn't know what to expect coming in, what the wave was going to be like, how the culture was going to be and it's just been amazing. In the past I've put a lot of pressure on myself and I'm just not doing that anymore, I just want to enjoy it. How can you not when it's that good out there — and that's what it's all about to me now. It was great to surf with just two other people out there."
Two-time World Champion Piccolo Clemente (PER) followed Skinner's performance with a 7.23 and had Great Britain's newest threat, Joe Hornbuckle (GBR), in a combination situation when the last horn sounded and left Lucas Garrido Lecca (PER) needing an 8.27. Clemente's style on the open face and knowledge inside the tube provided him with the tools he needed to open up strong.
"This morning we woke up to really good conditions and it slowed down for my heat, but I just waited for a good one and it worked out," Clemente said. "I love this place, it's incredible to see this wave and experience a culture like this. It's such a perfect, strong wave and the exact opposite of China so it's such a good test for us. Getting a new event is so great for our tour and for the competitors to compete here at this amazing venue."

Tayler Jensen (USA) driving down the face on his opening wave in Round One.
Credit: WSL/ Hain
But, it was Taylor Jensen (USA) who turned heads with the first excellent score, an 8.00, of the day to begin his PNG campaign. Jensen's powerful down carve in a punchy section followed his stylish noseriding on the open face. The American, who spends just as much time in Australia, knows what it will take to earn a World Title with a multi-event series now on offer and proved he's a threat here at Tupira to begin that campaign.
"I knew right away it was bigger than yesterday just hearing it in the dark," Jensen said. "That wind earlier this morning was a little tricky but it made the wave really hollow so when I paddled out for my heat I thought there may be more barrels. But, as soon as I got out there I saw the wind die and knew it would come down to just good surfing and draw things out a little bit."
"Whoever wins this event is looking really good going into the next event because the points are so top-heavy," Jensen added. "I'd really like to start off strong here and, going to that Taiwan wave for the last five years in a row, it's really different to this so I think we're going to get a really unique champion."
Surfing history was made in Round One, Heat 5 as Papua New Guinea's National Champion, Titima Mange (PNG), was the first-ever representative for his native country of PNG in a WSL event as Akun Alois (PNG) followed in Heat 6. Though it was Shohei Akimoto (JPN) who came out with the win over Mange, and massive upset to 2016 WLC runner-up Steven Sawyer (ZAF), this marks an incredible day for the surfing future of PNG.

Phil Razjman (BRA) wearing the coveted yellow jersey as the 2016 World Champion made his 2017 debut.
Credit: WSL/ Hain
Phil Rajzman (BRA) opened up strong to begin his Title defense here at Tupira, advancing directly to Round Three with a big win over Australian Jack Entwistle (AUS) and wildcard selection Alois. The Brazilian finds himself a long way from home, but has been abroad training and preparing for this event in two different continents and looked razor sharp.
"The wave was really good and I'm in love with PNG, the locals are just amazing — everything's incredible," Rajzman said. "I got some good barrels this morning, but in my heat it was different conditions and still just as heavy and fun. I spent three months in Hawaii and after that I went to Australia so I'm feeling really confident. Everyone here has the potential to be a World Champion so it's not easy, but I came here prepared to do my best."
Also advancing straight into Round Three, Rodrigo Spahier (BRA), Edouard Delpero (FRA), Kai Sallas (HAW), Adam Griffiths (GBR), Cole Robbins (USA), and Antoine Delpero (FRA) found big opening wins to kick off their PNG campaigns.

Rachael Tilly (USA) pulling into a proper Tupira barrel in the opening heat of women's Round One.
Credit: WSL/ Hain
Immediately following the men's action, women's Round One got underway with brilliant performances throughout the afternoon.
2015 World Champion Rachael Tilly (USA) displayed why she holds that Title against Crystal Walsh (HAW) and Maria Fernada Reyes (PER). The San Clemente, California competitor led the charge with a beautiful curtain of Tupira water pouring over her that she was able to come out of after already getting her feet to the nose. The judges awarded Tilly the highest single-wave score of the event thus far with an excellent 8.50, and heat total of 16.23.
"I'm felt really excited to get there after we had the option to either go off for the day or go out and my hand went straight up with the majority of the other girls," Tilly said. "That barrel was one of the best of my life. I got to the nose straight away, hang ten, and then saw it bowl up and just went for it, then got to finish off with a little cutback and I was so stoked. I've been feeling really strong and working hard on surfing, as well as fitness, since China. You don't really know how that can translate to heats so it felt great to see it work well."
History was made once more in Heat 3 as local Tupira wildcard selection Rothy Kurumuk (PNG) became the first PNG women to compete in a WSL event. But, it was 2016 World Champion Tory Gilkerson (USA) who started her campaign brilliantly with win a over Brazilian Atalanta Batista (BRA) and Kurumuk. Despite the bombardment of set waves, Gilkerson was able to find her form and preference of noseriding when given the opportunity.

Caption: Defending women's World Champion Tory Gilkerson (USA) cross-stepping her way into Round Three.
Credit: WSL/ Hain
"I'm stoked to get that first heat out of the way and already looking forward to the next one," Gilkerson said. "This wave is challenging and will definitely see where we all fall in line here with a new spot to dial in. It was still so fun out there with just wave after wave and felt good to wear that gold jersey, but at the same time it felt like all eyes were on me and I had to do well."
Natsumi Taoka (JPN) earned the upset of the day by winning her Heat 4 matchup with last year's runner-up Chloe Calmon (BRA) and PNG's National Champion, and wildcard, Marianne Longa (PNG). Calmon is in search of her first-ever WLC win, but will have to do battle in Round Two if those dreams are to be realized.
Honolua Blomfield (HAW) smashed the final heat of the day with a rousing performance, earning a solid 7.83 and 6.67 to claim a victory over Nava Young (AUS) and Victoria Vergara (FRA). Blomfield looked composed and kept her style intact despite a knee injury back in Noosa, Australia.
"I had an absolute blast out there with the waves being as good as they were," Blomfield said. "My knee isn't bothering that much since I got here, but it's been a tricky thing to deal with since I love to cross step and find the nose as much as I can. It was fun being able to get a few turns in some steeper sections and know that I'm capable to perform — can't wait to get back in the water for more."
Event organizers will reconvene at 7:30am AEDT to determine an 8:00am AEDT start for Round Two of either the men's or women's event. With a promising forecast on the way, today was a historical day in every sense of the word for the country of PNG, its surfers, and the international field of competitors.
Upcoming Kumul PNG World Longboard Championships Men's Round Two Matchups:
Heat 1: Steven Sawyer (AUS) vs. No Show (Top seeded surfers get pass to Round Three)
Heat 2: Matthew Moir (ZAF) vs. No Show (Top seeded surfers get pass to Round Three)
Heat 3: Jeferson Silva (BRA) vs. Akun Alois (PNG)
Heat 4: Jared Neal (USA) vs. Titima Mange (PNG)
Heat 5: Ned Snow (HAW) vs. Damien Castera (FRA)
Heat 6: David Arganda (HAW) vs. Dane Pioli (AUS)
Heat 7: Emilien Fluery (FRA) vs. Joe Hornbuckle (GBR)
Heat 8: Kevin Skvarna (USA) vs. Alfonzo Pieters (ZAF)
Heat 9: Lucas Garrido Lecca (PER) vs. Bage Brayner (BRA)
Heat 10: Tony Silvagni (USA) vs. Jefson Silva (BRA)
Heat 11: Aurelien Meynieux (FRA) vs. Kaniela Stewart (FRA)
Heat 12: Jack Entwistle (AUS) vs. Nic Jones (AUS)
Upcoming Kumul PNG World Longboard Championships Women's Round Two Matchups:
Heat 1: Chelsea Williams (AUS) vs. Victoria Vergara (FRA)
Heat 2: Crystal Walsh (HAW) vs. Maria Fernanda Reyes (PER)
Heat 3: Chloe Calmon (BRA) vs. Ruthy Kurumuk (PNG)
Heat 4: Justine Mauvin (FRA) vs. Marianne Longa (PNG)
Heat 5: Nava Young (AUS) vs. Kathryn Hughes (AUS)
Heat 6: Lindsay Steinreide (USA) vs. Atalanta Batista (BRA)
Kumul PNG World Longboard Championships Men's Round One Results:
Heat 1: Ben Skinner (GBR) 14.43, Alfonzo Pieters (ZAF) 9.27, Kevin Skvarna (USA) 8.43
Heat 2: Piccolo Clemente (PER) 14.06, Lucas Garrido Lecca (PER) 10.33, Joe Hornbuckle (GBR) 5.10
Heat 3: Rodrigo Sphaier (BRA) 14.74, Tony Silvagni (USA) 11.00, Dane Pioli (AUS) 8.96
Heat 4: Taylor Jensen (USA) 15.10, Damien Castera (FRA) 10.31, Aureliean Meynieux (REU) 8.76
Heat 5: Shohei Akimoto (JPN) 11.00, Steven Sawyer (AUS) 9.33, Titima Mange (PNG) 5.93
Heat 6: Phil Rajzman (BRA) 14.10, Jack Entwistle (AUS) 8.67, Akun Alois (PNG) 3.80
Heat 7: Edouard Delpero (FRA) 13.66, Emilien Fluery (FRA) 12.24, Bage Brayner (BRA) 9.77
Heat 8: Harley Ingelby (AUS) 12.83, Jefson Silva (BRA) 9.77, David Arganda (HAW) 9.60
Heat 9: Kai Sallas (HAW) 14.07, Ned Snow (HAW) 13.44
Heat 10: Adam Griffiths (GBR) 11.96, Matthew Moir (ZAF) 10.47, Kaniela Stewart (HAW) 10.10
Heat 11: Cole Robbins (USA) 14.80, Jared Neal (AUS) 11.37
Heat 12: Antoine Delpero (FRA) 13.57, Nic Jones (AUS) 11.64, Jeferson Silva (BRA) 11.10
Kumul PNG World Longboard Championships Women's Round One Results:
Heat 1: Rachael Tilly (USA) 16.23, Crystal Walsh (HAW), Maria Fernanda Reyes (PER) 9.17
Heat 2: Kaitlin Maguire (USA) 11.87, Chelsea Williams (AUS) 9.87, Justine Mauvin (REU) 9.07
Heat 3: Tory Gilkerson (USA) 11.30, Atalanta Batista (BRA) 8.40, Ruthy Kurumuk (PNG) 4.20
Heat 4: Natsumi Taoka (JPN) 13.77, Chloe Calmon (BRA) 13.46, Marianne Longa (PNG) 3.94
Heat 5: Alice Lemoigne (REU) 12.50, Lindsay Steinreide (USA) 11.53, Kathryn Hughes (AUS) 9.13
Heat 6: Honolua Blomfield (HAW) 14.50, Nava Young (AUS) 12.60, Victoria Vergara (FRA) 8.53