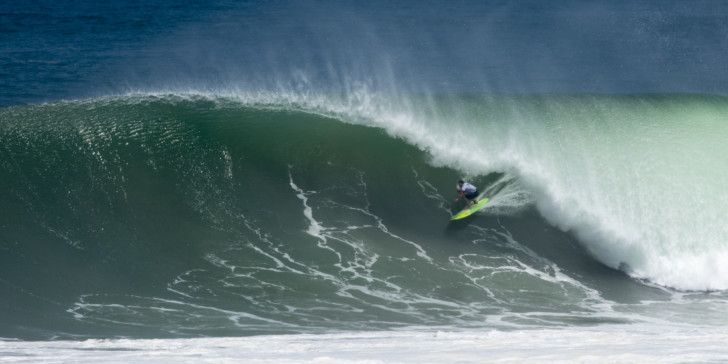 Saturday, June 25, 2016
Grant Baker's dominance at the Puerto Escondido Challenge culminated in this Perfect 10 during the Final. The South African led wire-to-wire to earn the first win of the 2016 Big Wave Tour season.
Makua Rothman injured during final.
FULL STORY ON THE WAY….
FRIDAY- SEMIFINALISTS DETERMINED FOR BWT PUERTO ESCONDIDO CHALLENGE
– LONG, ROTHMAN, SKUDIN & MITCHELL DROP MASSIVE SCORES
– SWELL BUILDING FOR DRAMATIC FINISH TOMORROW
 Jamie Mitchell (AUS) earned a near-perfect 29.03 in Round 1 Heat 4 of the BWT Puerto Escondido Challenge. Mitchell will compete in the Semifinals when competition gets back underway tomorrow morning.
Image: WSL / Morales
| | |
| --- | --- |
| Location:    | Puerto Escondido, Mexico |
| Holding period:  | April 27 – August 31, 2016 |
| Call: | Round 1 complete |
| | |
| --- | --- |
| Conditions: | 25′ – 35′ surf |
PUERTO ESCONDIDO, Oaxaca/Mexico (Friday, June 24, 2016) – The Puerto Escondido Challenge, the first event of the 2016/17 World Surf League (WSL) Big Wave Tour (BWT), kicked off today with monstrous 30-35 foot-plus face waves in unruly and challenging beach break conditions.
With only the top three finishers from each six-man heat advancing out of Round 1, the world's best big wave surfers battled the elements to secure a spot in the Semifinals.
2015/16 BWT Champion Greg Long (USA) led the field with back-to-back solid scores in Round 1 Heat 1 and was the first surfer to secure his place in the Semifinals. Long set the pace for the opening heat of the event by picking off multiple right-hand barrels to earn a 20.01 heat score (out of a possible 30). Albee Layer (HAW) secured a 12.83 heat score and the second position. Kai Lenny (HAW) and Gabriel Villaran (PER)battled for third place, but it was Lenny who showcased full commitment as he pulled into a deep barrel and edged out Villaran by only 3.10 points. Villaran, Jose Ramirez (MEX) and Koa Rothman (HAW) are eliminated from the event.
"The waves are really good right now and there are a lot of corners if you know where to sit," Long said. "I actually deliberately rode a much bigger board than I ever do out here. There is a lot more volume so I could cover the ground that I needed to. It is something new for me, but in a heat if you can't catch a wave, nothing else matters. My strategy was to keep moving around wherever it was clean and I locked in four waves."
Caption: 2015/16 BWT Champion Greg Long (USA) speeds through a heavy barrel during Round 1 Heat 1. Long will surf again in the first Semifinal match-up when competition resumes tomorrow.
Image: WSL / Heff
2014/15 BWT Champion Makuakai Rothman (HAW) charged through Heat 3, withPedro Calado (BRA) and BWT veteran Carlos Burle (BRA) close behind. Rothman, last year's BWT runner-up, locked in a near-perfect 9.50 and a solid 7.80 back-up score. Calado fired with an excellent 9.07 and 6.93 to earn the second position. With only 0.29 points between Burle and event wildcard Angelo Lozano (MEX), Burle's 23.56 heat total was enough to advance to the Semifinals.

"This is my second time to Mexico and the waves are really fun," said Rothman. "I was just in the right place at the right time. I am not thinking about the end result. I am just thinking about my first wave tomorrow morning and hopefully I am in the right spot. The local boys charge."

Caption: Makuakai Rothman (HAW) dominated Round 1 Heat 3 and will advance to the second heat of the Semifinals.
Image: WSL / Morales
Jamie Mitchell (AUS) netted the highest single-wave score of Round 1, a perfect 10.00, with an extremely technical barrel ride in Heat 4. Mitchell's final score, a near-perfect 29.03, was the highest of the day, earning him the heat win and a place in the Semifinals. The bout also saw high-scoring rides from local wildcard Jimel Corzo (MEX)and Rusty Long (USA), who will also proceed to the Semifinals.
"I think we were all worried about the fourth heat with the wind coming up, but I think we scored the best conditions of the day," Mitchell said. "The tide was dropping, the winds stayed glassy and the swell was peaking. I found an early right hander and nearly made it out, which put me into a good rhythm. I found that left and didn't think I was going to make it, but somehow I pulled out of that. It was an historic day. Incredible surf and incredible barrels."
Will Skudin (USA) charged through Heat 2 and claimed the heat win with a 22.07 heat total over former BWT Champion Grant Baker (ZAF) by only 0.74 points. Rogercin Ramirez (MEX), event wildcard and local favorite, opened Heat 2 with a monstrous barrel, pulling off a technical exit to earn an authoritative 9.00, which brought the large hometown crowd to their feet. Ramirez held the lead against the field, but with fifteen minutes left on the clock, Skudin and Baker fought back to secure the first and second positions, respectively. Skudin, Baker and Ramirez will advance to the Semifinals. BWT heavyweights Billy Kemper (HAW) and Damien Hobgood (USA), along with local wildcard Coco Nogales (MEX) were knocked out of the competition.
"It was hard to find those corners out there," Skudin said. "It was big and heavy, and I just put my head down and kept on going. I was hoping that eventually I'd lock one down and make a good barrel. Unfortunately, I didn't make a really good barrel, but I made it through the heat."
Caption: Will Skudin (USA) charged through Round 1 to earn a spot in the Semifinals of the Puerto Escondido Challenge.
Image: WSL / Hinkle
Event officials will reconvene tomorrow morning at 7:00 a.m. local time for a possible 7:30 a.m. start.
The Puerto Escondido Challenge will be webcast LIVE at WorldSurfLeague.com.
The event is also being carried by the WSL's LIVE broadcast partners Fox Sports Australia, CBS Sports in the United States, ESPN Brasil, Globosat, Edgesport, Sky NZ, Sport TV, Canal + Deportes, Channel Nine, MCS, Starhub, and Oceanic Time Warner Cable 250 & 1250 in Hawaii.
Puerto Escondido Challenge Round 1 Results:
Heat 1: Greg Long (USA) 20.01, Albee Layer (HAW) 12.83, Kai Lenny (HAW) 12.66, Gabriel Villaran (PER) 9.56, Jose Ramirez (MEX) 8.77, Koa Rothman (HAW) 6.46
Heat 2: Will Skudin (USA) 22.07, Grant Baker (ZAF) 21.33, Rogercin Ramirez (MEX) 20.73, Billy Kemper (HAW) 18.87, Damien Hobgood (USA) 18.23, Coco Nogales (MEX) 11.01
Heat 3: Makuakai Rothman (HAW) 26.80, Pedro Calado (BRA) 25.07, Carlos Burle (BRA) 23.56, Angelo Lozano (MEX) 23.27, Trevor Carlson (HAW) 16.93, Tom Lowe (GRB) 12.74
Heat 4: Jamie Mitchell (AUS) 29.03, Jimel Corzo (MEX) 24.43, Rusty Long (USA) 23.84, Cristian Merello (CHL) 21.34, Nic Lamb (USA) 14.13, Oscar Moncada (MEX) 7.00
Puerto Escondido Challenge Semifinal Match-Ups:
Semifinal 1:  Greg Long (USA), Albee Layer (HAW), Kai Lenny (HAW), Will Skudin (USA), Grant Baker (ZAF), Rogercin Ramirez (MEX)
Semifinal 2: Makuakai Rothman (HAW), Pedro Calado (BRA), Carlos Burle (BRA), Jamie Mitchell (AUS), Jimel Corzo (MEX), Rusty Long (USA)
2016/2017 WSL Big Wave Tour Schedule:
Southern Hemisphere: April 27 – August 31, 2016
Puerto Escondido Challenge: Puerto Escondido, Mexico
Quiksilver Punta de Lobos Challenge: Punta de Lobos, Chile
Billabong Pico Alto Challenge: Pico Alto, Peru
Northern Hemisphere: October 15, 2016  – February 28, 2017
Pe'ahi Challenge: Haiku, Hawaii
Todos Santos Challenge: Todos Santos, Mexico
Nazaré Challenge: Nazaré, Portugal