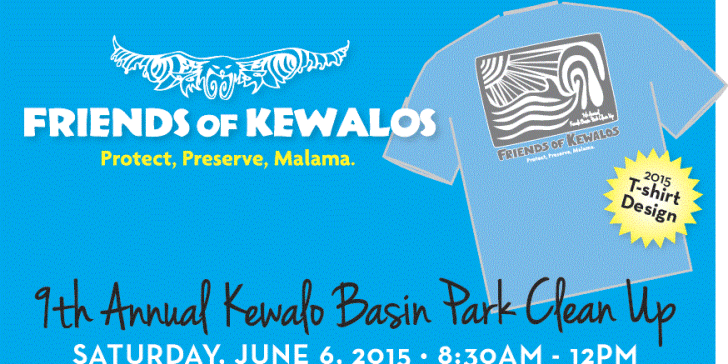 Million Mahalos for your support: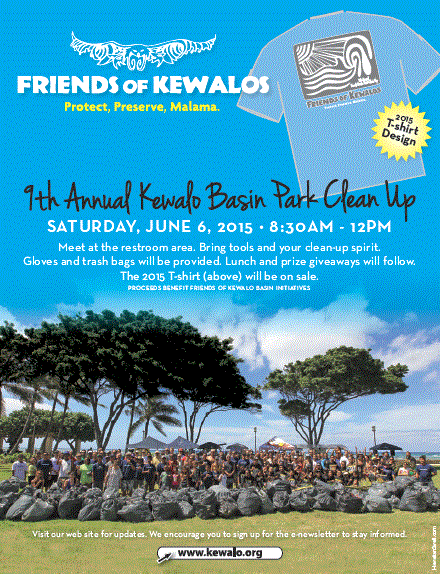 Aloha Friends,
FRIENDS OF KEWALOS invites you to our 9th Annual Kewalo Basin Park Clean-Up and Fundraiser on Saturday, June 6, 2015.  Come with your "smiling clean up faces" to "Celebrate Kewalos" and give back to our beloved park for all that it does to enhance our lives.
Fundraiser >  We will be selling our Clean up T-shirt (see flyer)designed by Darin Isobe, the winner of our first design contest.  Mahalo for all the entries.  His artwork for his design was done over 25 years ago.
Our drawing offers a surfboard, glass wave sculpture, photos and other good stuff.
This event is FOK's major fundraiser for the year with all proceeds going to fulfill our mission.
After we clean, all will be rewarded with an ono chili plate lunch, hot dogs, and shaved ice prepared by the "Straight Outs Gang" and our neighbor, KUPU.  We will be offering lucky number prize giveaways.
If we get enough donations we will have enough for all.
Donations > We are accepting donations of any kind for our drawing, prize giveaways, trash bags, gloves, rakes, pick ups, etc.  We are a non profit 501 C3 so your donation is tax deductible.  Please let us know at info@kewalo.org
Update on Kewalo developments >  FOK will be presenting a full update on the Kewalo developments.
Educational booths > Visit the Barbless Hook project, PAC I00S, KUPU, and others.
Parking >  We are working on over flow parking at the vacated NOAA site next to KUPU.  The gravel lot used last year is not available because it is being leased.
SAVE THE DATE AND SEE YOU THERE!
Mahalo,
Friends of Kewalos
PROTECT, PRESERVE, MALAMA