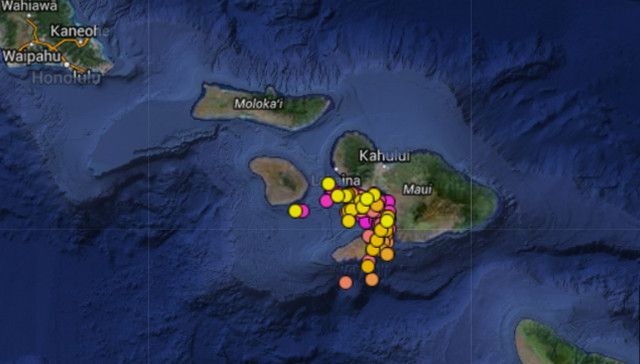 Tracking the movement of subject 122984, a 14.7 ft female tiger shark
PacIOOS Hawaii program tracks 24 larger tiger sharks
Surf News Network, 28 November, 2014 . Researchers at UH Mānoa are tracking tiger shark movements in coastal waters around Maui and O'ahu.  Twenty-four large tiger sharks were captured and fitted with tracking devices off Kīhei, Olowalu and Kahului, Maui. The tagging efforts are providing new insights into the coastal habitats most frequently visited by tiger sharks around Maui.
PacIOOS is one of eleven regional observing programs in the U.S. that are supporting the emergence of the U.S. Integrated Ocean Observing System (IOOS®) under the National Oceanographic Partnership Program (NOPP).
The PacIOOS region includes the U.S. Pacific Region (Hawai'i, Guam, American Samoa, Commonwealth of the Northern Mariana Islands), the Pacific nations in Free Association with the U.S. (Republic of the Marshall Islands, Federated States of Micronesia, Republic of Palau), and the U.S. Minor Outlying Islands (Howland, Baker, Johnston, Jarvis, Kingman, Palmyra, Midway, Wake).
The PacIOOS Voyager map shows the movements of several tiger sharks who were fitted with satellite tags near Maui and Oʻahu in late 2013 and 2014. These tags intermittently track their locations over time as the shark's dorsal fin breaches the water's surface.