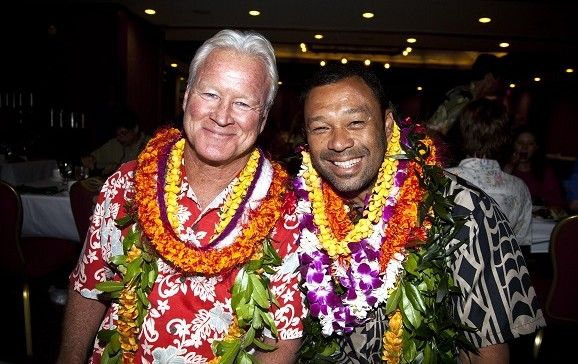 Photo: Randy Rarick and Sunny Garcia honored at the Hawaii Sports Hall of Fame in Honolulu last night. Image: Neal Miyaki
Surf News Network HONOLULU, Hawaii/USA (Wednesday, May 6, 2015) – Professional surfing co-founder, Vans Triple Crown of Surfing Executive Director, and global surfing icon Randy Rarick last night announced his full retirement during a reverent Hawaii Sports Hall of Fame induction ceremony, held at Honolulu Country Club.
Rarick was inducted as a "Pioneer" and will forever stand as a Legend of the sport of professional surfing. He now passes the torch to a newly-structured WSL Hawaii team that will be led by General Manager Jodi Wilmott.
Randy's combined passions of surfing, surf travel and professionalism have paved the way for generations of surfers to date and the positive impacts of his contributions will be felt for generations to come.
"My efforts along the way have always been to honor the sport of surfing and the meaning it has brought to my life and countless others around the world," Rarick said. "Surfing is truly, uniquely Hawaiian and I'm honored to have had a career that has shaped and spanned my entire life. I would also like to honor others along the way who have helped me to do that, including Fred Hemmings, Buffalo Keaulana, Rell Sunn and Gerry Lopez."
Inducted alongside Rarick was Hawaiian Sunny Garcia, 2000 ASP World Champion and 6X Vans Triple Crown of Surfing Champion, whose superlative career has spanned 30 years under Rarick's watch.
Garcia has accepted a position as Youth Mentor and Development Officer with WSL Hawaii, and will work with the regional team to support up-and-coming local talent through mentoring, competitive guidance, and developmental opportunities.
"Today is about giving back to the kids and to promote surfing in the same way Duke Kahanamoku did, to show people what a great place we have here in Hawaii," Garcia said. "Randy, I appreciate everything you've done for surfing. Without you, I wouldn't be here today."
WSL Hawaii continues to be supported by its core team of Faith Wenzl, Bert Ishimaru, Sean Wingate and Marty Thomas.
For more information, log onto www.worldsurfleague.com