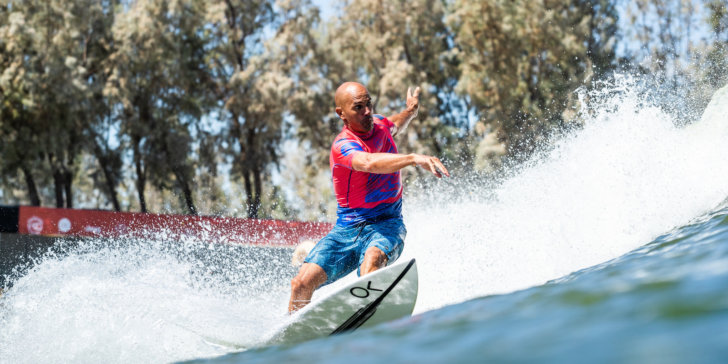 Cover Shot of the 'Wave Creator' carving his way through day one.  PHOTO: © WSL / Cestari
Medina and Defay Fire Off Near-Perfect Scores in Debut

Colapinto and Peterson Push the Packs on Opening Da

Stage Set for Vital Cut Day to Start Weekend Action
 Defay stalls for the ultimate vision to garner a near-perfect 9.33 to kick off her Freshwater Pro presented by Outerknown debut.
Credit: WSL/ Cestari
LEMOORE, California/USA (Thursday, September 19, 2019) – The opening day of the World Surf League (WSL) Freshwater Pro presented by Outerknown, the seventh stop of the women's Championship Tour (CT) and eighth stop of the men's CT, fired into action with the world's best taking on perfection at the Surf Ranch. The pressure-cooker was in full effect with men's Round of 36 powering through half of their contingent and the women's Round of 18 getting underway. The implications of this event are paramount and tested the world's best with all eyes on them as some thrived and others merely survived.

Medina and Defay Tip The Scale Toward Perfection
It was current No. 4 on the Jeep Leaderboard and two-time, reigning WSL Champion Gabriel Medina (BRA) who decimated his debut with an immaculate 17.77 (out of a possible 20) heat total, surfing alongside the likes of wildcard Barron Mamiya (HAW) and 11-time World Champion Kelly Slater (USA). Medina's signature "Kerrupt Flip" aerial maneuver finish earned him an excellent 8.27 before dismantling the righthander to earn an equivalent 8.27. The World Champ looks to defend his Freshwater Pro win and showed that desire to perform by improving opening scores with an 8.77 and near-perfect 9.00.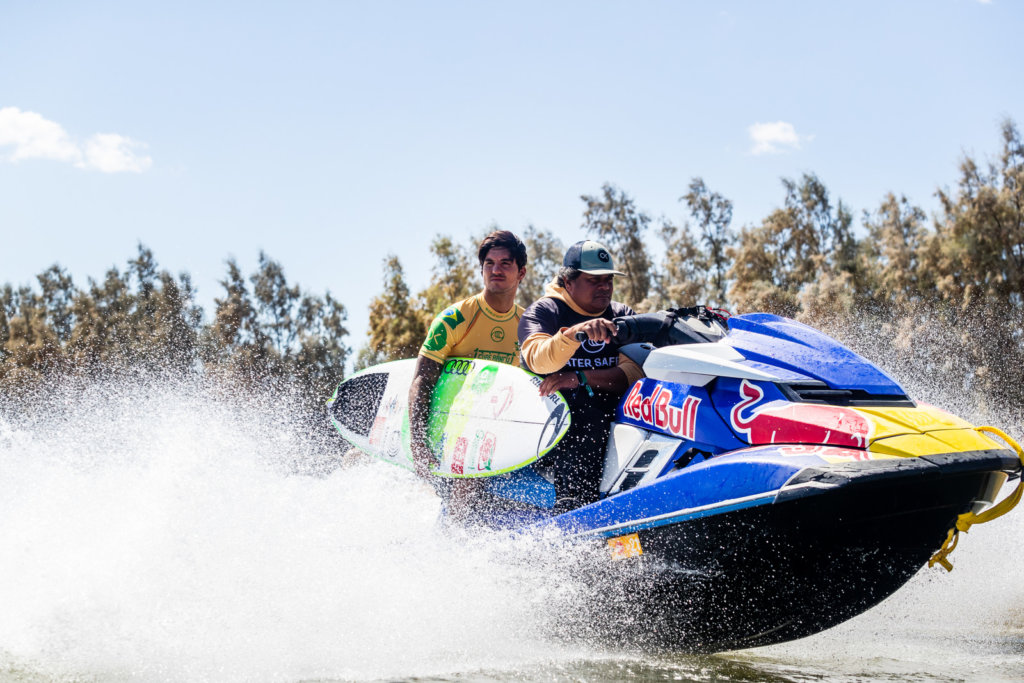 Medina taking the easier way out …to the highest score of the day. PHOTO: © WSL / Cestari
"I just want to thank God for this opportunity and we have perfect waves, all we have to do is surf our best," Medina said. "I'm happy with my performance. The turns I wanted to do on both waves I was able to do so it feels amazing to not have any mistakes. It's important to be toward the top of the leaderboard but there's still so much to go but I'm feeling good and confident. I like this pressure situation and I feel that pressure, I think everyone does. Hopefully, I can keep this going and get another good result."
Current World No. 10 Johanne Defay (FRA) is searching for a breakthrough result, only accruing a Quarterfinal appearance so far in 2019, and started off in near-perfect form during her second run with a 9.33 and 17.50 (out of a possible 20) heat total. Defay was in disbelief coming out of the basin and can rest easy heading into cut day atop the event leaderboard.

"I can't believe it, usually I get my best score on the left and honestly I'm just so surprised," Defay said. "I was really feeling good and didn't feel a lot of stress when I got here after stressing at home since it was such a long day, overthinking everything. So just getting in the water, I wanted to have fun after I felt like I had some good waves on the training day. I'll just take it all and I'm stoked to get another chance to surf."

Medina's fellow countrymen and World Title threat Italo Ferreira (BRA) is on a whirlwind of competitions after competing in Tahiti, Japan, and now the Freshwater Pro with a great debut to put him third on the leaderboard despite feeling the fatigue. Current World No. 1 Filipe Toledo (BRA) and No. 2 Jordy Smith (ZAF) await their starts on Friday, but current No. 3 Kolohe Andino (USA) continues his World Title chase here in Lemoore and currently sits at No. 16 on the event leaderboard with 12 surfers still to take their opening run.

Americans Peterson and Colapinto Unphased by Surf Ranch Stakes
Colapinto debuted in stunning fashion compared to his 2018 start and sits at No. 2 on the event leaderboard.
Credit: WSL/ Van KirkCT sophomore Griffin Colapinto (USA) took early control of the leaderboard with explosive maneuvers throughout the entirety of his first righthander, garnering an excellent 8.00 (out of a possible 10) and followed up with a brilliant execution of his second left opportunity to back it up with a 7.50. The 21-year-old made vital improvements from his opening performance last year and held the top spot through the day's first competition break."It's a totally different story when the jersey's on just getting a few waves before the event but it's good because you get used to the pressure of the contest," Colapinto said. "I feel like every day I've been warming up the same and doing everything exactly how I would before my heat. I'm really happy about that after bettering my left by 1.50 which is huge for me – I think last year my score was a 5.67 on the left. To do that, all the hard work I feel is paying off."
Current World No. 4 Lakey Peterson (USA) took control out of the gates as women made their debut to close out qualifying day. The Santa Barbara, California, native opened up on her forehand attack and showcased multiple power turns in critical sections from start to finish and accrued an excellent 8.17.

Rookie Moniz Starts Strong, Wildcards Falter 
 2019 CT rookie Seth Moniz (HAW) stood apart from his fellow rookie contingent and handled the nerves brilliantly, sitting at No. 12 on the event leaderboard.
Credit: WSL/ CestariRookie sensation Seth Moniz (HAW) put himself into the Top 10 with a showcase of barrel-riding technique and powerful forehand turns. The young Hawaiian currently sits at No. 9 on the 2019 Jeep Leaderboard coming into the Freshwater Pro in his first year among the world's best and withstood the pressure of his first exhibition at the Surf Ranch. Fellow rookies Deivid Silva (BRA) and Peterson Crisanto (BRA) also got their first experience of perfection but couldn't find their rhythm.Wildcards Barron Mamiya (HAW), reigning WSL World Junior Champion Mateus Herdy (BRA), and Crosby Colapinto (USA) also got their first competitive taste of the Surf Ranch and have plenty of work ahead after struggling in their opening run.

Rookies Macy Callaghan (AUS) and Brisa Hennessy (CRI), along with wildcard Gabriela Bryan (HAW) will surf tomorrow in the women's Round of 18 starting at 12:22 p.m. PT.
Men's Freshwater Pro pres. by Outerknown Leaderboard Top 8
Gabriel Medina (BRA) 17.77
Griffin Colapinto (USA) 15.50
Italo Ferreira (BRA) 14.97
Conner Coffin (USA) 14.07
Kelly Slater (USA) 13.87
Yago Dora (BRA) 13.63
Jesse Mendes (BRA) 13.30
Owen Wright (AUS) 13.26
Click here for full leaderboard
Women's Freshwater Pro pres. by Outerknown Leaderboard Top 4
Johanne Defay (FRA) 17.50
Lakey Peterson (USA) 15.70
Stephanie Gilmore (AUS) 15.00
Paige Hareb (NZL) 13.00