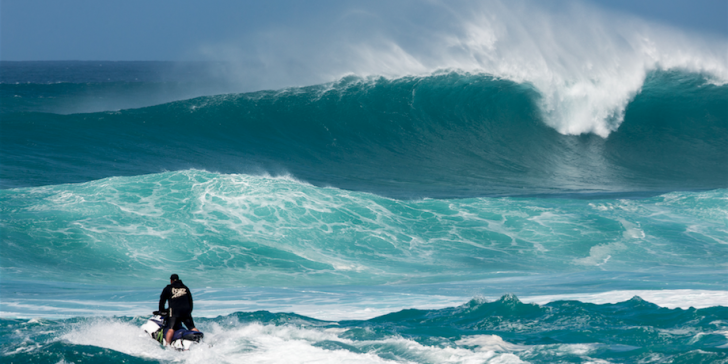 A jet ski operator heads for the lineup as Sunset delivered massive waves during an event in October. Photo: WSL/Freesurf/Heff
 North Shore, Oahu, HAWAII – (Friday, January 15, 2016) — Extremely large waves continue to erupt along the North Shore as a NW swell peaks today with waves heights in the 40-foot range. The Sunset Pro and Sunset Pro Junior is slated to begin this Sunday, with a holding period from January 17 – 27. The event is the first return of the World Surf League (WSL) to the Hawaii region, and will take place on the three best days of surf.
Surfline.com, official forecasters for the event, report that the waves will slowly trend down this weekend but still produce solid surf up to twenty feet on Sunday – highly contestable for the Sunset Beach venue.
"El Niño conditions have been providing consistent large surf on the North Shore all season and the forecast for Sunset Beach looks solid for the Sunset Pro holding period with a number of large NW swells lining up," said WSL Hawaii Surfing Director, Marty Thomas. "Sunday, the opening day, is forecasted to be 8-12-foot Hawaiian scale, perhaps bigger, and we're looking to kick things off day one provided conditions are favorable."
The Sunset Pro is a QS1,000 event and will run for two out of the three days of competition, while the Sunset Pro Junior is a JP1,000 for both men and women, and will run for one full day.
Contest organizers will convene early Sunday to decide whether the Sunset Pro will have an immediate start. Competitors should check in each morning by 7am, but please note there will be no competition on Monday, January 18 in observance of Martin Luther King Jr. Day.