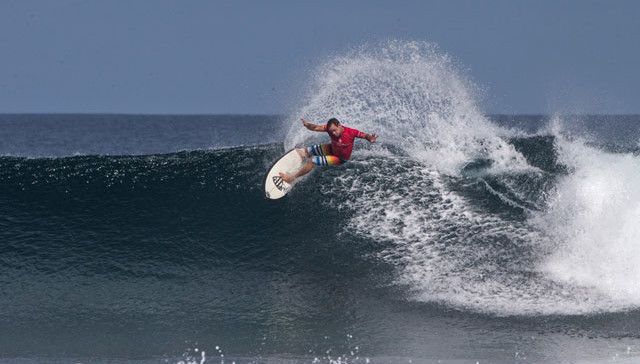 Knox known for his carvy, powerful style & fitness program
Surf News Network, 11 January, 2015 – Reef has signed legendary California surfer and longtime Reef rider, Taylor Knox as a toe-to-head ambassador. Taylor Knox, a.k.a. "Captain America," has been the standard of power surfing for over two decades.
He is best known for having one of the longest and most consistent careers on the ASP World Tour. He first qualified in 1993 and by 1995 was ranked 5th in the world. In 2001, he finished 4th.  Knox's relationship with Reef sprung from the Reef Big Wave World Championships where he won the inaugural K-2 Big Wave Challenge, the predecessor of the Billabong XXL, on a historic 52-foot wave in 1999.
"I'm so excited to be joining Reef toe-to-head! It's an awesome opportunity to join a program that has a great history and some amazing projects happening. I love the vision and always look forward to being on trips with the team," says the 43-year-old from Carlsbad.
Knox is also known as a pioneer of core fitness in surfing. After a skateboarding accident left him with a debilitating back injury at the age of 15, Knox recovered through core training and healthy living. He was among the first professional surfers to discover the benefits of yoga, now commonly practiced by all of the sport's elite.
"Taylor Knox is the epitome of perfect technique and power on a surfboard. He brings to Reef a total package of wisdom, experience and youthful energy that everyone is looking forward to. There is only one Taylor Knox and we are happy to welcome him further into the family," says Reef's Global Ambassador and Events Manager, Shea Perkins.
Knox decided to retire from the ASP after the 2012 season, but still chooses to do select World Qualifying Series events. His surfing at J-Bay also proved one of the highlights of the 2014 Reef Just Passing Through Film, "De Passage." In 2014, he won the Four Seasons Maldives Surfing Champions trophy over such notables as Tom Curren and Sunny Garcia.