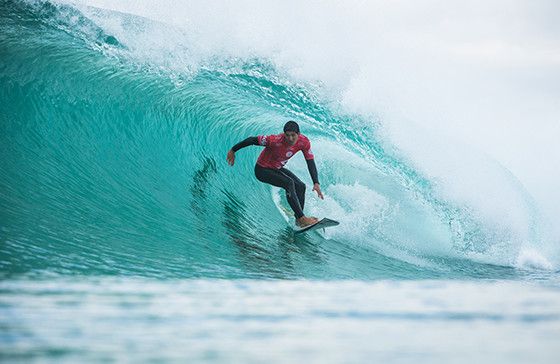 Check out Kolohe's Perfect ride to kick off the update.
– MORAIS AND RIBEIRO ELIMINATE FANNING AND DE SOUZA
– MEDINA & TOLEDO LIGHT UP WITH MASSIVE AERIALS
– GROWING SWELL DELIVERED PUMPING SURF AT SUPERTUBOS
Gabriel Medina (BRA) navigated the Supertubos barrels on his way to a round 4 berth.
Image: WSL / Poullenot
| | |
| --- | --- |
| Location:    | Peniche/Cascais, Portugal |
| Event window: | October 20 – 31, 2015 |
| Today's call: | Rd 2, 3 & Rd 4 H1-2 Completed – Next Call Tomorrow 7:00AM |
| Conditions: | Four-to-Six Foot Surf on Day 6 |
SNN: SUPERTUBOS, Peniche/Portugal (Sunday, October 25, 2015) – A clean swell that built consistently over the day delivered high-quality waves at Supertubos on Sunday to resume the Moche Rip Curl Pro Portugal.  The event is Stop No. 10 on the 2015 Samsung Galaxy World Surf League (WSL) Men's Championship Tour (CT).
A marathon day of excellent surf witnessed Portuguese Wildcards Frederico Morais and Vasco Ribeiro producing stellar performances.
Giant-slayer Frederico Morais (PRT), 23, produced yet another huge upset today by eliminating  current Jeep Leaderboard frontrunner Mick Fanning (AUS), 34. Morais launched his assault in the opening minutes of their exchange with a near-perfect 9.13, displaying  his signature forehand power carves and combination snaps to top it off. The talented natural footer backed up his top score to take the biggest win of his young career.
"It's amazing to win with good scores against Mick Fanning — I'm super stoked," an emotional Morais said. "Any surfer here would have been a tough competitor, but I'm feeling really good and I have nothing to lose. I just wanted to show how I surf. "
Morais later went on to win his non-elimination Round 4 heat to reach the quarterfinals in Peniche.
Despite multiple efforts to get back in the lead, Fanning's Portuguese campaign ended as the three-time WSL Champion could not find the waves he required.
"I was fighting for the inside and thought the set was done, but when I turned around, Frederico was on a dreamboat. He got that 9 and backed it up right away with a couple of 6s," Fanning stated. "I needed close to 16 points before I even stood up; but I put everything into it and I can't be disappointed about that."
Inspired by his countryman's heroics, reigning World Junior Champion Vasco Ribeiro (PRT), 20, went on to defeat current WSL No.2 Adriano De Souza (BRA) in the very next heat. Backed up against the wall, Ribeiro found a way to score an excellent 8.43 to seal the deal.
Unable to capitalize on Fanning's early exit in Peniche, De Souza will need a big result in Hawaii for a shot at his first World Title.
"I feel like I left Vasco by himself for just a second because I saw a wave coming;  he stayed in the same spot and earned an 8 on a left," De Souza reflected. "I think he deserved to win. It's a bummer for me, but at least I'll have another shot at Pipe."
Reigning WSL Champion Gabriel Medina (BRA), 21, advanced into the fourth round of competition, courtesy of a huge backhand full rotation on the buzzer against former QS surfer Caio Ibelli (BRA), 22. Ibelli applied pressure on Medina with a 9.77 in the dying moments of the heat, but the World Champion was non-plussed and went on to launch a massive aerial to take the win.
"I feel blessed to get that last wave, I was asking God for one more opportunity and luckily I got one," Medina said. "Today was a crazy day with the losses of Adriano and Mick, but I'm not thinking World Title, I just want to do good as always. The way I've been surfing lately is working for me and I don't want to add any pressure, I just want to have fun."
Brazil's Filipe Toledo (BRA), 20, solidified his outstanding 2015 with an inspiring performance for a spot in the quarterfinals. The current WSL No.6 — who has won two events this season already — showed his predilection for progressive aerial maneuvers, delivering multiple big scores to defeat wildcard Mason Ho (HAW), 27, in Round 3 and dominate his Round 4 match-up.
"I woke up this morning feeling like something good was going to happen," Toledo said. "I was super confident, my boards were feeling good and I just put my head in the right place and everything worked out for me. It's been a great year for me, and I've been having a lot of fun surfing."
Current WSL No.9 Jeremy Flores (FRA), 27, collected one of the day's highest combined heat totals, an impressive 17.26 including a near-perfect 9.43 on a long right-hander which the young Frenchman dismantled from start to finish. Flores' crisp carves on the open face coincided with the perfect tide that pushed glassy five foot walls through the lineup.
"I felt like I was getting better wave after wave, and finally everything came together for me," Flores said. "It was a crazy day and shows that the level of European's surfing is getting stronger.  Frederico and Vasco surfed amazing and today they beat the two current best surfers in the world. I'm not taking anything away from Mick and Adriano either –they're champions and I'm sure they'll come back with a great show at Pipe."
Kolohe Andino (USA), 21, has been leading the charge at the latest major QS events in Europe and carried that momentum into the Moche Rip Curl Pro Portugal. The young Californian proved lethal in the clean shoulder-high surf, mixing powerful snaps and aerials to force Bede Durbidge (AUS), 32,  out of competition. Andino went on to clinch the first perfect 10 point ride of the event in an amazing Round 4 matchup before sunset.
"I over-surfed one wave and I was pretty mad at myself because my solid surfing is good enough to make it through most heats," Andino said. "I'm stoked to win one over Bede because he's such a great surfer and it's been a good event for me so far. I'm leading the QS so that takes a bit of pressure off for these last two events.  But I want to prove I can requalify through the CT, and this will improve my seeding for next year."
With the eliminations of Caio Ibelli (BRA) and Sebastian Zietz (HAW) today, Andino officially claimed the Portuguese Waves Series – Cascais Trophy, and the US$25,000 prize money bonus, rewarding his consistency throughout the Portuguese leg of events in Azores, Cascais and now Peniche.
"I'm stoked, it's always fun to win," Andino added. "Luckily I won in Cascais and made it pretty hard for the other guys. It's cool that they put this on, it kind of forces CT surfers to enter the QS10,000 which is great for the level."
Brett Simpson (USA), 30, eliminated 11-time WSL Champion Kelly Slater (USA), 43, in Round 3 with a solid display of powerful and progressive surfing to reach the fourth round for the first time this season. Simpson found his rhythm early on and managed to keep his opponent off of the best waves to control the matchup and take an important win.
"I wanted to make sure I got a decent start and tried not to let Kelly do his thing," Simpson said. "Fortunately, with two decent rides and priority, I was able to control the heat. I don't do that enough — this was more of a strategic win. Obviously Kelly is the best ever and I really enjoy surfing against him. I haven't made it to Round 4 this year, but I keep surfing and having fun — the surf stoke is there!"
Nat Young (USA), 24, was the first surfer to achieve a score greater than 9, with a 9.07 for a series of under-the-lip snaps on an overhead bomb this morning. The 2013 WSL Rookie of the Year, Young had an excellent start on the Australian leg this season, followed by a series of inconsistent finishes, and will be looking to advance through a few more rounds when competition recommences.
"Lately, Sebastian (Zietz) has been surfing really well, so I just wanted to go out there and give myself opportunities," Young said. "I felt like I was surfing well, I just needed to get on those waves. I can land airs, but not as consistently as other people so I wanted to be in a good position before going to the air."
Up first when the event resumes will be Vasco Ribeiro (PRT), Keanu Asing (HAW) and Jeremy Flores (FRA) at the Moche Rip Curl Pro Portugal.
Surfline, official forecasters for the World Surf League, are calling for:
Old WNW swell lingers into Sunday AM before reinforcing WNW swell filters in during the afternoon. WNW swell continues into early Monday before fading. Solid swell for Tuesday and Wednesday but onshore winds are expected. WNW swell eases on Thursday before more swell shows for Friday and Saturday but local winds are expected to remain problematic for Supertubos.
The Moche Rip Curl Pro Portugal will run from October 20 – 31, 2015 and be LIVE via webcast on WorldSurfLeague.com and on the WSL mobile app.
Fans around the world can also follow the broadcast LIVE on Fox Sports in Australia, MCS Extreme in France, EDGE Sports in China, South Korea, Malaysia and other territories and on Globo TV in Brazil.
Moche Rip Curl Pro Portugal Round 2 Results:
Heat 8: C.J Hobgood (USA) 12.43 def. Kai Otton (AUS) 6.17
Heat 9: Joel Parkinson (AUS) 12.00 def. Adam Melling (AUS) 7.70
Heat 10: Sebastian Zietz (HAW) 11.90 def. Adrian Buchan (AUS) 9.43
Heat 11: Kolohe Andino (USA) 14.43 def. Jadson Andre (BRA) 9.47
Heat 12: Michel Bourez (PYF) 11.17 def. Miguel Pupo (BRA) 10.83
Moche Rip Curl Pro Portugal Round 3 Results:
Heat 1: Filipe Toledo (BRA) 14.70 def. Mason Ho (HAW) 2.76
Heat 2: Kolohe Andino (USA) 13.06 def. Bede Durbidge (AUS) 10.43
Heat 3: Brett Simpson (USA) 13.54 def. Kelly Slater (USA) 8.06
Heat 4: Nat Young (USA) 16.67 def. Sebastian Zietz (HAW) 13.17
Heat 5: Joel Parkinson (AUS) 15.00 def. Matt Wilkinson (AUS) 14.60
Heat 6: Frederico Morais (PRT) 16.03 def. Mick Fanning (AUS) 14.40
Heat 7: Vasco Ribeiro (PRT) 14.36 def. Adriano De Souza (BRA) 11.80
Heat 8: Keanu Asing (HAW) 13.43 def. John John Florence (HAW) 13.16
Heat 9: Jeremy Flores (FRA) 17.26 def. C.J Hobgood (USA) 12.47
Heat 10: Italo Ferreira (BRA) 14.17 def. Ricardo Christie (NZL) 12.84
Heat 11: Michel Bourez (PYF) 13.17 def. Josh Kerr (AUS) 13.10
Heat 12: Gabriel Medina (BRA) 17.67 def. Caio Ibelli (BRA) 15.87
Moche Rip Curl Pro Portugal Round 4 Results:
Heat 1: Filipe Toledo (BRA) 19.00, Kolohe Andino (USA) 18.00, Brett Simpson (USA)  17.57
Heat 2: Frederico Morais (PRT) 14.96, Nat Young (USA) 14.50, Joel Parkinson (AUS) 7.43
Remaining Moche Rip Curl Pro Portugal Round 4 Match-Ups:
Heat 3: Vasco Ribeiro (PRT), Keanu Asing (HAW), Jeremy Flores (FRA)
Heat 4: Italo Ferreira (BRA), Michel Bourez (PYF), Gabriel Medina (BRA)