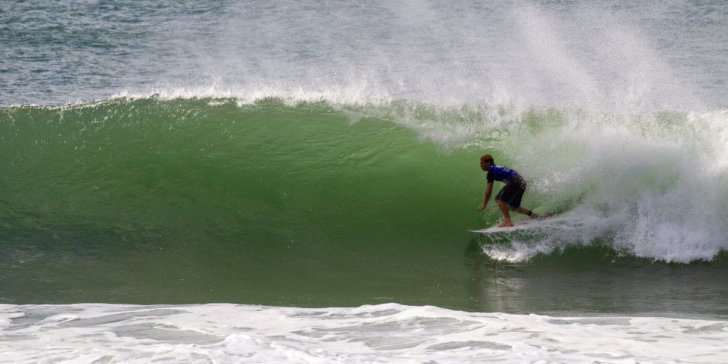 – High-Performance Surfing Lights Up Pipeline In Early Goings
– Kalani David Soars For Impressive Performance
– Shayden Pacarro, Sheldon Paishon Find Backdoor Gems To End Day 1

Front page:  Pipeline began to turn on in the final stages of opening day and offered Backdoor gems like this for Sheldon Paishon (HAW) to capitalize on.
CREDIT: © WSL / Keoki Saguibo
Banzai Pipeline, North Shore, Oahu, Hawaii
Volcom Pipe Pro Men's QS 3,000
BANZAI PIPELINE, Oahu, North Shore/Hawaii (Saturday, February 2, 2019) – It wasn't the iconic Pipeline fans are used to on opening day of the World Surf League (WSL) men's Qualifying Series (QS) Volcom Pipe Pro 3,000-level event, but provided plenty of opportunity with 3-to-5 foot NW swell coming in. Competitors traded heavy barrels for high-performance, high-risk surfing to garner points and those who could adapt rose to the occasion with clutch heat wins. The event ran through Round 1 and Round 2 Heats 1-11, but not before getting a surprise spectacle to close out opening day affairs.

Kalani David showing how to get it done when Pipeline becomes performance.
Credit: WSL/ Heff
Oahu's, Hawaii own Kalani David made his Round 1 debut count in the tough conditions with the round's highest single-wave score of a 7.67 (out of a possible 10). David took advantage of the ramps on offer and soared a huge, full rotation which he landed with ease, adding to his 5.33. It was a redemption heat for the 21-year-old after an early exit at Sunset last week and now looks to capitalize on the opportunity at hand.
"It's definitely better than my Sunset heat, that was a pretty big shocker," David said. "I was thinking about doing that air, should I do it? Should I not do it? Right when I went for it, I kind of missed the section a little bit but then I rode out and it was the best feeling. I was actually wanting to get a wave where I could do a couple turns and show people I can do that too, but you have to do what you have to do."

: Kai Lenny is making moves toward his next goal.
Credit: WSL/ Heff
Maui's Kai Lenny earned a runner-up behind David and finds himself into Round 2 when competition resumes. Lenny is beginning to find his footing in the QS scene, adding to his long list of accomplishments that includes a Puerto Escondido Challenge Big Wave Tour (BWT) win and eight SUP World Titles, by using his ocean knowledge and adaptive style. The Hawaiian has his goals lined up for the year and wants to navigate through the competitive QS grind for a shot at making them happen.
"I think every little kid's dream here in Hawaii is to get into the Triple Crown and it's still one of my ultimate goals," Lenny said. "To be able to do all the events, make Finals, and win events — that would be the ultimate. Doing the events necessary events to get there is very important. Any time you can spend out at Pipe like this event is really extraordinary so you want to keep making heats to surf Pipeline whether it's bad or not. I definitely see myself getting on the QS more mainly because it will continue to help my shortboard surfing and smaller waves. And it's fun competing. If I'm not busy competing in big waves or on some sort of adventure somewhere, why not? Versus training at home, I can compete in a heat somewhere and I'm pretty keen on that."

: From Israel to Pipeline, Cole Houshmand keeps the steam moving.
Credit: WSL/ Keoki
Straight off a third-place finish at the SEAT Pro Netanya and into a Round 2 win at Pipeline, Cole Houshmand (USA) continues to find success early on in 2019. This marks Houshmand's first full year on the QS after flourishing at the Pro Junior level — making his way to World Junior Championships twice and earning his first win in 2017. But, the 18-year-old, San Clemente, Californian, now finds himself in company with some of the world's elite competitors and is already showing signs of maturity to start at the next level.
"It feels amazing after getting a good start in Israel which was my best result at a higher-rated event and it gave me a lot of momentum coming here," Houshmand said. "I was hoping we'd score some good Pipe but it was tough out there. Even though it's not the best, it's still way better than everyday waves at home so I've been surfing almost every day for over three hours. I think that's helped looking back on it and I brought that into the heat which gave me some more confidence."
A handful of international talent also thrived beginning with France's Justin Becretand Kauli Vaast excelling alongside Japanese competitor Yuji Nishi and Peru's Adrian Garcia — all earning heat wins.

Shayden Pacarro finds the first proper barrel of the 2019 Volcom Pipe Pro.
Credit: WSL/ Keoki
But, Pipeline saved the best for last as Shayden Pacarro (HAW) and Sheldon Paishon (HAW) found the gems in their respective heats as new swell began to fill in toward the end of opening day — both earning excellent rides on solid Backdoor barrels. Pacarro set the scale with his 8.17, but it was Paishon who wasn't to be outdone and dropped an 8.83 and 15.10 heat total. Both are into Round 3 with a lot of momentum and made their statements to put an exclamation point on opening day.
"It was very tough out there, but after seeing Shayden's (Pacarro) wave I was just thinking of getting one like that," Paishon said. "I surf everyday so I'm ready for anything and that took off a lot of pressure finding that wave. It gives me a lot of confidence going forward, but I don't want to get ahead of myself. There's still a lot to run but I'm hoping to get more waves like that."
"I saw that it was tough conditions all day so I wasn't sure if I should ride a little shorter board or a bigger board since we had this little swell," Pacarro said. "Up here it's always harder to get into waves. When I showed up I thought we'd still be doing turns and I didn't expect to catch a Backdoor wave. It was a big surprise. But, a barrel a day keeps the doctor away (laughs)."
Event organizers will reconvene for a 7:00 a.m. HST call to determine a possible 8:00 a.m. HST start for Round 2 Heat 12.
The 2018 Volcom Pipe Pro will run on the four biggest and best days of surf within the holding period, determined by contest officials, and will be broadcast LIVE via worldsurfleague.com, the WSL app and volcom.com/pipepro. Tune into Spectrum SURF Channel for their live and replay television coverage of the 2018 Volcom Pipe Pro on digital channels 20 SD and 1020 HD across the state of Hawaii.
Fans can watch every minute of the Volcom Pipe Pro live and on-demand on Red Bull TV, available at redbull.tv or as a free downloadable app.
For more information about the Volcom Pipe Pro, visit worldsurfleague.com and volcom.com.
Volcom Pipe Pro Round 2 Results (Heats 1 – 11):
All surfers from Hawaii (HAW) unless otherwise noted.
1st and 2nd advance, 3rd place=97th, 4th place=113th 
Heat 1: 1st Cole Houshmand (USA), 2nd Kaito Kino, 3rd Noah Hill, 4th Sebastian Correa (PER)
Heat 2: 1st Justin Becret (FRA), 2nd Tyler Newton, 3rd Vehiatua Prunier (PYF), 4th Takuto Ohta (JPN)
Heat 3: 1st Yuji Nishi (JPN), 2nd Kainehe Hunt, 3rd Eli Hanneman, 4th Herbert Moreno (BRA)
Heat 4: 1st Koa Smith, 2nd Brodi Sale, 3rd Roberto Araki (CHL), 4th Ryan Slattery (AUS)
Heat 5: 1st Kauli Vaast (FRA), 2nd Lahiki Minamishin (USA), 3rd Ulualoha Napeahi, 4th Robert Grilho
Heat 6: 1st Evan Valiere, 2nd Parker Coffin (USA), 3rd Koa Rothman, 4th Guy Sato (JPN)
Heat 7: 1st Ian Gentil, 2nd Gabriel Villaran (PER), 3rd Elijah Gates, 4th Danny Fuller
Heat 8: 1st Adrian Garcia (PER), 2nd Noah Beschen, 3rd Nathan Yeomans (USA), 4th Giorgio Gomez (USA)
Heat 9: 1st Gavin Gillette, 2nd Keijiro Nishi (JPN), 3rd Cole Alves, 4th Vitor Ferreira (BRA)
Heat 10: 1st Shayden Pacarro, 2nd Makuakai Rothman, 3rd Leo Paul Etienne (FRA), 4th Kekoa Cazimero
Heat 11: 1st Sheldon Paishon, 2nd Ian Walsh, 3rd Daniel Glenn, 4th Love Hodel
Volcom Pipe Pro Round 1 Results:
1st and 2nd advance, 3rd place= 129th, 4th place=137th 
Heat 1: 1st Kaito Kino, 2nd Tyler Newtown, 3rd Hinata Aizawa (AUS), 4th Ryder Guest
Heat 2: 1st Brodi Sale, 2nd Eli Hanneman, 3rd Olamana Eleogram, 4th Jackson Bunch
Heat 3: 1st Robert Grilho, 2nd Koa Rothman, 3rd Kalani Rivero, 4th Takayuki Wakita
Heat 4: 1st Danny Fuller, 2nd Noah Beschen, 3rd Chris Foster, 4th Kala Willard
Heat 5: 1st Gavin Gillette, 2nd Makuakai Rothman, 3rd Kyle Ramey, 4th Eala Stewart
Heat 6: 1st Love Hodel, 2nd Anthony Walsh, 3rd Luke Adolfson, 4th Joey Johnston
Heat 7: 1st Turo Ariitu (PYF), 2nd Makana Pang, 3rd Eli Olson, 4th Eimeo Czermak
Heat 8: 1st Kalani David, 2nd Kai Lenny, 3rd Sage Tutterow, 4th Ezra Sitt
About Volcom
Inspired by creative spirit, Volcom was founded in 1991 and creates products for the persistent who are true to their passions. We were born to chase what we are true to. It's not that we want to… WE HAVE TO. We have a vision that turns obstacles into opportunity, a creative courage to tempt the impossible… And embrace the strange. Telling us to push further…To try again. Endlessly seeking elevation, we are all connected by this same internal force. Forever we chase that intoxicating moment when our vision is realized…The world around us goes quiet…And for brief moments, we are more than alive. Volcom, True To This.
About Red Bull TV
Red Bull TV features beyond the ordinary live events and videos featuring inspirational stories covering sports, music and lifestyle entertainment. Anytime, anywhere. Red Bull TV is available on the web, connected TVs, gaming consoles, mobile devices, and more.
About the WSL The World Surf League (WSL) is dedicated to celebrating the world's best surfing on the world's best waves through a variety of best-in-class audience platforms. The organization, headquartered in Santa Monica, is a global sport with regional offices in Australasia, Africa, North America, South America, Hawaii, Japan and Europe.

The WSL has been championing the world's best surfing since 1976, annually running more than 180 global events across the Men's and Women's Championship Tours, the Big Wave Tour, Qualifying Series, Junior and Longboard Championships, as well as the WSL Big Wave Awards. The League possesses a deep appreciation for the sport's rich heritage while promoting progression, innovation and performance at the highest levels, and in doing so crowns the undisputed Men's and Women's World Champions across all tours.

Showcasing the world's best surfing on its digital platform at worldsurfleague.com, the WSL has a passionate global fan base with millions tuning in to see world-class athletes like Kelly Slater, Stephanie Gilmore, Tyler Wright, John Florence, Lakey Peterson, Paige Alms, Kai Lenny, Taylor Jensen, Honolua Blomfield, Carissa Moore, Gabriel Medina, Courtney Conlogue and more battle on the most dynamic field of play of any global sport.

For more information, please visit worldsurfleague.com.