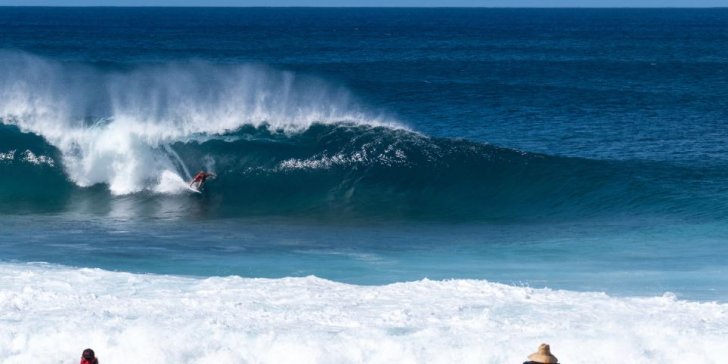 Maui's Imaikalani DeVault, Billy Kemper, Ian Gentil Find Near-Perfection at Pipeline
Four-Time Pipe Pro Winner John John Florence Puts On A Spectacle (front page: keoki)
North Shore's Own Shion Crawford, Barron Mamiya, Koa Smith Shine in Debuts
Pictured: 
17-year-old Shion Crawford (HAW) throwing caution to the wind and being rewarded with the wave of a lifetime. 
Credit
: © WSL /  Keoki
BANZAI PIPELINE, Oahu/Hawaii (Friday, December 17, 2021) – The World Surf League (WSL) HIC Pipe Pro, a Qualifying Series (QS) 1,000-level event, fired back into action following women's finals day Thursday, December 16, and Pipeline provided an absolute spectacle from start to finish with eight-to-ten foot, occasional plus, swell that built from the first horn to the last. Top seeds and Round of 96 standouts showed full commitment throughout the day, rising to each occasion thrown at them as some found the wave of a lifetime.
Arguably one of the best at Pipeline, 2X WSL Champion John John Florence (HAW) put on a showcase of tube-riding ability for a 15.87 (out of a possible 20) heat total in his debut. The North Shore's own comes into this event reigning Billabong Pipeline Masters and recent Michelob ULTRA Pure Gold Haleiwa Challenger after a devastating injury earlier in 2021. But, he now looks to add to his Pipe Pro collection, four in all, at one of his favorite waves after sharing a heat with brother Ivan who also advanced with a heat-best 8.13.

"I'm so stoked to be competing again and having my brother in a heat is pretty awesome," said the reigning Billabong Pipeline Masters winner Florence. "I'm treating this like it's the biggest event of my life. We have all the best surfers in Hawaii at this event and on the Tour so it's going to be fun to battle it out today and tomorrow."
Pictured: 
A Pipeline standout in Seth Moniz (HAW) showed his capabilities when the beast awakens. 
Credit
: © WSL /  Keoki
Florence's fellow Oahu and CT competitor Seth Moniz found himself in one of the busiest heats of the day as Pipeline was relentless, giving Moniz an opportunity to claim an excellent 16.00 (out of a possible 20) heat total.
"That was a pretty unexpected heat right there," said Moniz. "Waves were pumping in my heat and my board felt really small. At this size with the backwash on it is actually more scary than 10-to-12 foot, second reef because it's just heavier. Getting heats and reps out here is really important and any more heats I can get out there I'm going to give it my all."
Pictured: 
Koa Smith (HAW) right at home in a Pipeline dreamer to win his Round of 64 heat. 
Credit
: © WSL /  Keoki
Haleiwa, Oahu's own Shion Crawford (HAW) (pictured on cover), 17, made his way through the Round of 96 and found his rhythm amid the jaw-dropping conditions today with a near-perfect 9.17 to earn a runner-up behind Koa Smith (HAW) along with Barron Mamiya's (HAW) impeccable 15.84 heat total in their respective heats.
"That was the wave of my life and I couldn't help but claim it," said Crawford. "I'm just having fun and just surfing every heat like it's just a normal free surf. I can't believe it."
Incredible heat wins from Ezekiel Lau (HAW), Eala Stewart (HAW), Dylan Franzmann (HAW), Kainehe Hunt (HAW), Brodi Sale (HAW), and Evan Valiere (HAW) pushed them into finals day to vie for an all-important win.
Maui Crew Storms the Day 
Pictured: 
After an amazing 2021 Challenger Series, Imaikalani deVault (HAW) looks to finish off at home strong. 
Credit
: © WSL /  Keoki
Fireworks ensued with recently confirmed 2022 CT Rookie Imaikalani deVault (HAW) earning a 9.50 (out of a possible 10) on Backdoor dreamer, re-emerging to an eruption from the crowd before finding another Pipeline gem to garner an immaculate 16.57 (out of a possible 20) heat total. The Maui, Hawaii, surfer proved himself once before at the Pipeline Invitational where he earned a victory and will return to the CT stage in 2022 a full-time competitor.
"It's always great to get the jersey at home in Hawaii," said deVault. "I didn't do well at Haleiwa which was a shocker so it was nice to get in a heat and get some waves. To get the reps in at Pipe is always special and I've done well in the Pipe trials before but any win or Final is huge and good bragging rights. If you were to do anything big out here that's a feat all in itself."
Pictured: 
The morning produced moments of brilliance and Billy Kemper (HAW) was there to collect one.. 
Credit
: © WSL /  Keoki
Pipeline came to life for 4X Jaws Challenge victor Billy Kemper (HAW)  he came flying out of depths from behind the curtain, emerging as the wave regurgitated showing he was as deep as he could've been in the barrel for a near-perfect 9.27 (out of a possible 10). Kemper's knowledge of the famed reefbreak and confidence in wave of consequence all came together with Finn McGill (HAW), notching an 8.00 of his own, overtaking the lead in the final seconds.
"Pipeline is Pipeline whether its two-foot or 10-foot and I'm just so stoked to be competing in my backyard," said Kemper. "I'm happy WSL sees how much this means to the locals for this opportunity for these kids. This event is stacked. It's all locals and for the future of Hawaii surfers, these events are everything."
"This event means a lot to me and Pipeline is a very toxic relationship to me," said McGill. "It beats me up and spits me out, cuts me and breaks me but I still am a little kid whenever it's good. It was nice to dust the cobwebs off and especially with Kemper. He's one of the most tenacious competitions out there but I had a blast and that's all I can ask for."
Pictured: 
Ian Gentil (HAW) comes in after an immaculate showing to keep his winter momentum alive. 
Credit
: © WSL /  Keoki
Nearly matching deVault's brilliant showing, Maui's Ian Gentil (HAW) brought his confidence from Haleiwa to Pipeline and delivered a near-perfect 9.17 on one of the day's biggest sets. Gentil's reappearance from behind the curtain as the wave unloaded from within itself sent more applause and cheers from the beach as the day drew closer to a close.
"It started picking up and I thought I might need my 6'6 so I ran back to my car and it ended up being a great call," said Gentil. "That was just so much fun and I hope it's like this tomorrow again. It's really important to get points out here, but at the same time, it's Pipeline and I'm just happy to be out there."
Fellow Maui competitor Eli Hanneman's buzzer-beater, aerial assault landed him into the Round of 32 alongside a crew of Maui competitors including Cody Young, and Ocean Macedo, all advanced into the Round of 32.
Event organizers will reconvene for a 7:00 a.m. HST call to determine a likely 8:00 a.m. HST start for men's finals day.
CLICK HERE FOR ROUND OF 64 RESULTS 
For more information, please visit www.WorldSurfLeague.com.
The HIC Pipe Pro will run from December 8 – 20 at Banzai Pipeline, Oahu, Hawaii.