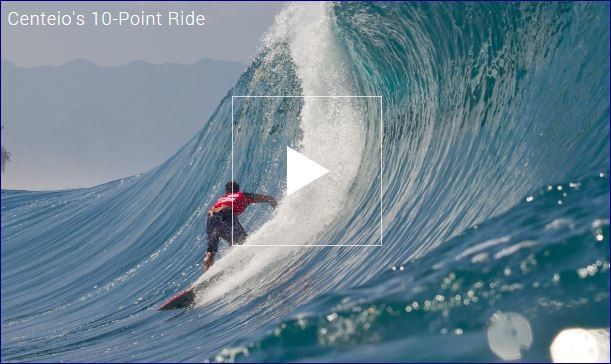 Tuesday, December 9, 2014
The 2014 Men's Pipe Invitational ran in double to triple overhead waves as a 32-man field battled to earn the final two spots in the Billabong Pipe Masters.
Surfers on the North Shore woke up to glassy conditions as the contest got underway with both big wipeouts and big scores. In the opening round, Danny Fuller, Jamie O'Brien and Joel Centeio each found draining barrels, emerging with the spit for excellent scores: Fuller an 8.83, O'Brien a 9.57 and Centeio a Perfect 10.
Don't be deceived…this was death defying.

"Kaito Kino was a little far out so I just went head down and dropped in," Centeio said. "It was so late and the barrel was so throaty. I felt the spit and I knew I had to kind of doggy-door it and was hoping that I came out enough so that judges can see and luckily they did."
Another early standout the youngest competitor at the event, Jack Robinson (AUS). At age 16, Robinson managed a combined 13.50 in Round 1 to top Qualification Series surfer Mason Ho and eliminate stylish freesurfer Dylan Goodale and Tour veteran Pancho Sullivan.
"At home back in Western Australia, there are lots of waves like the Box and we have a lot of slabs around and I've grown up on that," Robinson said of his seeming comfort at Pipe. "I'm stoked. I'm so happy there are some good waves and I'm glad they ran it when it's pumping. It's good to show what you got out there."
The start of the Quarterfinals saw more challenging conditions. With closeouts and increasingly bumpy faces, low scores prevailed. Hank Gaskell, however, was able to get into a rhythm. He rode out two drainers for a 15.50 two-wave total, the second-highest heat total through the Quarterfinals behind O'Brien's Round 1 18.40. He managed to combo the field, eliminating Robinson and Kalani Champman.
"I knew [the waves] were going to hit that inside reef good so I got some nice little barrels," Gaskell said. "I'm happy to get through that one."
The North Shore scored the first nine-point ride of the 2014 Pipe Invitational.
Sparks started to fly in the first Semifinal heat. Kai Barger was called for interference early on and left with a handful of minimal scores. Late in the heat, though, he pulled into a tight barrel to put O'Brien in danger of elimination. In the dying moments of the heat, JOB pulled off a pair of strong backside snaps to regain the No. 2 spot and advance. Of the early standouts, only O'Brien and Gaskell advanced to the Final.
When competition resumes, they'll join Reef McIntosh and Makai McNamara in a battle for the last two spots in the WCT event. Tune in to Dawn Patrol at 7:30 a.m. local time for more action.
JOB's Hollow 9-Pointer at Pipe …Get it All at ASP HERE